Veterinary Care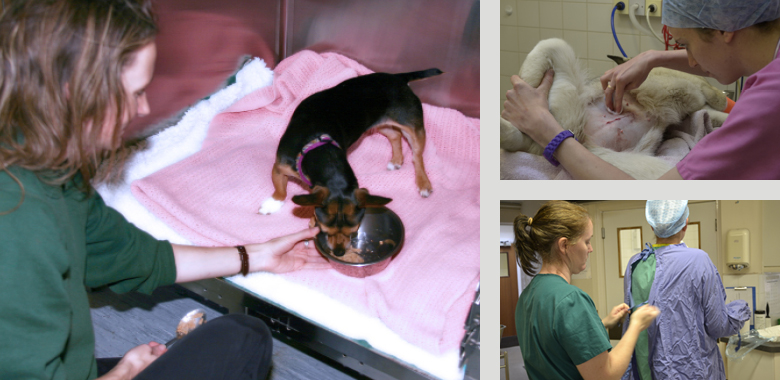 Open All | Close All
Is this the career for you?
Veterinary care assistants are important members of today's modern veterinary team. They work alongside veterinary surgeons and veterinary nurses to provide vital nursing care, ensuring that the wellbeing of small animal patients is paramount.
Although the hours can be long and the work physically and emotionally demanding, the rewards that come from helping an animal back to health and working as part of a dedicated team make the job extremely worthwhile.
To be a good veterinary care assistant you must be passionate about animals and good with people, as supporting the veterinary team can involve a significant amount of client care in addition to the actual hands on nursing of animals. You must be dedicated to your job and prepared to undertake all the cleaning tasks and general duties associated with the smooth running of the veterinary practice. If this sounds like you, take a look at what the job involves below.
It's a good idea to do some work experience in a veterinary practice, as it will give you an insight into the role and give you valuable experience for your CV when looking for a training position!
What does veterinary care involve?
First of all, no two days are the same, and that is what makes this work exciting! As part of your role you may be involved in:
Exercising, grooming and feeding hospitalised animals (inpatients)
Monitoring and providing supportive care to inpatients
Preparing theatre and relevant equipment
Cleaning and preparing accommodation for animals
Restraining animals for treatment
Reception duties, including advising clients on preventative health care e.g. flea treatment
Record keeping
How to become a veterinary care assistant
Level 2 Diploma for Veterinary Care Assistants / Intermediate Apprenticeship for Nursing Assistants in a Veterinary Environment
This programme can be studied on via online, distance learning or day release basis, alongside employment in a veterinary practice, Alternatively it can be studied on a full time basis where you will spend periods of time in the classroom and time on work placement in veterinary practice.
Student veterinary care assistant jobs can sometimes be advertised on our online jobs board.
Level 2 Certificate in Assisting Veterinary Surgeons in the Monitoring of Animal Patients Under Anaesthesia and Sedation
This programme is aimed at providing those who work in a veterinary care assistant role in veterinary practice, with the background knowledge and skills to assist with the monitoring of companion animal patients under anaesthesia or sedation in a safe manner, under the direct supervision of a veterinary surgeon.
The learner will at no time be responsible for inducing, controlling or maintaining the level of anaesthesia as these are, without exception, the responsibility of the veterinary surgeon.
This is an online, distance learning, programme. You must have been working in a veterinary practice for a minimum of six months and have your application endorsed by your practice principal, who must be a veterinary surgeon.
Career and progression
Veterinary care courses