Clinical Coach Congress
Thursday 7 July 2022
Early Bird pricing is available until 13 May 2022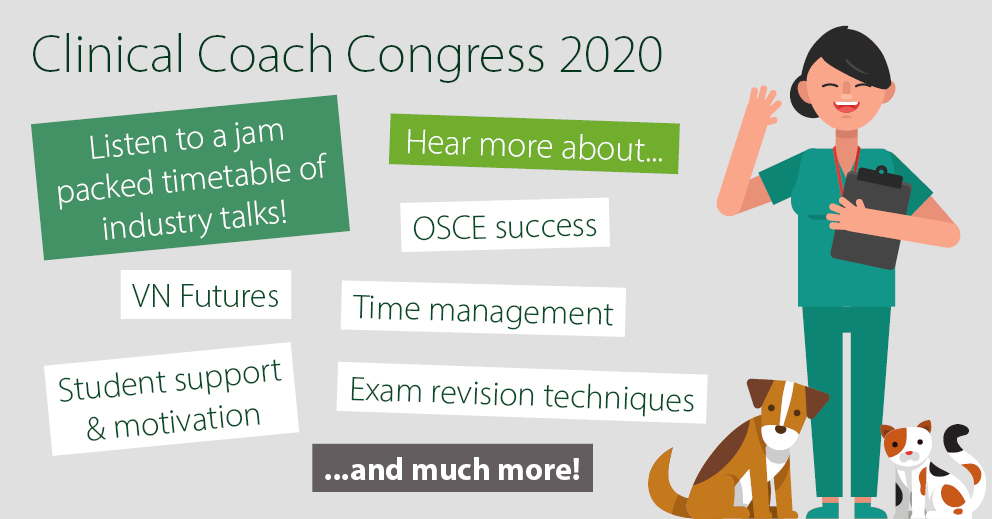 What is Clinical Coach Congress?
Clinical Coach Congress is a unique conference dedicated purely to supporting clinical coaches and those involved in veterinary nurse training.
Clinical Coach Congress is recognised by the Royal College of Veterinary Surgeons (RCVS) as clinical coach standardisation, meaning it is, not only, the ideal opportunity to learn from fellow clinical coaches and expert industry speakers, but it will also provide up to 8 hours of CPD.
Formerly known as the "Training Practice (TP) Congress".
Who should attend?
Clinical coaches and those involved in veterinary nurse training. Whether you are a new or aspiring clinical coach, or have been one for many years, this congress is for you! The congress will be particularly useful if you are:
New to your role and looking for some guidance
Interested in learning more about coaching and mentoring
Aiming to progress within your role
Interested in keeping up-to-date with everything happening in the industry
Why attend?
Listen to lectures from a range of speakers who will be sharing their experiences and knowledge
Q&A sessions mean your questions will be answered by the speakers themselves
Gain practical takeaways on a variety of topics that you can implement in your practice
Earn 8 hours of evidenced CPD
Gain online access to recordings of all the lectures and lectures from previous congresses up until the next event
Details about Clinical Coach Congress 2022 will be available soon. In the meantime, have a look at the agenda from our previous event:
Chairman's Welcome
Karen Davidson CertEd RVN, Vice Principal - Quality, The College of Animal Welfare
The Importance of Staying Standardised
Wendy Cummins MCFBA MAPDT 01414 NCertAn(beh)DipAVN(Surgical)DipAVN(Medical)RVN,
Donaldsons Vets
Veterinary medicine changes daily, so we have to stay on top of all the changes. Standardising
training means that we can produce qualified veterinary nurses that can work in any veterinary
practice, be it first opinion or referral. Being a clinical coach means that you have to be up to date
with everything new and puts you in a valuable position to take this information back to your
practice, so not only are you training gold standard nurses but you are keeping the whole practice
up to date with the current standards of Veterinary Medicine.
The Veterinary Professions Role in Safeguarding
Barbara Cooper CertEd LicIPD DTM Hon AssocRCVS RVN, The College of Animal Welfare
The impact of COVID-19 has created significant challenges for the profession despite falling infection rates and the relaxation of the current restrictions. This is likely to continue for some time. The responsibility placed on all of us to promote wellbeing in the workplace whilst meeting the six principles of safeguarding are significant.  The core principles are the standards found in the Care Act 2014  which include: Empowerment, Prevention, Proportionality, Protection, Partnership, Accountability. Initially the framework was established for vulnerable adults however the principles apply to individuals of all ages and in all workplaces. Factors affecting fitness to practise and the different management approach to be taken when dealing with factors affecting fitness for practice will be explored.
Live Q&A Panel
Present questions (anonymously if desired) to the speakers.
Morning Break and Online Exhibition
'Tame Your Brain' – Solve 'people problems' before they start
Dr Libby Kemkaran Thompson, MA VetMB MRCVS, Kemkaran Consulting Ltd
'You got people, you got problems'.  But does it have to be that way?  Learn the 5 pillars of people wrangling that work with the 4 different Big-Cat brain types.  Build harmonious working relationships and unlock the blue-print that is the operating instructions for your brain!  Understanding 'how to speak to people who are not like you' leads you to enable a better quality of conversation, and fosters healthy and honest interactions within your practice team.  This leads to increased learning and better outcomes for your trainees.
Time Management - Creating systems that work for you
Paul Ward, Black Top Coaching
There are many ways, systems and apps that can help you become more efficient. But what works for you? During this talk you will:
Consider what motivates you to get stuff done
Start with the end in mind
Understand your map of the world in order to positively influence those you work with
Live Q&A Panel
Present questions (anonymously if desired) to the speakers.
Lunch Break and Online Exhibition
Common Anaesthetic Drugs & their Effects
Michelle Moran RVN CertECC VTS Anaesthesia & Analgesia, Northwest Veterinary Specialists
This presentation will cover the following key learning points:
Look at the most common anaesthesia drugs we use and why they are chosen for an anaesthetic protocol
Understand how the drugs work and what situations we may choose to use to use them or avoid them
Learn the most common effects of the drugs and how we monitor for these in practice
Feel more confident about understanding the drugs and their effects
The Not So "Deep" End; supporting the SVN through their first anaesthesia
Courtney Scales DipVN, NCert(Anaesth), RVN, Veterinary Anursethesia
For many SVNs, understanding and monitoring anaesthesia is a daunting part of their training and NPL. A lot of fear comes from the unknown and worst case scenarios; in this presentation we look at the ways to structure, support and empower your SVN as a Clinical Coach through the entire anaesthesia process.
Live Q&A Panel
Present questions (anonymously if desired) to the speakers.
Afternoon Break and Online Exhibition
Creating Simple Simulations to Support Students in Practice (with demonstrations)
Catherine Rolfe Grad Dip VN RVN AFHEA, Dick White Academy
This session will discuss how as clinical coaches you can help to bridge the gap between your students 'knowing how' to do a procedure and 'doing' that procedure with a patient, by first getting them to 'show you how' on low-fidelity models which you can make in practice.  A range of opportunities for the use of simulations for skills covered by the NPL will be explored and by the end of the session you will be able to create a simple model for students to practice IV catherization and blood sampling.
Live Q&A Panel
Present questions (anonymously if desired) to the speakers.
Chairman's Close
Karen Davidson CertEd RVN, Vice Principal - Quality, The College of Animal Welfare
Details about Clinical Coach Congress 2022 will be available soon. In the meantime, read about the speakers who presented at our previous event: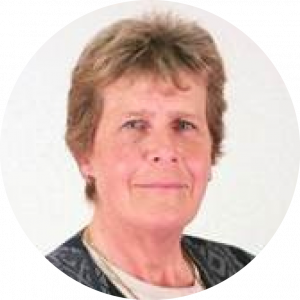 Barbara Cooper CertEd LicIPD DTM Hon AssocRCVS RVN
The College of Animal Welfare
Barbara is a Director and Principal of The College of Animal Welfare. Barbara is the designated lead for safeguarding in the college and is responsible for safeguarding training and for all safeguarding matters in the college centres.
Barbara has played an active role in developing veterinary nursing as a past Chairperson of the Royal College of Veterinary Surgeons' VN Committee, replaced with the RCVS VN Council and a Past President of the British Veterinary Nursing Association.
Barbara has previously been a trustee of Wood Green Animal Shelter and the University Federation of Animal Welfare. She is currently a trustee of the Society for Companion Animal Studies. Barbara is also an Honorary Associate of the RCVS and has published and edited a number of books.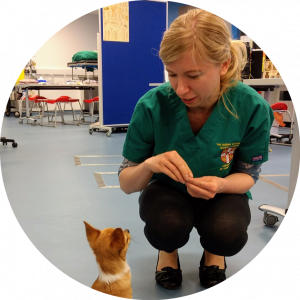 Catherine Rolfe Grad Dip VN RVN AFHEA
Dick White Academy
Catherine qualified as a veterinary nurse in 2008 and her clinical background includes both small animal general practice and referral nursing. She taught Diploma and degree student veterinary nurses at the College of West Anglia, before moving to the University of Cambridge Department of Veterinary Medicine. Here she has developed their clinical skills facility, teaching and assessment. Catherine's particular clinical interests include care plans, theatre practice and professional and ethical issues. She is passionate about the education of veterinary nurses as professional practitioners and seeks to inspire nurses to be lifelong learners.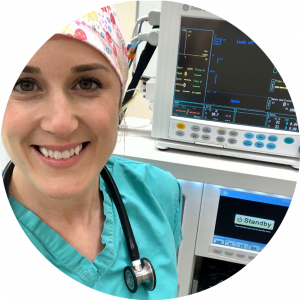 Courtney Scales DipVN, NCert(Anaesth), RVN
Veterinary Anursethesia
Courtney is originally from New Zealand where she trained and qualified, and has been working as a Veterinary Nurse since 2007. After working in a number of small animal clinics there, an anaesthesia passion took her to a large referral hospital in Australia in 2015. In 2016 she moved to the UK and is now an Anaesthesia Registered Veterinary Nurse at the Royal Veterinary College where she is involved teaching anaesthesia during clinical rotations for veterinary and veterinary nursing students.
Courtney completed her Nurses Certificate in Anaesthesia in 2017 and throughout her studies, she started Veterinary Anursethesia on various social media platforms to share anaesthesia tips. She has written a number of articles for journals and enjoys speaking to Student Veterinary Nurses and Registered Veterinary Nurses on anaesthesia.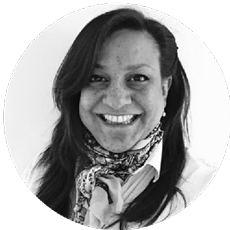 Dr Libby Kemkaran-Thompson MA VetMB MRCVS
Kemkaran Consulting Ltd
Libby was a Management Consultant in the city and had her own consultancy focused on Change Management/Business Development, before she then decided to retrain to be a vet.
She graduated 2011 with the Pfizer Animal Health prize for outstanding achievement, and the vet school curriculum was subsequently altered to incorporate some of the findings from her final year dissertation.
A lifelong student of Behavioural Psychology and Neuro-associative Conditioning she took the opportunity whilst at Cambridge to undertake a degree in Biological and Biomedical Science, with a major in Behaviour, specifically the Neural Mechanisms of Behaviour. She then spent five years working as a small animal clinician before a car crash left her too injured to work as a vet.  She qualified as a Certified Flow Consultant and began to use her Business Consultancy skills to help vets improve their business and team dynamic to build a thriving practice and personal life.
TEDx Speaker and Circle Host, she delivers her TAMETM Your Brain programme of strategy and Neurocoaching to the corporate world leading change in Management, Communications, and helping individuals overcome their limiting beliefs to develop the Mindset for Success.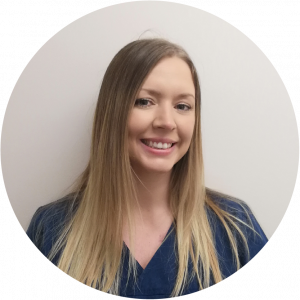 Michelle Moran RVN CertECC VTS Anaesthesia & Analgesia
Northwest Veterinary Specialists
Michelle qualified in 2006 and spent 11 years in first opinion practice working in a variety of different hospitals including one of the busiest charity and emergency hospitals in the U.K. It was here Michelle gained her emergency and critical care certificate. Michelle then moved to North West Veterinary Specialists where she is the Supervisor Nurse of the Anaesthesia department. Michelle gained her Veterinary Technician Specialist qualification in Anaesthesia & Analgesia in 2019 and currently sits on the AVTAA credential committee. She has also recently become the nurse representative for AVA and also sits on the Linnaeus clinical board as the subject matter expert nurse in anaesthesia.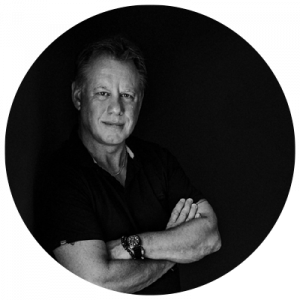 Paul Ward
Black Top Coaching
Paul Ward of BLACK TOP COACHING is an Executive Coach and Trainer. After spending many years working with a dynamic range of people in the retail sector, Paul chose to follow his passion for developing people and teams and started his journey to becoming an Executive coach.
Neuro Linguistic Programming (NLP) has been a fundamental part of this journey and Paul uses NLP in all his coaching. Paul is a Master Practitioner of NLP and became qualified as an International Trainer of NLP in Thailand in 2018.
Paul also uses Motivational Map technology to unlock what really drives you at work and in your life. This allows for highly effective coaching and development for individuals and teams. Paul is also a trainer of Motivational Maps and is passionate in helping other coaches and consultants gain the knowledge to use this excellent tool.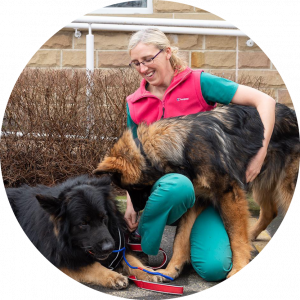 Wendy Cummins MCFBA MAPDT 01414 NCertAn(beh)DipAVN(Surgical)DipAVN(Medical)RVN
Donaldsons Vets
Wendy has been a veterinary nurse for over 30 years. She was head nurse, clinical coach and ran a behaviour referral service part time at a private veterinary practice for over 20 years which was bought out by a large privately run veterinary practice where she moved to doing behaviour and dog training 4 days a week. She is still involved in the training of the nursing staff, assisting with the OSCE practice and is an examiner for the CAW. She has a keen interest in improving the standards of all Veterinary staff to offer gold standard medicine and educating the clients in pet health care and behaviour. She is currently treasurer for the BVBA. In her spare time loves walking her own dogs and competing at local events with her horses.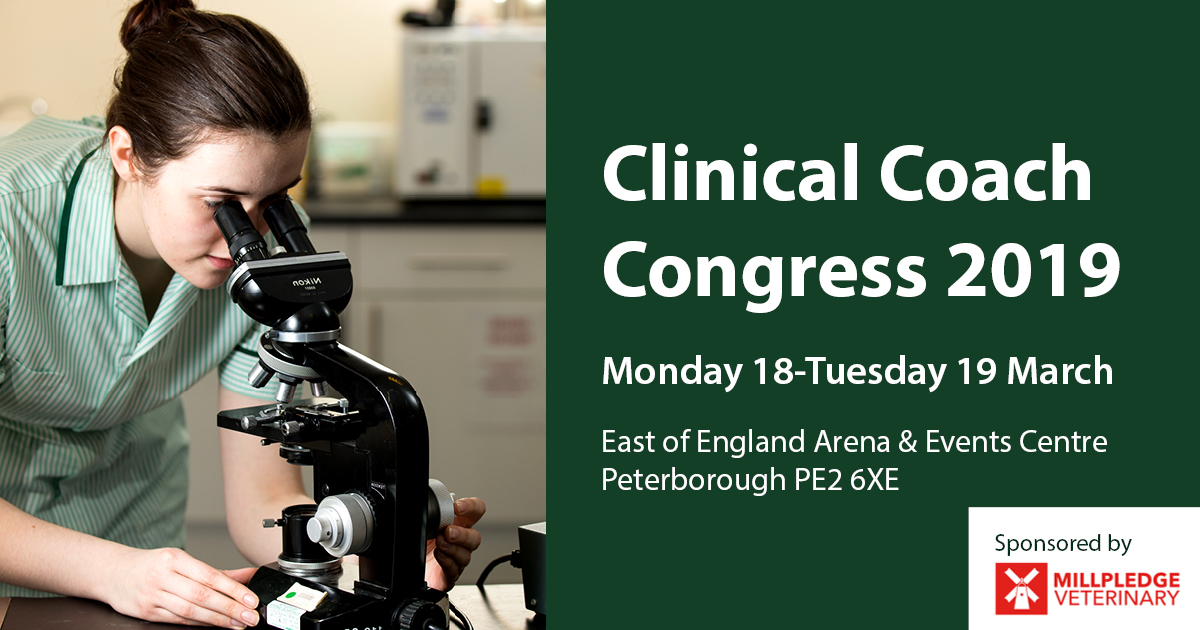 Details about Clinical Coach Congress 2022 will be available soon. In the meantime, have a look at who exhibited at our previous event:
The Burtons family have manufactured, distributed, and serviced equipment for the veterinary community for 40 years. Our range, covering everything from anaesthesia to x-ray, is largely made in-house, in the UK. Established for three generations, the Burtons ethos is to give honest expert advice and excellent customer service.
Our nationwide fleet of service engineers are available for emergency callouts, as well as undertaking routine equipment maintenance. At our renowned Burtons Repair Centre, technicians receive items for inspection, calibration, or repair. Our team of local product specialists will give you expert advice and guidance, full product demonstrations and technical training.
Invicta Animal Health is an innovative, fast growing pharmaceutical company, offering tailored 1:1 and group CPD sessions on Surgical Preparation of the Patient. Alongside a portfolio of products such as Ethycalm Plus, a topical spray for needle/catheter access. Blod-Stopp a stain & sting free way of stopping nails from bleeding to fast acting tests for ringworm.
On the equine side as well as the skin prep, we have a great Hyaluronic Acid product in Syn-Vet50 with its high molecular weight so that it stays in the horses joint for longer amongst other benefits. Please get in touch to find out more.
Leucillin Animal Skincare is a Hypochlorous acid (HOCl) based high efficacy antimicrobial solution. Leucillin is a broad spectrum antiseptic with unbeatable 99.99999% results, it has minimal contact time and is suitable for use on all mammals, birds and reptiles. Leucillin dramatically reduces bacterial load with no hypersensitivity reactions or usage constraints and is approved by the Organic Soil Association.
Leucillin has an extensive range of applications including first aid, post-surgical sites, stubborn infectants, effective topical allergy care and ear and eye care. Leucillin can be used to cleanse and flush any topical condition from minor cuts and abrasions, Mud Fever, Ringworm to Thrush. Leucillin now has approval for use on humans.
Linnaeus is a forward-thinking partnership of highly-respected primary care and referral veterinary practices across the UK, comprising some of the best clinicians in the profession.  Two important things bring us together; a commitment to excellence in everything we do and our passion to achieve our purpose: A BETTER WORLD FOR PETS. Linnaeus is owned by Mars, that makes us part of their 85,000 Petcare Associates who spend their days thinking about the 400 million pets of the world and how to improve their lives. Being part of this amazing global group gives us the benefit of a huge network of experts and specialists, a future we can invest in and the security that allows us to concentrate on what we do best - caring for pets.
At Linnaeus we carefully select the practices we partner with to ensure the highest levels of patient care across our group. Together we provide a growing community of like-minded veterinary professionals who are passionate about what they do. We work with different types of practices, in every field of veterinary medicine, including small animal, farm and equine. We have around 4,000 Associates within our family across over 160 sites which is made up of 16 referral and 50 primary care practices.
Millpledge Veterinary has been supplying the UK Veterinary Profession for over 35 years. Our aims are to offer the Veterinary Professional an ever-expanding choice of quality Millpledge branded products and services with innovative designs specifically for the veterinary professional. Ranging from pharmaceuticals to Nutraceuticals, bandaging, dressings, and fluid therapy, encompassing products for companion and large animal use. Providing complete peace of mind for the veterinary profession.
The College of Animal Welfare
The College of Animal Welfare is one of the largest providers of veterinary nurse training in the UK, with centres in Cambridgeshire, North London, Yorkshire, Greater Manchester and Scotland. We strongly believe that education and training is the key to raising standards of animal welfare. To this end, we strive to create new and accessible opportunities for learning, and encourage employers and those working with animals to undertake appropriate levels of training and continue with lifelong learning and education.
We put pets first: Beyond all else, we're committed to animal health and welfare, and we absolutely put pets first. The most powerful partnerships we have are with pets and their owners. This is at the heart of what we do and always will be.
Vets4Pets is proud to be one of the largest veterinary groups in the UK with a national network of practices run by partners who enjoy clinical freedom and autonomy to do things their way. Our practices are supported by dedicated business professionals based in our Support Office who have the expertise to help them thrive.
VisioCare Services provide an array of digital solutions for your practice; helping to enhance your reputation with clients, improve effectiveness of consultations, providing the next level in two-way communication, whilst saving time and phone calls for all the practice team. Including: VisioCare TV | VisioCare Consult | VisioCare myBuddy pet app
Vita Animal Health's range of veterinary exclusive supplements has been developed over many years, in conjunction with leading scientists and researchers, and have been rigorously tested. Vita Animal Health has a passion for researching, developing and bringing to market innovative products for companion animals.
Early Bird pricing is available until 13 May 2022. All prices are listed without VAT and savings including VAT.
Book now
Why exhibit with us?
Limited exhibitor numbers - Unlike larger congresses where hundreds of exhibitors often mean that visitors will not remember everyone, exhibition space for Clinical Coach Congress is strictly limited. As such you will get the opportunity to engage with all of the delegates attending our congresses personally.
Make meaningful business connections – Network with those that influence decision making in veterinary practice face-to-face and make relevant industry contacts.
Cost effective – with exhibitor packages starting from just £250+VAT, our prices offer value for money and fall considerably below that of larger events within the industry.
Interested in exhibiting at Clinical Coach Congress 2021?
Download a booking form or call Claire Gregory, Short Course and Events Administrator, on 01480 422060.
Attendees will receive access to videos of this years lectures as well as previous years lecture for approximately one year.
You will be able to share these videos with other members in your practice boosting their CPD hours.
Soon after the event you will receive an email with your access details. These details will expire on the date of the next event.
/event-videos/