The Ultimate Guide to a Career in Dog Grooming
If you have a passion for animal welfare and are looking for a career that comes with the possibility of becoming your own boss, then dog grooming might be the perfect profession for you! Check out our guide to a career in dog grooming, and learn more about the job role, training options and career progression. Download this page as a PDF

Dog Groomer Job Role and Responsibilities
Dog groomers keep dogs' coats in good condition by providing a variety of grooming and bathing services. As a dog groomer you would:
Bathe, dry and style dogs to "breed standard" or customer specification
Provide services such as baths, tidy ups, full clips, hand strips, nail clipping and ear cleaning
Carry out basic health checks
Identify parasites or signs of infection in dogs
Advise owners on grooming requirements and coat care of their dogs in between grooms
Working Conditions
Some dog groomers work in grooming parlours, others choose to work from home or from a mobile set up. Therefore hours may vary to suit your circumstances, from full-time (9am-5pm) to part-time and evening/weekend work.
Most of the day will be spent on your feet, lifting dogs up and off of tables and into baths so you will need to be able to cope with the physical demands of the job.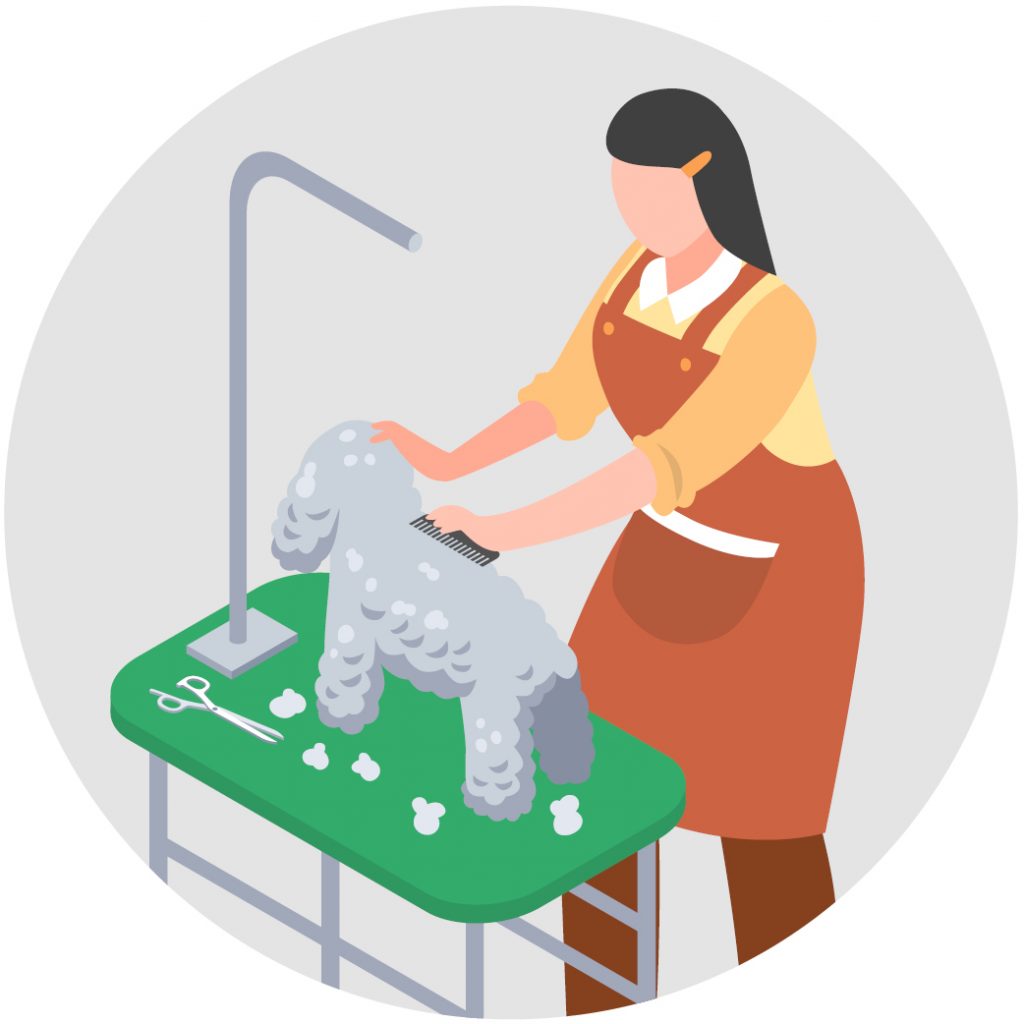 Why Become a Dog Groomer
Are you the happiest when you're brushing your dog's hair? Do you love to give your dog a bath? Does a clean dog make you happy? If so, then a career in dog grooming might be your calling!
Raising the standards of animal welfare on a daily basis means that it is also a very rewarding profession.
Here, we outline some of the benefits of joining the dog grooming industry. Let's get started:
You can play an important role in the health of dogs

Dog groomers carry out basic health checks and look out for signs of infection, as well as perform services such as nail clipping, ear cleaning and basic bathing, drying and styling. They also give dog owners advice on coat care, grooming and diet.

This means dog groomers play an important role in preventing disease by picking up on signs of any health issues before they become an emergency. Regular grooming also eliminates discomfort for dogs in many ways, helping prevent problems such as: matting, overgrown nails, double coating, grass seeds, dental disease and fleas, ticks and mites.
Dog groomers have great prospects and career options

Dog grooming is a growing industry, with more and more dog owners taking advantage of the services provided by grooming salons. As a qualified dog groomer you could work in a dog grooming salon, with opportunities to progress to a senior stylist or salon manager. You may also wish to set up your own business, perhaps in combination with an existing business such as a veterinary practice or kennels. Another opportunity would be to train others to achieve their dog grooming qualifications in education roles.
You gain the opportunity to become your own boss

Many people like the idea from working from home and fitting your job around your lifestyle; and as a dog groomer, you could do just that! Many dog groomers choose to start their own dog grooming businesses, either working from a salon, from home or as a mobile dog groomer.
You get the chance to build lasting connections

Dog grooming is the perfect career for those who want to have daily contact, and build up long lasting relationships, with both dogs and their owners. There is also plenty of opportunity to network with, and learn from, other dog groomers in the industry at dog grooming salons, seminars and competitions.
You gain the gift of life-long learning

Dog groomers can pursue continuing professional development in a range of topics including canine behaviour or animal first aid, allowing them to continuously improve their skills and keep up-to-date with the latest trends in the industry.
What Makes a Good Dog Groomer
Dog groomers are hard-working, passionate about dogs and dedicated to their work. To help you decide whether the job is for you, take a look at some of the skills and qualities that make a good dog groomer:
Passion for canine health

It goes without saying that working as a dog groomer is a great choice for those who are caring, giving and motivated to do the best for their canine friends.
Meticulous and pays attention to detail

Some cuts can take a long time to complete and require extremely careful scissor work, so you will need to remain focused and pay attention to detail. There are specific breed standard requirements which you will be required to work to, particularly if you are preparing dogs prior to a show, however some owners will prefer their dogs groomed to more of a pet style; this is all part of the variety of the job.
Good customer service skills

Customer service skills are important for those hoping to become successful dog groomers. Whilst you spend a lot time working directly with dogs, you also have to be able to communicate clearly with each owner to understand their dog's requirements, and build up a rapport to encourage repeat business.
Patience

Dog groomers need to be confident handling and grooming dogs of differing temperaments - not all dogs will always cooperate when placed upon the grooming table. Groomers must be patient, caring and consistent throughout the entire process.
A love for learning

To stay ahead of your competitors and win new clients, you'll need to keep your knowledge and skills up to date. This means always making an effort to continue learning and following the latest dog grooming trends.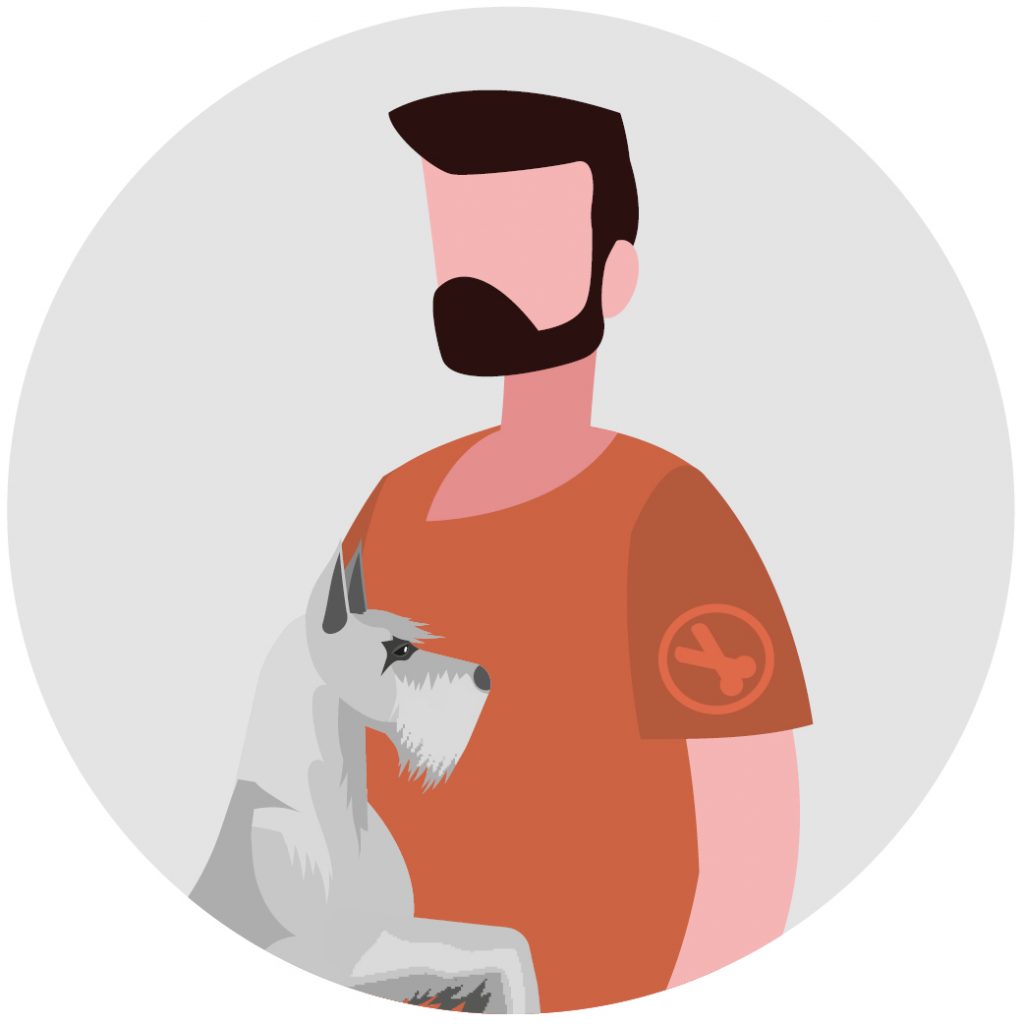 Why Dog Grooming is Important
Dog Grooming does much more than make your dog look and smell good. A dog with no hair in its eyes, clean fur and skin, clipped nails and brushed teeth all make for a pet that is comfortable and better behaved.
Discover the benefits of taking your furry friends to the grooming salon:
Dog groomers can catch potential problems before they're serious

Dog groomers familiarise themselves with your dog's coat and body, which means they can pick up on when something looks or smells out of the ordinary. They carry out basic health checks and look out for signs of infection.

With consistent grooming, you are better educated on any potential problems you may want to bring up to your veterinary surgeon. It could also help lower veterinary bills, as regular grooming can prevent disease and catch many health issues before they become an emergency.
Grooming can prevent pain and discomfort in your dog

Grooming eliminates discomfort in many ways, and reduces the risk of eye, ear, skin, teeth and nail infections, ensuring your pet is free from pain and disease. For example, by taking your dog to the grooming salon on a regular basis, you can help prevent problems such as:

Matting
Overgrown nails
Double coating
Grass seeds
Fleas, ticks and mites
Dental disease
Dog grooming is a good way to boost your dog's sociability

Dog grooming is a chance for your furry friend to spend some one-on-one time with others, and builds up your dog's trust as grooming becomes a positive experience and dog groomer's can ease them through situations that may be uncomfortable for them, such as cleaning their ears.

As your pet becomes more comfortable and used to being handled (especially around the face, feet and tail), visits to the vets may become easier too.
Grooming can increase your dog's happiness and wellbeing

Just as brushing your hair feels satisfying and helps to prevent matting and tangles, grooming has a similar effect for your furry friend. A dog that looks and smells nice is more likely to be free from discomfort and feel great.
Dog Grooming Services at The College of Animal Welfare
CAW runs four commercial grooming parlours across the UK. We pride ourselves on offering a professional service at affordable prices to the local community. Dogs are groomed by our Dog Grooming students under the supervision of experienced and qualified dog groomers. Find out more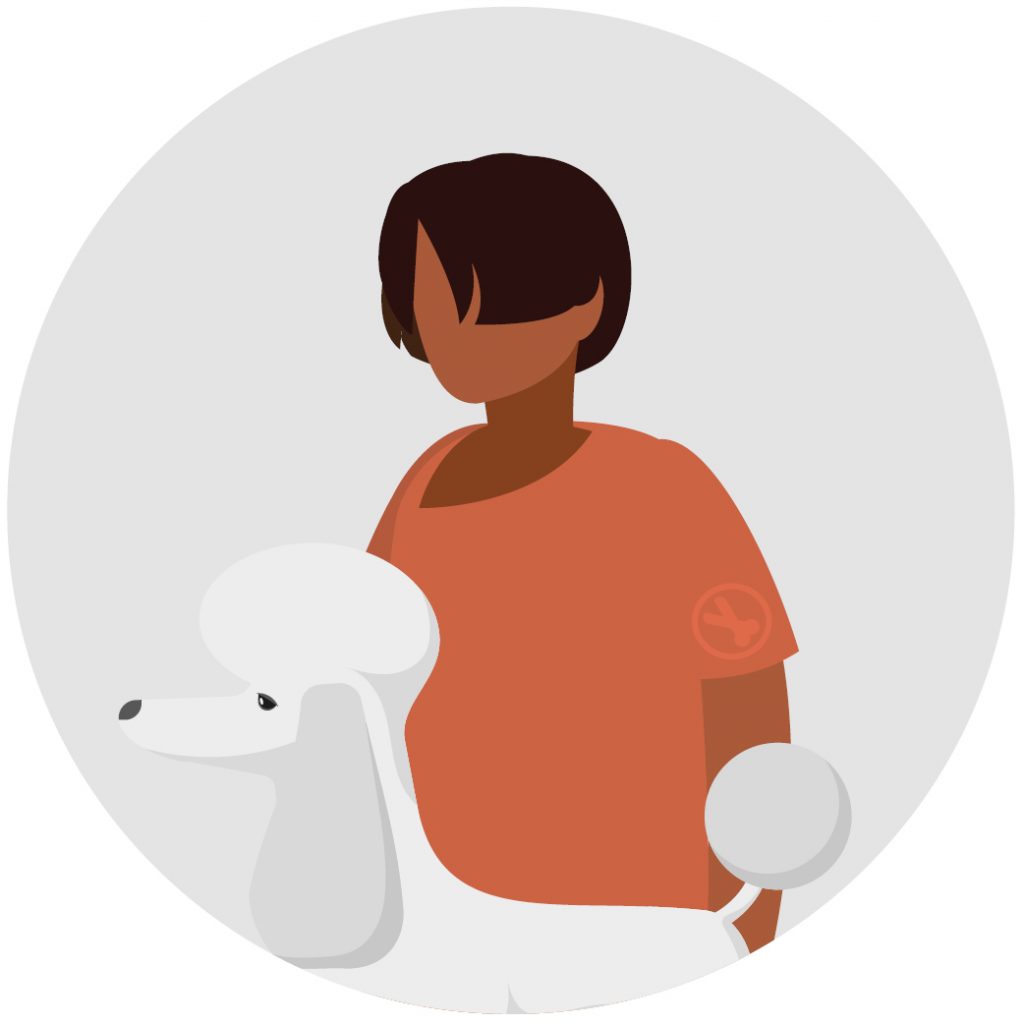 How to Become a Dog Groomer
In order to become a dog groomer, you must be a minimum of 16 years of age.
A practical knowledge of dogs and experience of handling them will also be an advantage when applying for a college course. For example, you could look for work experience in a dog grooming, dog walking or dog boarding business. Read further information about finding experience here
Qualifications and Training
The British Dog Grooming Association recognises the City & Guilds accredited dog grooming courses as a professional standard required by all dog groomers:
City & Guilds Level 2 Certificate for Dog Grooming Assistants

This qualification is aimed at those entering the dog grooming industry for the first time with no formal training or experience. This is a great course, covering all the basics such as handling and restraint, bathing and drying dogs, maintaining equipment and basic trimming.
City & Guilds Level 3 Diploma in Dog Grooming

This qualification is ideal for dog groomers looking to build upon the knowledge gained during the level 2 City & Guilds qualification. Upon gaining this qualification you will be confident in handling and grooming a range of dogs of differing breeds, temperaments and ages. You will be able to identify signs of normal and abnormal behaviour to minimise stress, and know how to undertake health checks and adjust grooming regimes accordingly. You will also gain an understanding of relevant animal welfare legislation and safe working practices, as well as learn how to manage the administrative and financial aspects of a busy dog grooming salon.
Dog Groomer Level 2 Apprenticeship
What qualifications do I need to start training as a dog groomer?
There are not usually any formal academic qualifications required to start training as a dog groomer, however many training providers will look favourably on:
Qualifications in Maths and English
Experience working with dogs
Dog Grooming Training at The College of Animal Welfare
Our accredited dog grooming qualifications will get you started on the right foot and give you the confidence to undertake a range of bathing and grooming techniques.
Our programmes are run at our centres in Huntingdon (Cambridgeshire) and Leeds (West Yorkshire). Working with our qualified groomers in our state-of-the-art dog grooming suites, the emphasis placed upon practical training throughout the course gives learners the knowledge, skills and experience needed to stand out in an increasingly competitive job market and progress within the industry.
As one of the largest providers of dog grooming training in the UK, we can offer you the opportunity to train alongside a community of like-minded students who all share a passion for dogs and a desire to join an exciting and rewarding profession. Visit www.caw.ac.uk/dg for more details about our courses.
Dog Grooming Seminars and Live Demos
We also run a range of grooming seminars throughout the year to help dog groomers continue to develop their professional skills and knowledge. Visit cpd.caw.ac.uk for more information.

Career Progression for Dog Groomers
Whether you've recently qualified as a dog groomer, or you're are thinking about training as a dog groomer in the future, you may be wondering what professional opportunities are available.
With a formal dog grooming qualification in hand, many dog groomers are ready to take the industry by storm. There are lots of exciting career paths available to you as a qualified dog groomer, so you can choose something that really fits with your career goals, interests and strengths.
Take a look at some of the career options for dog groomers:
Gain a great job working as a dog groomer

Dog grooming is a growing industry, with more and more dog owners taking advantage of the services provided by grooming salons. There are thousands of dog grooming salons, and increasing numbers are part of other pet-related businesses such as pet shops, garden centres, boarding and breeding kennels. Some are branching into cat grooming, and there are also growing numbers of mobile groomers.

If you are not already doing so, seeking employment as a dog grooming stylist is a great way to gain knowledge of how a fast-paced grooming business operates. You never know – after demonstrating the skills you have gained, you might be considered for future management roles within your workplace. Here is a list of websites you can find local dog grooming vacancies:
Open up your own dog grooming business

Ambitious groomers could open up their own dog grooming business from home, in commercial premises, or out and about by taking it mobile, or work in partnership with an existing business such as a boarding kennels or dog walkers. Building up connections with existing client bases and industry players in this way will help to boost your new venture long term.

Running your own business means you get to be the decision maker and follow your aspirations. By being your own boss you can work flexibly, choose your surroundings and even the people you work with.
Pursue higher study in dog grooming

You may wish to continue studying and work towards higher-level qualifications by undertaking programmes such as the Level 3 Diploma for Professional Dog Stylists and/or the Higher Diploma in Dog Grooming.
Compete in professional dog grooming competitions

If you have a competitive streak, there are plenty of opportunities in industry to compete in professional dog grooming competitions and become renowned for excellence in your trade. Competing in competitions can also help you boost your skills by learning from others.
Train future dog groomers as a teacher

If you're keen to use your skills and knowledge in a different way, you could consider helping the next generation of dog groomers to achieve their formal dog grooming qualifications; either by teaching and promoting dog grooming courses at a relevant college, or by taking on an apprentice at your new workplace. Read more about how to become a dog grooming teacher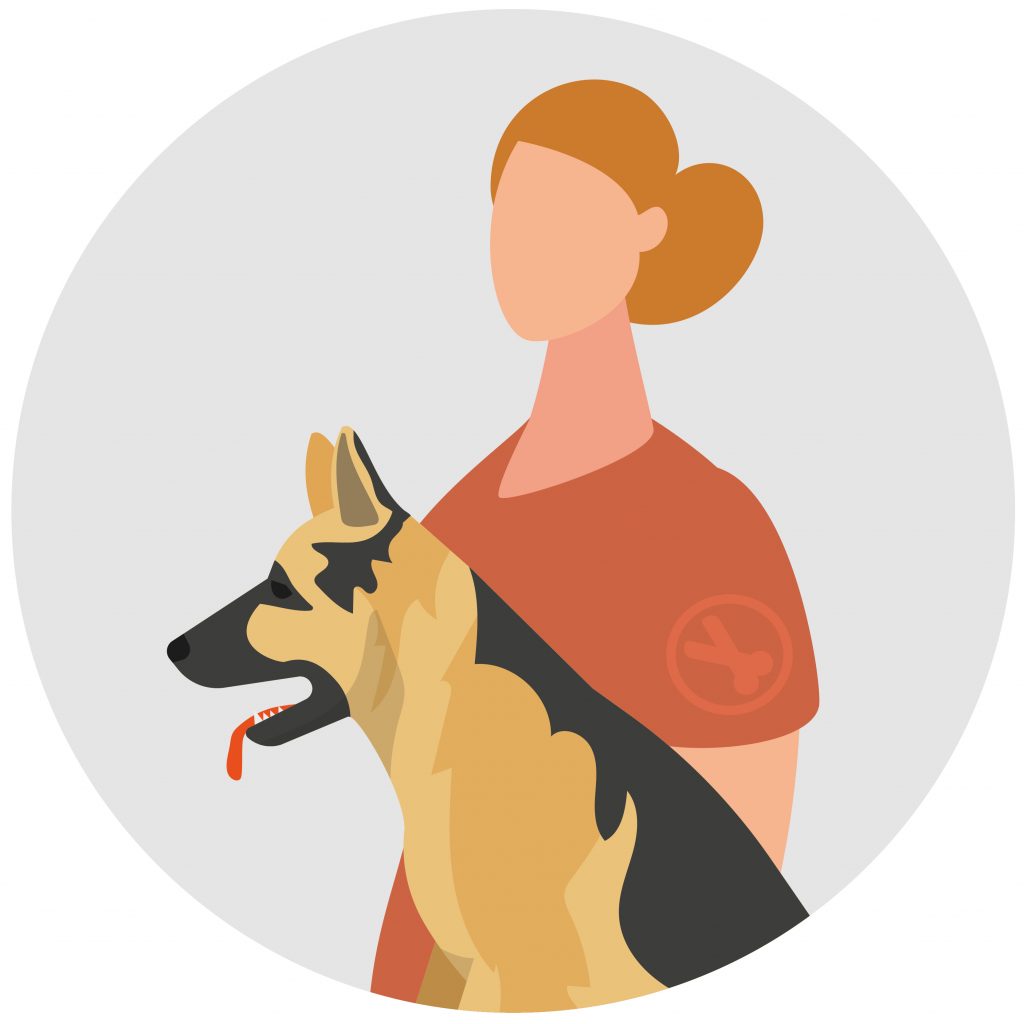 How to Gain Experience Working with Dogs
Usually, you'll need to gain some experience working with dogs before applying for a training programme or job, to help support your application.
Work experience is an incredibly valuable opportunity to take a close up look at the career and ensure you are making the right career choice. Along with the additional benefits of networking within the industry and gaining valuable practical skills to help you in your journey to becoming a dog groomer.
If you're struggling to gain the experience needed to apply for the course, don't give up. Take a look at our tips and advice about how to gain work experience working with dogs:
Check online job boards for dog grooming positions including Indeed, the CAW Jobs Board and Animal Jobs Direct.
Follow local veterinary colleges and dog grooming parlours on social media to be the first to see any new vacancies posted.
Follow us on social media to be the first to see any new careers advice and updates about our dog grooming qualifications and training: Facebook, Twitter, LinkedIn, Instagram, Pinterest
Subscribe to The College of Animal Welfare's newsletter to be notified when we open our dog grooming courses for new applicants
Contact your local dog groomers directly to ask for a work placement or enquire about employment opportunities.
Attend relevant open evenings and career days such as our Careers With Animals Day to discuss your career plans with colleges and dog grooming parlours.