Study with us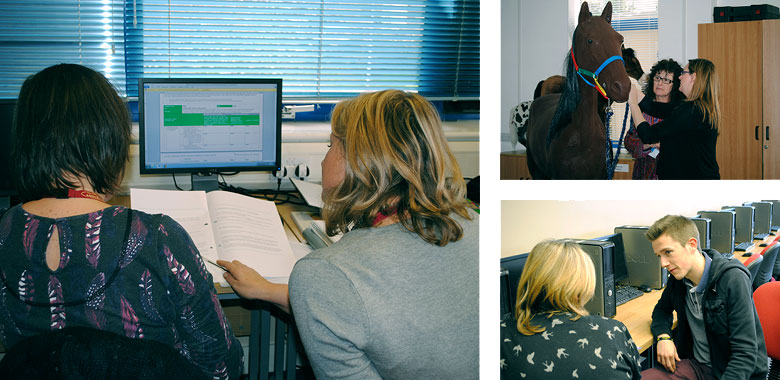 We understand that choosing where to study is an important decision, so why should you choose us?
Professional tuition with professional people
Since 1989 we have been providing quality, professional tuition and have gained a well-earned reputation of excellence.
The ethos of our College is based around improving animal welfare through education and training, and to this end we strive to create new opportunities for learning; two of our most notable achievements being the creation of the first ever BSc (Hons) Veterinary Nursing programme in conjunction with Middlesex University in 1998 and the City & Guilds Level 2 Diploma for Veterinary Care Assistants qualification.
When you choose to study with us, you will be joining a community of like-minded people who share similar goals and aspirations.
Experienced and qualified tutors
We are proud that our tutors are dedicated to providing you with the best learning experience in order for you, to not only achieve your qualification, but to excel and prepare yourself for future study or employment.
'Learners work to a very high standard and develop excellent professional skills working with employers who are enthusiastic and supportive.'
Ofsted report February 2016
Our lecturing team like to look for new modern methods of teaching that are creative and help you to enjoy your learning with us. Our lecturers all hold academic qualifications and industry experience in the subjects they teach and have either achieved, or are working towards, teaching qualifications.
'An exceptionally large proportion of learners gain and/or sustain employment within the industry'
Ofsted report February 2016

Equality, diversity and inclusion
We take great pride in our Equal Opportunities policy and will not exclude any student from a course on the grounds of age, sexual orientation, religion or belief, sex, pregnancy, maternity, disability, gender reassignment, race or marital/civil partnership status.
Students with disabilities
We are committed to equality of access to all.
If you have a disability, you may have some questions before starting College, such as:
Will there be any support in the class to help me learn?
Will I be able to hear what people are saying?
Will I be able to access the facilities?
We want you to enjoy learning with us and offer appropriate support, where required, to enable you to do this. If you have any questions that you would like to discuss before you start College, please contact us. We will be happy to talk through your options and try to address any concerns you may have.
All students undertake an initial assessment of their Basic Skills; this identifies any additional support or adjustments that may be needed during the programme.
CAW Learner Expectations
We want to provide a positive learning environment for all our students, to maintain this we promote the following learner expectations:
Be respectful…
Demonstrate mutual respect
Be tolerant of differences
Actively listen when others contribute
Help and support your peers
Be responsible…
Speak quietly during group learning activities
Only use your electronic devices for related activities
Follow our policies and procedures
Be safe…
Involve your peers, social exclusion is unacceptable
Look out for your peers & be aware of your surroundings
A visible ID badge shows that you are permitted on site
If you need to leave the room please inform the tutor
Ensure that you know the campus emergency procedures
Check around you for hazards or anyone acting inappropriately
Financial support
We are committed to seeking sources of funding in order to keep our course fees as affordable as possible. In 2013, we introduced a new 'Pay as You Learn' scheme, which now allows the option of some courses to be paid on a monthly direct debit basis, allowing you to spread out the cost of your training.
From time to time, you may find yourself in need of financial help to get yourself through your studies. There are many sources of help available, from loans and grants to our very own Student Hardship Fund. Please see our student finance page for details.