Student Support
There are many different aspects of your life that can affect your time at College and your ability to achieve your qualification – these range from your financial and housing situation through to your personal and emotional well-being.
We want to ensure that you: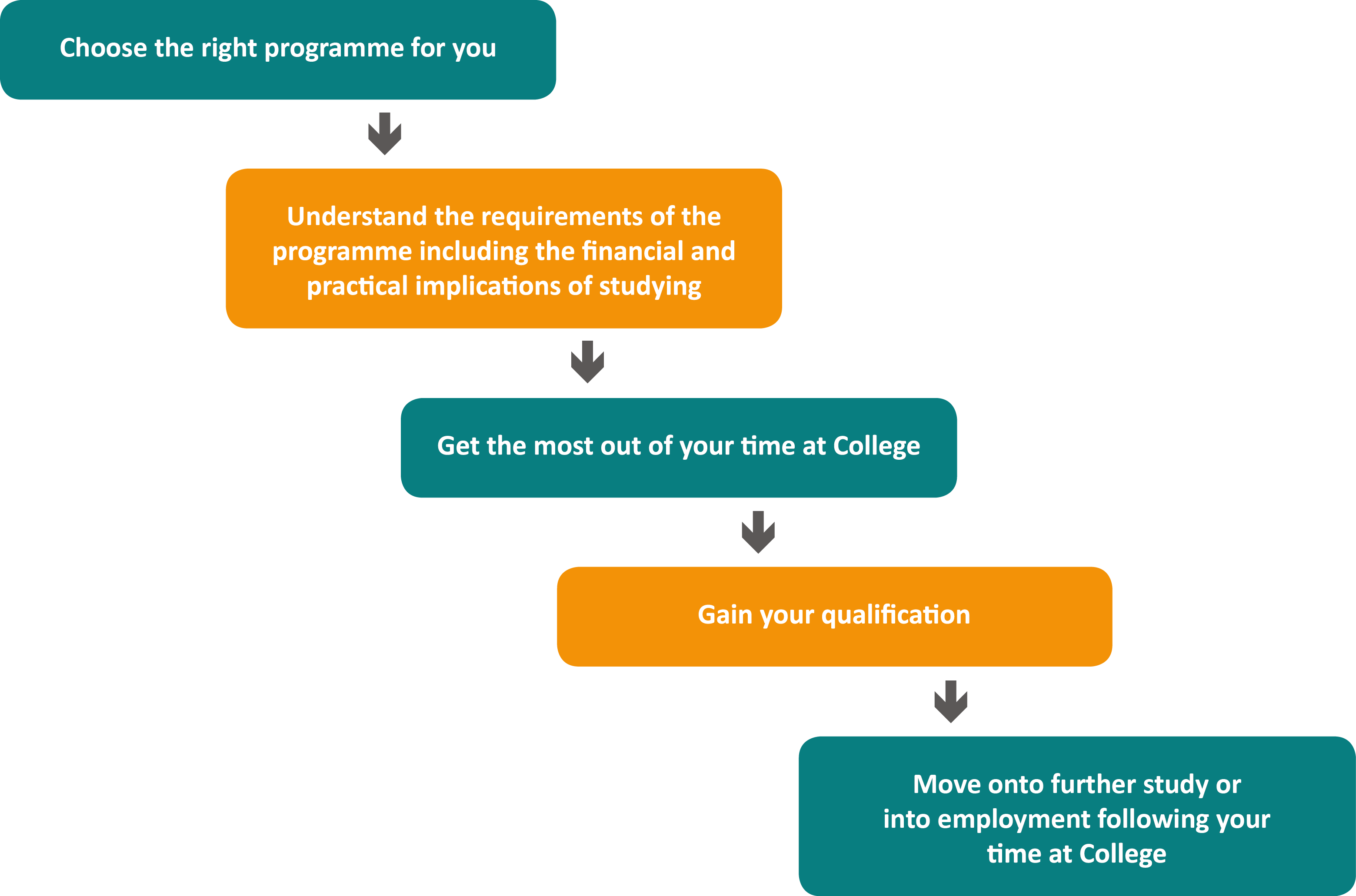 We are committed to supporting you to achieve all of the above. Below you will find sources of support which you may need from time to time and some information on remaining healthy and active.
Tutorials and course reviews
Whilst you are studying with us you will receive regular tutorials and reviews with your course tutor. These will provide you with the opportunity to evaluate and review your progress on your course and talk through any difficulties or additional support you may need either inside or outside of college.
You will also get the opportunity to discuss your future plans upon finishing your course, particularly as you are nearing the end of your programme and looking at what to do next.
Personal Support
If you encounter a personal situation which you need advice or help with, please speak to your tutor in the first instance. Your tutor will be able to provide you with guidance and direct you to appropriate sources of help and support.
If you feel unable to speak to your tutor, you will find details of organisations on the student notice boards at all centres that you may contact for professional help, covering a wide range of situations.
All CAW students are able to access confidential counselling services supplied by Jill Dighton MBACP in Huntingdon and Mark Walsh BACP in Leeds.
Appointments are available face-to-face with Jill Dighton at Headland House or in her clinic in Grafham, and with Mark Walsh at the Leeds centre or at the Satori Complementary Therapy Centre in Wakefield. Sessions are also available to ALL CAW students by video conference, phone, FaceTime or similar.
All appointments must be made directly with Jill and Mark; students can access this service at no cost. Please note the College is not made aware of any appointments made or the content of any session.
Jill Dighton
Tel: 07925 852 985
Email: jill@jdighton.co.uk
Mark Walsh
Tel: 07905 611 591
Email: mwalsh4@sky.com
If you would prefer to find your own, or additional, source of support you can find a list of qualified counsellors or psychotherapists here.
Togetherall
All staff and students can now access free online mental health and wellbeing support through
Togetherall
(previously called Big White Wall). This service can be used at any time of the day or night, all year round. The service enables members to get things off their chest in a safe, anonymous global community. You can access a library of self-care resources. This includes clinical tests, tips and guided group courses covering a range of topics. Trained professionals are online 24/7 to keep all members safe and provide extra support. Togetherall can help with adopting useful coping strategies and behaviours to help improve mental health and wellbeing. On Togetherall, people are totally anonymous to other members, and personal information is kept secure. Whether you're suffering from stress, problems with sleep, feeling low or unable to cope, or simply need someone to talk to, Togetherall can help you get support, take control and feel better. Most members report feeling better and more able to cope as a result of using the service. What's more – nearly 90% use Togetherall outside of 9-5pm. The college will not be informed of those who are signed up to Togetherall or activity on the service unless they are seriously concerned about safety whilst on campus. To join,
go to the Togetherall website
and sign up under 'I'm from a university or college' using a staff or student e-mail address.
Fika
Fika is a Mental Fitness platform which helps you to improve your 7 skills of Mental Fitness to enable you to achieve more and have greater life satisfaction.
With our student and staff's wellbeing being one of our top priorities, The College of Animal Welfare, wanted to find a way to offer our community an accessible, results driven means for our student and staff manage and future proof their mental fitness. Fika is designed to empower individuals with guided mental skills development courses with proven benefits on mental well-being and performance.
All CAW staff and students have access to Fika. You can find out more in our Quick Guide to Fika here.
CAW Buddy Scheme
Here at CAW we understand that things can feel a little daunting, particularly during the pandemic. It may feel like it is a struggle to strike up friendships and settle into college life.
That's why we have set up the CAW Buddy Scheme. We want you to make the most of your time with us. Not only do we want you to progress academically, but we also want you to develop as a person and enjoy your time with us. You can find out more about the scheme in our Buddy Scheme Pocket Guide here!
If you are interested in applying to become a buddy please complete the application form here, or you can apply for a buddy by completing the application form here and returning forms to buddy@caw.ac.uk
Please do not hesitate to contact us if you have any enquiries!
You can find out more about well being at the college here.
Financial Support
You must ensure that, prior to enrolling onto a programme, you fully understand the financial implications during your period of study. As well as the obvious cost of course and awarding body fees, you must be able to ensure you are able to get to College and your work placements (where applicable) and be able to pay for your housing, bills and associated costs of learning.
There are many sources of financial help that you may be entitled to, to enable you to study with us, please take a look at our grants, bursaries and additional help section on our Fees and Finance page. On this page you will also find details of loans and help with transport costs.
Unfortunately, you may find yourself in a position of financial hardship during your course, there are sources of financial support available to you to enable you to continue your course and remain happy and healthy, including our own The College of Animal Welfare Hardship Fund.
Free debt advice for anyone who needs help managing their debts.
Students with disabilities
We are committed to equality of access to all. You can view our Disability and Neurodiversity Statement here. If you have a disability, you may have some questions before starting College, such as:
Will there be any support in the class to help me learn?
Will I be able to hear what people are saying?
Will I be able to access the facilities?
We want you enjoy learning with us and offer appropriate support, where required, to enable you to do this.
Neurodiversity
"We understand the many challenges faced by our neurodivergent learners and we are committed to making The College of Animal Welfare a safe, empathetic and fully-inclusive learning environment"
To further support our pledge to neurodivergent learners a collection of 'Neurodiversity Factsheets' have been developed to help us better support our learners with additional needs. They include information about common symptoms of various neurodivergent conditions and practical solutions to help in the classroom.
If you have any questions that you would like to discuss before you start College, please contact us. We will be happy to talk through your options and try to address any concerns you may have.
Health and Well-Being
Living Well is an online resource available to all CAW students via our Virtual Learning Environment (VLE). The area contains information and resources about mental well being, eating well and getting active.
Illness
If you are unwell, you must notify us as soon as possible. You will be required to complete an absence form for all periods of absence.
Doctors
To consult a doctor you must first be registered with one. If you are not registered with a doctor you can find one using the NHS search facility.
A great site if you have any worries regarding alcohol, drugs, eating healthily, mental health, pregnancy, sexual health, losing weight, depression, eating disorders, or a medical condition.
For help quitting smoking, visit the NHS Smoke Free website for a range of advice help and support.
A great little website, packed full of ideas for healthy eating and getting active.
Information for young people, parents/carers and professionals on young people's mental health.
The Wellbeing Service
Many NHS organisations now provide self-referral services – for example in the Cambridgeshire, Hertfordshire and West Yorkshire regions – offering a range of support in regards to coping with stress, anxiety and depression. Please contact your local NHS about services in your area for more information.
Working to prevent child cruelty and abuse. You can talk to trained counsellors for 24/7 help and advice.
Information on remaining safe online.
ChildLine is a private and confidential service for children and young people up to the age of 19. You can contact a ChildLine counsellor about anything -no problem is too big or too small. Call free on 0800 1111, have a 1-2-1 chat online or send an email.
Child Sexual Exploitation Advice
If you are concerned about Child Sexual Exploitation you can find sources of help and advice on the Barnardo's website. There are also helpline numbers you can call.
Drug advice helpline: 0800 776600 / Text 82111
Ocean Recovery provides a support group network for people suffering with addiction to drugs and alcohol in the North West of England. Ocean Recovery offers free and confidential services over the phone. The website also contains free guides and resources for people suffering from addiction and for their families and carers.
Bullying advice for children and parents.
You can report a crime anonymously in the UK using an online form or by calling 0800 555 111.
The College of Animal Welfare documents and policies
Please visit our documents and policies page for information on accessibility, college procedures and handbooks.
Remember you can: