Courses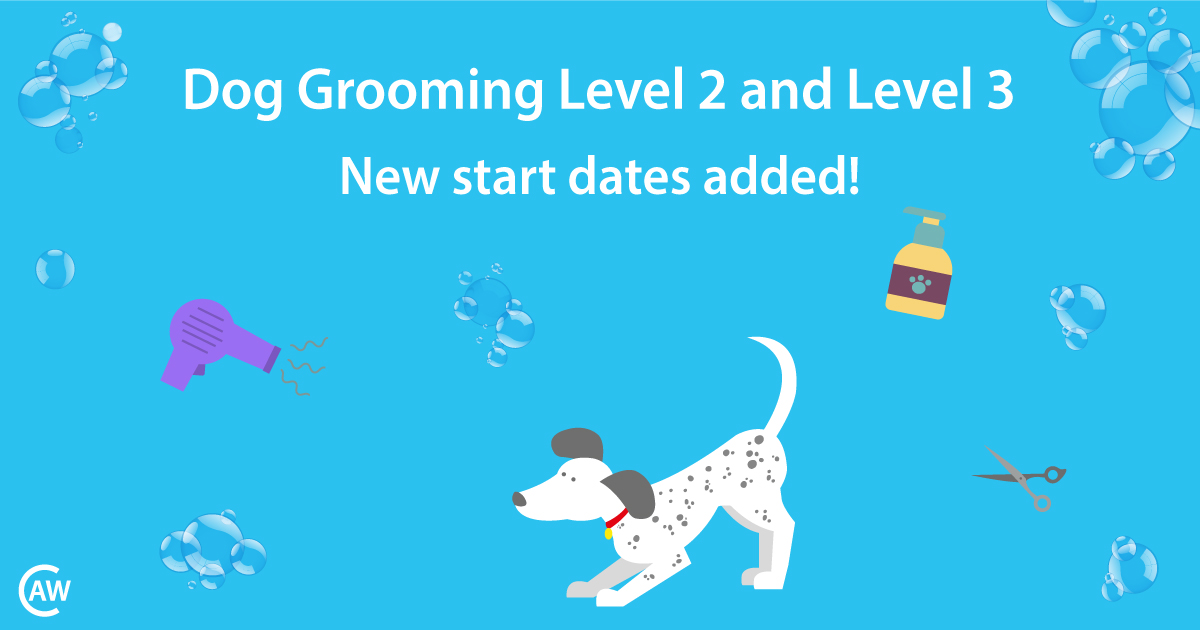 If you love dogs and are looking for a new career or flexible business opportunity, then dog grooming may be just the thing for you! Our City & Guilds accredited dog grooming qualifications will get you started on the right foot and give you the confidence to undertake a range of bathing and grooming techniques.
There is a significant emphasis on developing your practical skills throughout your dog grooming training; giving you the skills and experience necessary to use professional dog grooming equipment to groom a variety of different dog breeds to breed standard or owner requirements.
Subject overview
If you have a passion for animal welfare and are looking for a career that comes with the possibility of becoming your own boss, then dog grooming might be the perfect profession for you!
Dog grooming has become much more accessible in recent years. No longer are salons restricted to grooming show dogs or dogs that require specialised clipping. Now you can find nearly every breed of dog in a grooming salon, and many of them will be regular clients! Even dogs with very short coats can visit to have their ears cleaned; their nails clipped or have a basic bath and dry.
Although dog grooming can be hard work physically; raising the standards of animal welfare on a daily basis means that it is also a very rewarding profession.
Is dog grooming for you?
As a dog groomer, you would be responsible for ensuring the welfare of any dogs that came into your care, for the duration of their stay. As such the job involves not only being able to understand how professional dog grooming equipment is used, but being able to confidently handle a variety of dogs and cater treatments to their individual needs. This might include calming nervous dogs, or giving owners advice on grooming and coat care.
You should be able to cope with the physical demands of the job and assure customers of your expertise. Often dog groomers have their own business and many work alone, meaning that dedication and a commitment to self-improvement is vital to succeeding in the profession.
The British Dog Grooming Association recognises the City & Guilds accredited dog grooming courses as a professional standard required by all dog groomers. The College of Animal Welfare runs City & Guilds accredited dog grooming qualifications from its state-of-the-art grooming parlours at its Huntingdon and Leeds centres. Courses are available on either a block release, day release or work-based format.
Why choose to study dog grooming at The College of Animal Welfare?
Experienced and supportive tutors
We pride ourselves on the fact that our tutors are all qualified dog groomers with solid industry experience; offering a wealth of knowledge to trainee groomers on our courses. They are dedicated to helping you to achieve your formal dog grooming qualifications and to go on to have a successful career.
Gain long term job prospects
Gaining a recognised City & Guilds qualification should give you the confidence to take your career in dog grooming to the next level, as it shows that you have the knowledge and skills needed to groom dogs in a safe and professional manner. On completion of our courses, many of our former students have achieved great things; going on to set up their own dog grooming businesses or gain employment in dog grooming parlours.
Flexible dog grooming training
Our City & Guilds dog grooming qualifications are run on a day release basis. We also offer bespoke options that can be more flexible to meet your needs.
"On leaving the course we were all encouraged to call if we had any problems grooming which I thought was an added touch, it showed the College actually did care about its students and the well-being of the animals we would be working with. Since I left the College in July 2015 I have set up my own business; Petchase Dog Grooming and Walking Services based in Sandy. It has gone from strength to strength, so much so that we now have three people on the team! It was very daunting going out on my own and I must admit the first dog I did without encouragement of the teachers was rather scary… however, it is amazing how much knowledge you are taught and when the time comes you can put it into practice".
Kim Chase (2015)
Careers
Once you have completed formal training and gained solid industry experience, many opportunities become available to you.
If you are not already doing so, seeking employment as a dog grooming stylist is a great way to gain knowledge of how a fast-paced grooming business operates. You never know – after demonstrating the skills you have gained, you might be considered for future management roles within your workplace. Dog grooming jobs advertised on our job board can be found here.
Alternatively, ambitious groomers could open up their own dog grooming business from home, in commercial premises, or out and about by taking it mobile, or work in partnership with an existing business such as a boarding kennels or dog walkers. Building up connections with existing client bases and industry players in this way will help to boost your new venture long term.
Another option would be to help the next generation of dog groomers to achieve their formal dog grooming qualifications; either by teaching dog grooming courses at a relevant college, or by taking on an apprentice at your new workplace.
You may also wish to continue further study on the Level 3 Diploma for Professional Dog Stylists and/or the Higher Diploma in Dog Grooming.
You can further develop your skills by attending dog grooming workshops, demonstrations and events such as Dog Grooming Congress.
If you'd like more information about the opportunities available in the dog grooming sector, you can visit our career profile for Dog Groomers.