Dog Grooming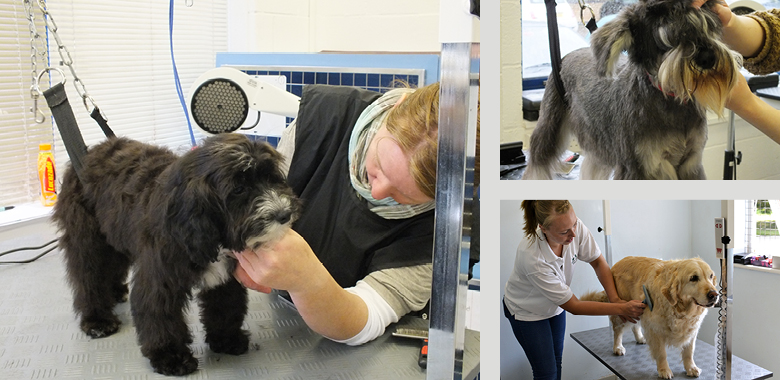 Open All | Close All
Do you want to become a dog groomer?
If you love dogs and are looking for a new career or a flexible business opportunity then dog grooming may just be the thing for you!
Dog grooming has changed significantly in recent years and salons are no longer restricted to show dogs or dogs that require significant clipping. Nowadays nearly every breed of dog can be found in a grooming salon with many of them being regular clients. Even dogs with very short coats visit to have their nails clipped, their ears cleaned or to have a basic bath and dry!
Although grooming dogs can be physically hard work and challenging at times it is a very rewarding job that gives you a great deal of satisfaction.
Will I be suited to dog grooming?
You will need to be able to confidently handle a variety of dogs and have a genuine passion for their care and welfare.
You should have great attention to detail and be able to cope with the physical demands of the job. Many dog groomers work alone, often having their own business so the motivation to succeed in the profession is vital.
What do dog groomers do?
As a dog groomer you will have the knowledge to carry out basic health checks, identify parasites and signs of infection, bath, dry and style all dogs to 'breed standard' or customer specification.
You will discuss with the owner the dog's history such as its temperament, health, medical history and age. You will then discuss what grooming the dog requires; this could range from a bath and tidy up, to a full clip or hand strip and can include nail clipping and cleaning ears.
There are standard breed requirements which you work to, particularly if you are preparing dogs prior to a show, however some owners will prefer their dogs groomed to more of a pet style; this is all part of the variety of the job.
You will also advise owners on grooming requirements and coat care of their dogs in between grooms.
How do I become a dog groomer?
The British Dog Grooming Association recognises the City & Guilds accredited dog grooming courses as a professional standard required by all dog groomers. The College of Animal Welfare runs City & Guilds accredited dog grooming qualifications from it's state-of-the-art grooming parlour at the
Huntingdon centre
. Courses are available on either a block or day release.
City & Guilds Level 2 Certificate for Dog Grooming Assistants
This qualification is aimed at those entering the dog grooming industry for the first time with no formal training or experience. This is a great course, covering all the basics such as handling and restraint, bathing and drying dogs, maintaining equipment and basic trimming.
City & Guilds Level 3 Certificate in Introductory Dog Grooming
This qualification is an ideal course for those who have achieved the above Level 2 Certificate or who already have significant industry experience. This course will give you the knowledge and understanding to complete the grooming process from start to finish including styling, finishing and different grooming techniques for different dog breeds.
What opportunities are there once I have my level 2 and 3 City & Guilds dog grooming qualifications?
There are a variety of opportunities available.
If you are not already employed in a dog grooming parlour, you may look at finding employment as a dog grooming assistant or stylist; this is a great way to gain the experience and knowledge of how a fast paced grooming salon runs.
Another option would be to start up your own grooming business from home, in commercial premises, or out and about by taking it mobile. Alternatively you could look at working in partnership with an existing business such as a boarding kennels or dog walkers; these existing businesses will already have a client base in place with whom to start your new venture.
You may wish to go on to study the Level 3 Diploma for Professional Dog stylists and/or the Higher Diploma in Dog Grooming. Further information can be found on the Pet Industry Federation website.
Dog grooming courses