Dog Grooming Congress
Date TBC
What is Dog Grooming Congress?
*New for 2023* Aimed specifically at dog groomers and trainee dog groomers, attendees will get the chance to watch live demonstrations, ask questions and listen to insightful presentations by expert speakers in the dog grooming industry; gaining valuable knowledge and inspiration to take back to the grooming salon.
Sponsored by Mutneys Professional Pet Care, there will also be a range of exhibitors in attendance, discussing various products and techniques.
Who should attend?
Dog Groomers, or dog grooming students, looking to develop their knowledge and understanding of dog grooming techniques, products and information. Whether you are a newly qualified dog groomer, or have been in the industry for many years, this congress is for you!
This congress will be particularly useful if you're:
Aiming to progress within your role
Interested in keeping up-to-date with developments in the dog grooming industry
Interested in getting into competing
Looking to make connections and network with other dog groomers
Looking to gain information to help start your own business
Why attend?
Watch live demonstrations and presentations from a range of speakers who will be sharing their experiences and knowledge
Live demos means your questions will be answered by the speakers themselves throughout the sessions
Gain practical takeaways that you can implement in your dog grooming salon
Gain information, product knowledge and offers from our exhibitors
Download the agenda (PDF)
Stream 1 - Demonstrations
Salon Pet Trim on a Cockerpoo
Holly Bridden, Mutneys Professional Pet Care
An informative demo of a salon pet trim on a cockerpoo. Holly from our sponsors at Mutney, will
talk about products whilst showing how to get the best look for your dog, from start to finish.
The Asian Fusion Flare – From Top to Tail
Vasileios Barlos, Vasileios Barlos Grooming
During this demonstration, Celebrity Dog Stylist Vasileios will be working with his silver toy Poodle to show how to create the perfect 'Princes Head' style of Asian Fusion. He will also cover techniques to create show style donut muzzles and flare legs.
Vasileios will also discuss how to prepare the coat for styling and what products he uses to create these looks, whilst taking any audience questions.
Salon Pet Trim on a Breed Standard Bichon
Holly Bridden, Mutneys Professional Pet Care
Holly from our sponsors at Mutneys will demo a salon pet trim on a bichon, using comb attachments and offering you time saving tips - from preparation to finish - with an overview of products used, showing how to get the best look for your dog, from start to finish.
Stream 2 - Demonstrations and Presentations
Poodles and Doodles - Creating a Retro Trim and Working in Doubles
Jodie Stevenson
Vic Harwin, The Dog Bathing Company Ltd
Join award winning groomers, Vic and Jodie, as they demo for poodles and doodles - including prep work, choosing products and scissor and clipper techniques.
They will talk you through how to achieve a beautiful retro trim on a poodle or doodle and how to decide which retro trim will suit the dog in front of you. This presentation will show you how to take the plunge, be brave and give it a go; particularly if you would like to start your journey into competing.
Vic and Jodie will also talk about their experiences within doubles competitions for creative grooming and offer advice about to work together successfully, for those looking to enter this field.
How Introducing Reiki into Your Salon Can Help You and the Dogs You Work With
Rob Fellows, Rob Fellows Reiki
Do you have any difficult or anxious dogs to groom? If so, then learning the natural healing therapy of Reiki is ideal for you.
Anyone can learn to do Reiki, which gives you the "gift of healing", which will last you a lifetime.
Reiki has huge benefits for people and dogs including lowering stress, reducing anxiety, helps reduce pain and suffering in people, accelerates bodies self-healing and clearing toxins from the body. Reiki is totally harmless and complements all veterinary and medical treatments. To find out more come along to Rob's seminar. Your dogs will thank you later!
Our time showing Poodles
Allison and Morgan Taite-Shoosmith, Alisiane
A presentation about our time showing in agility and grooming competitions and Morgan's success in becoming top junior handler at cruft's 2022.
We will show how versatile poodles are, how the trims have revolved over the years, talking about the different trims and keeping them in top condition for the show and agility ring.
Covering maintenance of the coats and what we look for in choosing a puppy. And for anyone thinking about getting into showing, grooming competitions and agility; how you can start with your own dog.
Touching on lots of activities you can do with your dog and how the young kennel club has lots going on, with membership from 6-25 years.
Stream 3 - Presentations
Kind Hands
Julie Harris, Harris and Hargraves
The Julie Harris Education Anatomical Kind Hands Tour brings to life how knowledge of a dog's physiology can really help give you confidence with your handling.
With this understanding you will be able to sympathetically manoeuvre a dog on your table to reduce canine friction and make the grooming process more enjoyable for the dog and therefore for you.
Julie will present a taster session from the Tour which will give you some practical tips and advice to immediately put into practice.
Ttouch for Groomers
Tina Constance, Tellington TTouch Training
Tellington TTouch Can help to overcome grooming related issues by releasing tension in the body and helping the dogs to feel calmer and more accepting of contact. Using observations, handling, bodywork and movement techniques you can reduce fear and anxiety and build confidence and relationship. Looking at how posture influences behaviour and bringing the dog's body into better balance.
The Business of Pet Grooming
Bill Betts, Pet Passion to Profit
Bill will talk about accountancy systems available for the Pet Industry and speak about the five ways to grow your business in 2023.
Bill will be showing you five ways to grow your Pet Grooming business along with the five mistakes Pet Professionals make with their accounts.
After this presentation you will have some simple steps to take away and implement in your business to grow your income.
You will also have a better understanding of what you can and can't claim as an expense and what costly mistakes to avoid when it comes to your accounts.
Please note this programme is subject to change.
Allison and Morgan Taite-Shoosmith
Alisiane
Two-time winner of Groomer of the Year at Crufts and Top Junior Handler at Crufts 2022.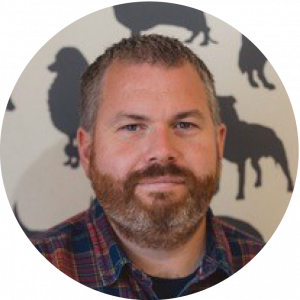 Bill Betts
Pet Passion to Profit
Bill Betts is the owner of Pet Passion To Profit, a business training company for Pet Groomers. Bill and his wife, Emma, run a successful Pet Groomers in Kent called A-Z Animal Care. Bill and Emma have 5 employees and the business is VAT registered. They once had a "Beast" of a business which controlled them, but they took control having found business mentorship. Bill now provides business mentorship to Pet Groomers helping them stay away from the mistakes that Bill and Emma made.
Holly Bridden
Mutneys Professional Pet Care
Holly Bridden is from Manchester and has 9 of her own dogs.
She particularly loves grooming crossbreed dogs, which she has been doing a lot in the salon where she has been grooming over the last ten years.
She specialises in creative dog grooming and enjoys sharing her knowledge, tips and tricks.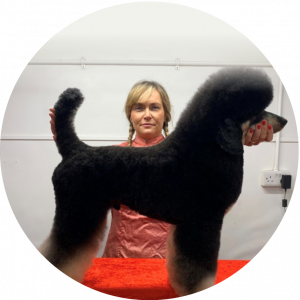 Jodie Stevenson
Jodie has been grooming for six years and runs her own successful grooming business. She has competed in various classes, placing first with Poodles in Asian and Creative classes. Jodie also won 'Novice Best in Show' for Mastergroom 2021 and placed second in the Poodle Speciality class for Mastergroom Canada.
Jodie is also a qualified City and Guilds assessor for level 2 and the diploma. She owns 8 dogs, 6 of which are poodles, and shows with her youngest standard poodle.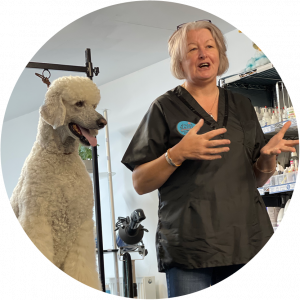 Julie Harris
Harris and Hargraves Ltd
Julie's passion for dogs, theory education and an entertaining speaker style has made her one of the most popular speakers in the industry. No matter what your level of experience as a dog groomer, we guarantee that you will learn from Julie's seminar something that you will be able to immediately put into practice.
Awarded a lifetime achievement for services to the dog grooming industry in 2021 Julie will give you confidence and encouragement with your grooming and knowledge development. Her love of the industry is infectious and we are sure you will leave feeling inspired.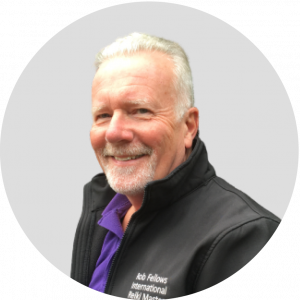 Rob Fellows
Rob Fellows Reiki
Reiki is a Natural healing therapy which is simple to learn and easy to do. International Reiki Master Teacher, Rob Fellows first learnt Reiki back in 1999 to help his springer spaniel who was suffering with arthritis.
Fast forward to today and Rob, as a fully qualified and experience Reiki Teacher, has over a number of years trained many people in the wonderful skills of Reiki; with a range of specialised courses including Reiki for Dog Groomers and Reiki for Vet Nurses. Rob provides both live trainings and home learning, making Reiki available to all. Full details at www.RobFellowsReiki.com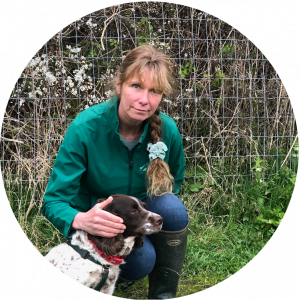 Tina Constance
Tellington TTouch Training
Tina is a Tellington TTouch Instructor for Companion Animals and horses based in the UK. She started her TTouch journey over 20 years ago and teaches in the UK and abroad.
Along with teaching and working with clients, Tina works in a rescue centre where she incorporates TTouch daily to help reduce stress in the animals and improve their chances of finding forever homes.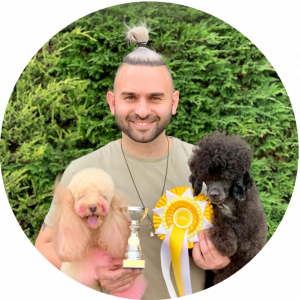 Vasileios Barlos
Vasileios Barlos Grooming
Vasileios is City and Guilds qualified and has been grooming professionally in the UK for 8 years. He has a vast celebrity client list who he works for from his salon at home in London. He is an award-winning groomer and was a contestant on the BBCs 'Pooch Perfect'. In 2022, Vasileios was also nominated as best up and coming stylist UK at the International Grooming Conference.
He regularly competes at Crufts with his toy poodles and attends an array of shows and competitions.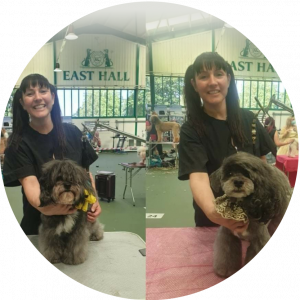 Victoria Harwin
The Dog Bathing Company Ltd
Victoria has her own grooming parlour in the city of Ely, offering pet trims as well as grooming dogs for the showing world, namely show Poodles. She also offers hand stripping of Schnauzers and Parsons Terriers for showing.
Victoria has a standard poodle that she shows, placing at Crufts last year and will be there again this year. She has placed in grooming competitions in several categories; workshop, poodle, hand stripping, creative and doubles with her doubles partner Jodie. She is also a qualified assessor for the City and Guilds grooming courses, level 2 and the diploma.
Clipit Grooming is the brain child of Paula Bryan, who has been in the grooming industry for 35 years. She is a founder of groomers online, director of the pet industry, owner of Blades Services and MD of Clipit Grooming.
Clipit trademarked products bring innovating, life-changing animal grooming products and delivers accredited educational online courses to the professional grooming industry, in delivering high quality animal love and care at affordable prices.
Harris and Hargraves
Harris and Hargraves provide education and products to professional dog groomers and pet owners. The combined skills and camaraderie of Julie Harris and Jo Hargraves have created a portfolio of high quality, effective and entertaining materials which we hope make learning enjoyable. By linking knowledge through explanation and practical demonstrations retention is higher and our students groom more confidently. Julie's professional Signature range of products are key 'can't live without' favourites that have been solving coat challenges since 2016. Now pet owners can benefit from this experience under the My Groomer Recommends brand, sold in UK grooming salons. Dog grooming is a tough job, and our goal is to bring warmth, light and expertise to help your day run more smoothly.
Mutneys Professional Pet Care Ltd was started by Jamie and Stephanie Roberts in 1995. As their families had always been involved in the dog showing and dog grooming world, it seems like a natural progression for them to take their love and knowledge of our four legged friends and develop a range of dog grooming equipment. They wanted this to reflect their own values with safe, natural and eco-friendly products, that are also affordable and would stand up to the heavy challenges faced by professional dog groomers.
Pet Passion to Profit are a business training company especially for the Groomers to give them more income, pride and confidence.  Whether you as a groomer are just starting out or want to grow your established business we have a course designed especially for you.
We have teamed up The Pet Accountant who is a fully trained Accountant and is an expert in the Pet Industry so can give you specialist advice that is tailored to your business.
Reiki is a Natural healing therapy which is simple to learn and easy to do. International Reiki Master Teacher Rob Fellows first learnt Reiki back in 1999 to help his springer spaniel who was suffering with arthritis. Fast forward to today and Rob, as a fully qualified and experience Reiki Teacher, has over a number of years has trained many people in the wonderful skills of Reiki with a range of specialised courses including Reiki for Dog Groomers and Reiki for Vet Nurses. Rob provides both Live trainings and Home Learning making Reiki available to all. Full details at www.RobFellowsReiki.com
Tellington TTouch is an effective, positive teaching method for animals that incorporates, observation, bodywork and movement exercises to improve cooperation, coordination, physical, mental and emotional balance.
By helping your animal come into better overall balance by releasing tension and improving posture, you can enhance self-control and self-confidence. This provides them with better choices and strengthens the relationship between you.
The College of Animal Welfare
The College of Animal Welfare is one of the largest providers of veterinary nurse training in the UK, with centres in Cambridgeshire, North London, Yorkshire, Greater Manchester, West Midlands, County Durham and Scotland. We strongly believe that education and training is the key to raising standards of animal welfare. To this end, we strive to create new and accessible opportunities for learning, and encourage employers and those working with animals to undertake appropriate levels of training and continue with lifelong learning and education.
Scissor specialists renowned for quality and a great variety of Scissor for student & professional dog groomers. We offer help and advice for all levels of groomers to ensure that every purchase meets the user's expectations and more.
At WildWash, the team believes that animals and humans deserve the same quality cosmetics and they pride themselves on being as transparent as possible. For every product, they provide a full ingredients list, which confirms that the products contain no parabens, phthalates, phosphates, petrochemicals, sulphates, palm oils, or PEGs. They use 100% pure essential oils and guarantee that none of their products have been tested on animals. This consideration and strong moral compass have earned WildWash ethical accreditation and created countless satisfied customers. WildWash is now the trusted, go-to natural brand used by groomers, pet owners, and vets around the globe.
Wow Grooming are proud to have a Premium range of shampoos, grooming sprays, colognes, brushes, combs and more. UK Manufactured
Register your details now to receive information about this event and other CPD courses
Interested in exhibiting at Dog Grooming Congress?
Dog Grooming Congress is a one day event focused on dog grooming.
Why exhibit with us?
Limited exhibitor numbers - Unlike larger congresses where hundreds of exhibitors often mean that visitors will not remember everyone, exhibition space for these events is strictly limited. As such you will get the opportunity to engage with all of the delegates attending our congresses personally.
Make meaningful business connections – Network with those that influence decision making in veterinary practice face-to-face and make relevant industry contacts.
Cost effective – with exhibitor packages starting from just £50+VAT, our prices offer value for money and fall considerably below that of larger events within the industry.
Download a booking form or call Claire Gregory, on 01480 422060.