Dog Grooming Congress
Sunday 2nd October 2022
What is Dog Grooming Congress?
*New for 2022* Dog Grooming Congress is a one day virtual event exploring all aspects of dog grooming; from the many different responsibilities, to the challenges that come with the role.
Aimed specifically at dog groomers, attendees will get the chance to listen to insightful lectures by expert speakers in the dog grooming industry, and gain valuable knowledge and inspiration to take back to the grooming salon.
This year, we will be welcoming speakers to deliver lectures on topics including:
The Business Side of Pet Grooming
Ttouch and it's Benefits in the Grooming Salon
Scissor Techniques
Adding Teeth Cleaning as a Service to Your Business
Skin and Coat Advice
Aromatherapy for Dog Groomers
Level 2 Dog Grooming End Point Assessment (EPA) Tips and Information
Who should attend?
Dog Groomers looking to develop their knowledge and understanding of dog grooming techniques, products and information. Whether you are a newly qualified dog groomer, or have been in the industry for many years, this congress is for you!
This congress will be particularly useful if you're:
Aiming to progress within your role
Interested in keeping up-to-date with developments in the dog grooming industry
Looking to make connections and network with other dog groomers
Looking to gain information to help start your own business
Why attend?
Listen to lectures from a range of speakers who will be sharing their experiences and knowledge
Q&A sessions mean your questions will be answered by the speakers themselves
Gain practical takeaways that you can implement in your practice
Gain information, product knowledge and offers from our virtual exhibitors
Gain online access to recordings of all the lectures and lectures from previous congresses up until the next event
We strongly advise viewing our events on Google Chrome, using a PC or Laptop (or on Safari if using a MAC).  Unfortunately, our software is not currently compatible with iPads. If you have no other means of accessing the event, please do get in touch ahead of time for further guidance.
Online Registration and Exhibition
Chairman's Welcome
The Business of Pet Grooming
Bill Betts, Pet Passion to Profit
Vicky Clark, The Pet Accountant
We will be showing you five ways to grow your Pet Grooming business along with the five mistakes Pet Professionals make with their accounts. After this presentation you will have some simple steps to take away and implement in your business to grow your income. You will also have a better understanding of what you can and can't claim as an expense and what costly mistakes to avoid when it comes to your accounts.
Apprenticeship End Point Assessment Information and Tips
Joanne Angus LCGI, Summit Groomer Training Group Ltd
New to dog grooming apprenticeships? discover what is an EPA and the process for reaching it, what is included in the EPA, how much studying is involved and how much time is allowed. Joanne will walk you through the different assessments so it is clear and easy to follow and therefore less stressful on the assessment day.
Live Q&A Panel
Present questions (anonymously if desired) to the speakers.
Online Exhibition and Lounges
Ttouch and its Benefits in the Grooming Salon
Alex Wilson, Xtra Dog Training
This talk will explore Tellington Ttouch, a fantastic tool to help to build calmness in dogs. It combines observations with hands-on gentle bodywork and the Tellington leading techniques. TTOuch is a non-envasive permission method, which can help dogs to act rather than react to what might be challenging situations.
Aromatherapy for Dog Groomers
Jitka Krizova, Vita Canis
More and dog groomers are turning towards a more holistic approach to dog grooming. They are incorporating Reiki and T-touch to their routine, they're offering spa treatments like a pawdicure, facial, mud masks, etc. And they are using aromatherapy on one level or another.
Aromatherapy is one of the phytotherapies, just like herbalism, flower remedies, traditional Chinese medicine, homeopathy etc. Aromatherapy has a holistic approach, meaning it's about creating balance in the whole body – humans or animals - using essential oils and hydrosols.
The following learning points will be covered:
Safe use of essential oils in a salon
How to choose a good quality essential oils
Examples of essential oils blends
Live Q&A Panel
Present questions (anonymously if desired) to the speakers.
Online Exhibition and Lounges
Skin and Coat
Julie Harris, Harris & Hargraves Ltd
Both skin and coat have important functions in the overall health of a dog. The subject is complex, but Julie Harris is an expert in this topic and will give you a clear understanding, looking at hair growth cycles, what happens when we cut hair and the influence of hair colour. Also, what creates healthy skin and how regular grooming helps maintain a healthy immune system. By understanding what is 'normal' for skin and coat a groomer can recognise what is 'not normal', providing a valuable, professional service to their customers.
Adding Teeth Cleaning as a Service to Your Business with Emmi-pet
Anastasia Waugh, The Dog Tooth Fairy 
This session will introduce you to what Emmi-pet ultrasonic teeth cleaning is, and how it can work for you in the grooming salon by increasing revenue, attracting more clients, seeing amazing results, and improving dogs overall dental health.  Anastasia will be covering how the teeth cleaning system works, as well as sharing some Emmi-pet Do's and Don'ts. In addition Anastasia will discuss what equipment you need to get you started, how much extra income you can expect to earn, and show you some of her client before and after teeth transformation photographs.
Scissor Techniques and Tips
Mandy Carr, The Scissor Boutique
Live Q&A Panel
Present questions (anonymously if desired) to the speakers.
Chairman's Close
Virtual Exhibition and Lounges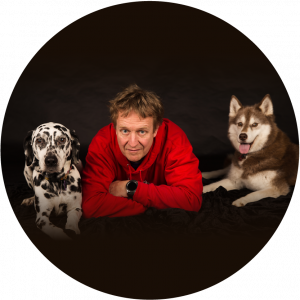 Alex Wilson
Xtra Dog Training
Alex Wilson is a Tellington TTouch practitioner and hosts the interactive practitioner training programme in the UK; in conjunction with Tellington TTouch Canada.  He also teaches the work and livestreams to students all over the world.  In addition, Alex is a senior instructor at the Dog Training College.
Outside of his work with dogs, Alex is also passionate about whale and dolphin research and has spent time studying humpback whales with the Oceania Project in Australia.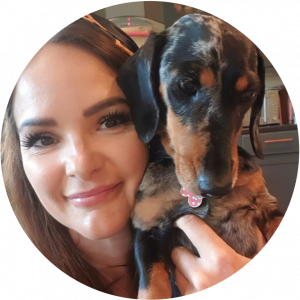 Anastasia Waugh
The Dog Tooth Fairy
Anastasia is an Emmi-pet distributor and offers online training courses designed to help pet professionals who are wanting to add teeth cleaning to their business. Anastasia is a qualified teacher with over 25 years experience of working in the animal care sector. Anastasia has been involved with Emmi-pet since 2018 when she first started using the product in her own dog grooming salon, it's now Anastasia's passion to educate dog groomers on how to work smarter not harder by adding this amazing service to their business to increase their income, and help improve dogs dental health at the same time.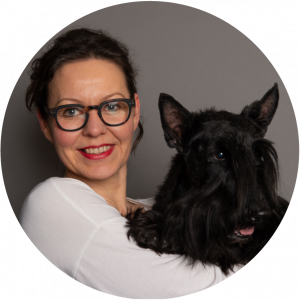 Jitka Krizova
Vita Canis
Jitka is a happy dog mum to 5 mischievous terriers. Jitka has always been passionate about dogs and has been in the pet industry for over 30 years. Jitka has won international dog grooming competitions, represented England and placed at the World Team Championship, winning the Dog Grooming Salon of the Year award.
The knowledge Jitka has gained over the years, plus her diplomas in canine massage and clinical aromatherapy, have led her to become the proud founder of Vita Canis.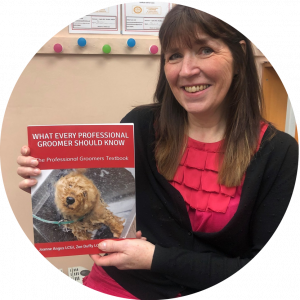 Joanne Angus LCGI
Summit Groomer Training Group Ltd
Joanne has over 30 years' experience in the grooming industry and has been teaching grooming since the 1980's. She is one of the founders of Groom Team England for which she is team co-ordinator. She is co-author of 'What Every Professional Groomer Should Know' and 'The Grooming Manual for the Dog and Cat' and is a founder member of the Guild of Master Groomers.
Joanne is keen to promote grooming excellence wherever possible, judging grooming competitions and demonstrating at seminars and events throughout the UK. Joanne is a lead end point assessor with VetSkill for the dog grooming apprenticeships.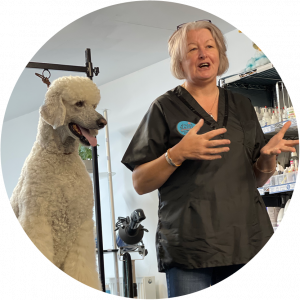 Julie Harris
Harris & Hargraves Ltd
Julie is happiest with a dog by her side. Grooming since she was a teenager and recently awarded the 'Lifetime Achievement Award' at the International Grooming Conference for her contribution to the industry, Julie is passionate about gaining recognition and awareness of the skills required to safely groom and sees education and qualifications as the key to that.
Founder of Julie Harris Education, a large part of Julie's career has been teaching others - either in a commercial organisation, at a college, or a salon; and hopes that by sharing her knowledge with you we continue to raise grooming industry standards, ensuring animals are handled and cared for safely, whilst being made to look FABULOUS!
Bill Betts
Pet Passion to Profit
Bill Betts is the owner of Pet Passion To Profit, a business training company for Pet Groomers. Bill and his wife, Emma, run a successful Pet Groomers in Kent called A-Z Animal Care. Bill and Emma have 5 employees and the business is VAT registered. They once had a "Beast" of a business which controlled them, but they took control having found business mentorship. Bill now provides business mentorship to Pet Groomers helping them stay away from the mistakes that Bill and Emma made.
Vicky Clark
The Pet Accountant
Vicky Clark trained as an accountant with her uncle up to retirement. Vicky always had a passion for animals and found herself helping some Pet Professionals with their accounts. Vicky quickly realised that she could combine her love for animals and helping the pet professionals and niched into the pet industry and launched The Pet Accountant. Vicky now helps Pet Groomers, Dog walkers, day care providers with their accounts be it sole traders or limited companies.
The College of Animal Welfare
The College of Animal Welfare is one of the largest providers of veterinary nurse training in the UK, with centres in Cambridgeshire, North London, Yorkshire, Greater Manchester, West Midlands, County Durham and Scotland. We strongly believe that education and training is the key to raising standards of animal welfare. To this end, we strive to create new and accessible opportunities for learning, and encourage employers and those working with animals to undertake appropriate levels of training and continue with lifelong learning and education.
VetSkill is an Ofqual and CCEA approved awarding Organisation and professional regulatory body. Our aim is to empower learners to recognise and achieve their full potential through the provision of inspirational qualifications. VetSkill have a growing portfolio of qualifications available for delivery by VetSkill approved Centres, and welcome enquiries from those who are interested in delivery our qualifications and supporting our mission.
Interested in exhibiting at Dog Grooming Congress?
Grooming Congress is a one day virtual event focused on dog grooming.
Why exhibit with us?
Limited exhibitor numbers - Unlike larger congresses where hundreds of exhibitors often mean that visitors will not remember everyone, exhibition space for these events is strictly limited. As such you will get the opportunity to engage with all of the delegates attending our congresses personally.
Make meaningful business connections – Network with those that influence decision making in veterinary practice face-to-face and make relevant industry contacts.
Cost effective – with exhibitor packages starting from just £50+VAT, our prices offer value for money and fall considerably below that of larger events within the industry.
Download a booking form or call Claire Gregory, on 01480 422060.