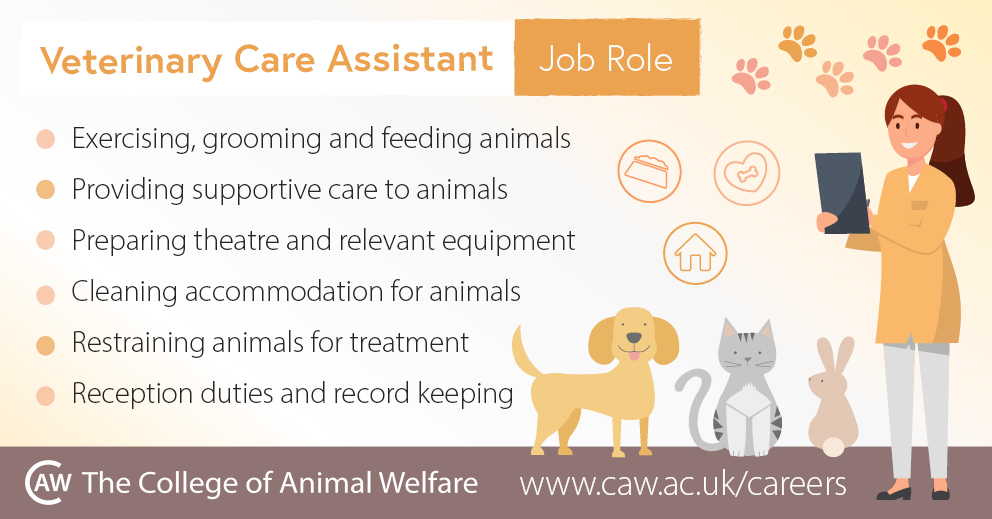 What the job involves
Veterinary care assistants are important members of today's modern veterinary team. They work alongside veterinary surgeons and veterinary nurses to provide vital nursing care, ensuring that the wellbeing of small animal patients is paramount.
First of all, no two days are the same, and that is what makes this work exciting! As part of your role you may be involved in:
Exercising, grooming and feeding hospitalised animals (inpatients)
Monitoring and providing supportive care to inpatients
Preparing theatre and relevant equipment
Cleaning and preparing accommodation for animals
Restraining animals for treatment
Reception duties, including advising clients on preventative health care e.g. flea treatment
Record keeping
Personal qualities
Good veterinary care assistants are dedicated to their job and are passionate about the animals in their care. You must be reliable, hard-working and good at working as part of a close knit team.
Working conditions
The job can involve weekend and evening shifts.
Although the hours can be long and the work physically and emotionally demanding, the rewards that come from helping an animal back to health and working as part of a dedicated team make the job extremely worthwhile.
Qualifications and training
Level 2 Diploma for Veterinary Care Assistants
This programme can be studied as an online distance learning programme.
To undertake the programme you will need to be either employed, or volunteering within, a veterinary practice (this does not need to be an RCVS approved Training Practice).
It usually takes one academic year to complete.
The Level 2 Diploma for Veterinary Care Assistants programme was developed by The College of Animal Welfare and City & Guilds.
What qualifications do I need to start training as a veterinary care assistant?
There are not normally any formal academic entry requirements to start this programme although it is advisable to check with the College you are intending on studying with. If you wish to undertake the day release or online distance learning programme you will need to be either employed, or volunteering within, a veterinary practice (this does not need to be an RCVS approved Training Practice).
Getting into the profession
You must be a minimum of 16 years of age.
Any relevant work experience will, not only be looked on favourably by course providers, but will give you a real insight into the profession you will be joining and help you decide if this is the career for you.
There are several places to look for job vacancies as a student veterinary care assistant, including:
Salary and benefits
Salary prospects have improved significantly in recent years, meaning that veterinary care assistants now earn an average of £16,250 per year (SPVS Salaries Survey 2015).
Other benefits may include on site accommodation and subsidised veterinary care.
Progression
Many veterinary care assistants go on to train as a veterinary nurse. The VCA qualification, alongside a full level 2 qualification in English and Mathematics (i.e. GCSE Grade C or above/Functional Skills Level 2) will give you the academic entry requirements to progress onto a veterinary nursing course.
Other veterinary care assistants choose to remain in their role, perhaps taking additional qualifications such as the Level 2 Certificate in Assisting Veterinary Surgeons in the Monitoring of Animal Patients Under Anaesthesia and Sedation programme.
Further information