"I wouldn't be where I am today without The College of Animal Welfare"
Alison German works for The College of Animal Welfare as a Senior Marketing and Communications Coordinator. Here, Alison looks back on her career history to date and talks about how her studies have helped along the way: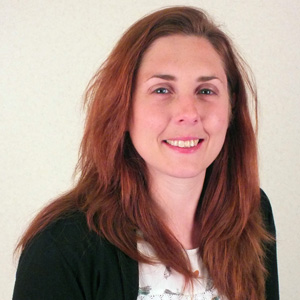 "I originally started at The College of Animal Welfare as an animal care student. When I started I wasn't quite sure what I wanted to do, but during my animal care training I got a Saturday job at a veterinary practice, so I had the opportunity to do some work experience and decided very quickly that veterinary nursing was what I wanted to do. I was quite lucky that the practice then took me on to train formally. The best thing about the animal care course was that we covered a lot of the basics like the anatomy and physiology of animals, and did a lot of practical work placements, which was a good foundation for training as a veterinary nurse and made my transition into practice much easier."
"My veterinary nurse training very much prepared me for my career. Being an employed student meant I was spending most of my time in a practice environment, and going into college one day per week. The college days were brilliant because I liked learning new things and having the opportunity to meet up with all the other students. You make friends for life this way and I am still in contact with a few of my classmates to this day. Gaining the qualification also gave me more confidence and paved the way to my career at the college."
After qualifying as a veterinary nurse, Alison remained in general practice for a few years, before coming to work for The College of Animal Welfare in a marketing role, where she has been for over 17 years! So how did she land the role and how has her job changed over the years?
"It was actually all very coincidental, which is strange to look back on now because I never had a moment where I thought 'marketing is what I want to do', it was handed to me by chance, but it's lead to this really long and interesting career."
"When I started working for the college there were only a few of us working in the office, so we all just stuck in and did a bit of everything; and my role in marketing grew from there."
"It's funny as you don't always appreciate how much things have changed until you really think about it. There are over a hundred people working for the college now, and whole teams dedicated to each department. Today I still work in the marketing team, which has grown from one to six; I mainly coordinate the work of the team. I enjoy it as it relates to a topic I'm passionate about. Everyone's friendly here, the variety is good and I really like the people I work with, so the change has been good."
Since starting at the college, Alison has completed the Level 3 Certificate Leadership and Management and taken on the line management of three members of staff, a move that she credits as one of her biggest achievements to date. How did the course help her to achieve this?
"Moving into a leadership and management role obviously brings new challenges, but you learn a lot from it. The leadership and management course gave me ideas about how you deal with certain situations and how to manage certain aspects of a leadership role, and also gave me the confidence of knowing what I was doing was actually the right way of doing things and is backed up by evidence and research."
"Things like setting objectives and allocating work come more naturally on the course if you're in a marketing role as we do these things every day, but it's good to have those skills solidified and anyone working in a managerial role can benefit from learning them. Doing that course allowed me to grow the marketing team and take on new apprentices."
What advice would you give someone looking to train at The College of Animal Welfare?
"I'd say you have to be hard working and dedicated to the work. Managing my time was probably the most challenging part of veterinary nurse training. I was working full time in a practice, going into college, studying in the evenings as well as taking on weekend shifts and being on-call – which is intense if you're not prepared for it. So I think my main piece of advice would be to be absolutely dedicated to what you're doing. It's good to know what you want to do and just go and do it."