Case Study: Jessica Wright
Courses undertaken at The College of Animal Welfare
Level 3 Extended Diploma in Animal Management (2013 intake)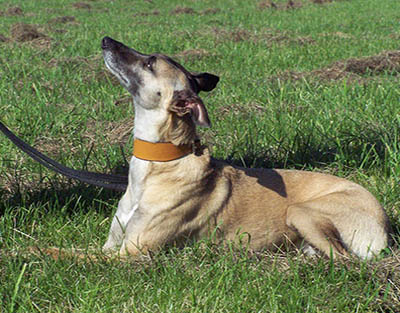 After attending an open day and Careers With Animals Day at the College, Jessica choose to apply for the Level 3 Extended Diploma in Animal Management programme. She chose this course because she really loves working with animals and was looking for a good foundation course to help her get settled before starting a higher course like veterinary nursing.
Jessica particularly liked the idea of having a variety of work experience placements and the new experiences the course could provide.
We caught up with Jessica and asked her to share some of her experiences about her time at College, in particularly the Level 3 Diploma in Animal Management course…
Did you have any past qualifications or experiences that helped you on the course?
My upper school had a farm in which I worked weekends on; I was also able to gain an Agriculture GCSE and NVQ at school, which teaches you about the welfare of farm animals. I also had many weeks of work experience in a veterinary practice and with horses; this gave me an idea of what I was doing and helped me understand a little about what I was unsure of.
Which parts of the course did you enjoyed the most?
I enjoyed meeting new friends who all have the same sort of interests as me, meaning we can help each other learn and recommend good places for experience.
The large amounts of work experience placements have also been very enjoyable as I feel I have learnt so much from it. I have especially enjoyed working with the exotic species as you don't get to see them often and have a great experience with them.
I like the idea that all work is completed on computers and that any lessons (power points and worksheets used) are put up on the VLE which you can easily refer to when and as needed.
The course has a large number of different units with so many different areas to learn, this includes exotic, zoo, veterinary practice and kennels and catteries.
The lecturers are all so friendly and will help whenever you need it, even if you think they are stupid questions.
Which parts of the course did you find the most challenging?
We have a lot of assignments and at times it can be challenging to get them completed by the deadline, but you also learn a lot from them.
I often find it hard to meet new people; however, I feel I have gained so much confidence from college. I was never a fan of class presentations, but I believe this course has helped me develop enough confidence to perform these comfortably.
Can you tell us what your plans are for the future?
My plan for the future is to stay at The College of Animal Welfare and join the Level 3 Diploma in Veterinary Nursing programme. My lecturers have been very helpful, helping me to understand what to include in my personal statement and application, and also giving me advice for the interviews and asking any questions that I had about the new course itself and the upcoming obstacles.
Was there any information, advice and guidance you received which helped you in a particular way?
At the end of every term/half-term, you have one-to-one reviews with the lecturers, discussing your progress and possible improvements. I think this is so helpful because you can see what you need to improve on and get the support to help you with it.
When it comes to functional skills (English, math and ICT), if you are struggling or need extra support, staff are available to give you one to one sessions to make sure you pass.
The College recently introduced a counselling officer, so if you need personal help it is available.
When I originally applied for the course, I was given transport information to help me decide what to do.
Financially, there is a student bursary system available if necessary.
We received information about learning to drive as the majority of our class were the same age when they joined (16/17 years old), so this information was helpful. The college (HRC) run with red driving school so we were able to get discounted driving lessons.
What advice do you have for someone looking to do this course?
I would definitely recommend this course! It is especially good if you definitely want to work with animals but are unsure of which particular career you want to follow. The experience can help you decide what you want to do as you are put into job-like situations. You learn so much you never knew before and it can help you give advice in daily situations.
Assignments are fine as long as you plan your time wisely and don't panic about not getting it done or correct. The lectures are very helpful when you are unsure about what you are doing and will talk you through the assignment as many times as you need to.
Thinking about undertaking an animal care qualification? Find out how…