Case Study: Rebecca Sjoberg
Courses undertaken at The College of Animal Welfare
BSc Honours Veterinary Nursing Top Up Degree (Edinburgh Napier University September 2014 intake)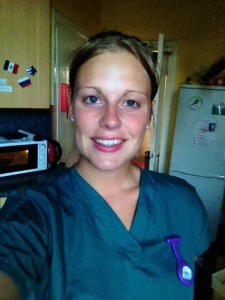 Rebecca Sjoberg joined the BSc Honours Veterinary Nursing Top Up Degree programme at Edinburgh Napier University (in collaboration with The College of Animal Welfare) in September 2014. We caught up with Rebecca, and asked her to share some of her experiences about her time on the course so far.
I am currently in my second year on the BSc Top-up programme for Veterinary Nursing at Edinburgh Napier University. After qualifying as a Registered Veterinary Nurse (RVN) in 2014 I moved to Edinburgh. I always wanted a full degree and had known about the course at Napier for a few years before moving here, as it is the only place offering the degree in Scotland.
The programme is very flexible and can easily fit in around my schedule. I have chosen how many modules to take each semester and have had a choice of different subjects too. Most of the modules I have picked have been online, meaning I can access all my course materials from home and do it around work. It was important to me to be able to work while doing the course. During my first semester I took part in two modules which required me to attend lectures and tutorials on campus. There were a mixture of guest lecturers from Glasgow and Edinburgh Vet Schools, as well as, from The College of Animal Welfare. For me this made every week more engaging and interesting, because experts in their field came in and were enthusiastic and passionate about their specialty and made it fun and easy to learn.
All the online modules have also been very easy to follow and well structured. They work well for me as I have got a full-time job now. The support from the module leaders has been great. My advice for someone looking to do the course is to be proactive and to stay in contact with module leaders and supervisors. It can be difficult being off campus so much and not meeting anyone but I have enjoyed the course and would really recommend it.
At the moment I am working on my dissertation and am enjoying collecting data from veterinary nurses about what they do in practice. There is so little research done on veterinary nurses and our work and I feel it is an area we all need to work on to improve evidence based practice and the way we work.