Case Study: Tara Roche
Courses undertaken at The College of Animal Welfare
BSc Honours Veterinary Nursing Top Up Degree (Edinburgh Napier University 2015 intake)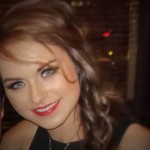 Tara Roche joined the BSc Honours Veterinary Nursing Top Up Degree programme at Edinburgh Napier University (in collaboration with The College of Animal Welfare) in September 2015. We caught up with Tara and asked her to share some of her experiences about her time on the course so far.
My name is Tara Roche, I am a distance learning student from Ireland currently undertaking the BSc (Hons) Veterinary Nursing top up programme at Edinburgh Napier University.
Upon completion of my first degree in veterinary nursing I secured employment in a mixed veterinary practice. After gaining a year of experience I decided I wanted to further my education, with the intention of building on my knowledge and skills, and also to open new career and educational avenues for my future.
I began the programme in September 2015, since then I have completed three modules, Emergency and Critical Care for Veterinary Nurses, Specialised Veterinary Nursing and Scientific Communication, Dissertation and Statistics. The knowledge provided through these modules has already proved invaluable to my career and to the care of my patients. I am currently completing my final trimester modules Veterinary Nursing Elective Practice and Veterinary Nursing Honours Project. Through conducting research for my project I have been able to establish that I would like to pursue a master's degree in animal physiotherapy.
Although partaking in the programme while in full-time employment is intensive and challenging, the provision of high quality online lectures and the continued support from all the staff involved in the programme has allowed me to imply a flexible, independent learning experience suitable for me. I am now over half way through the programme and although the workload and commitment required is not for the faint hearted, I feel that the entire process has been one which I would be happy to recommend to others and to repeat myself for future studies.