Case Study: Dilys Jannis
"I cannot believe how much my life has changed in the last 4 years" – Dilys Jannis
Dilys Jannis completed her dog grooming qualifications with us after working and studying in a different field, later going on to open up her own successful dog grooming business and achieve success in competitions. We asked Dilys to share some of her experiences of our dog grooming training, and her journey in the industry so far:
A few years ago, I came to a crossroads in my life and wondered what I wanted to do next. I had a Business Administration Degree and had spent a few years studying Law, but it just was not for me, and I did not want to get stuck into a 9-5 office job with all the politics that came with it. I had my horse exams but felt too old to go back into stable work, so what was I to do?
One day I took my own dog to a groomer and thought – 'I can do that; how hard can it be?'
Harder than I thought! But I applied at CAW and my journey had started. It was hard to start with as I felt overwhelmed by all of it, my age in being given instructions, meeting new people, working to a regime, doing assignments and at times, I must admit, I did feel like throwing in the towel. But as time went on and with the help of the tutors and my friend Tara, I soon found my confidence and my feet.
Roll on 2 courses later and I had achieved something I never saw coming! My Grooming Assistant level 2 and my full dog grooming level 3 with a Merit. I could not believe I had finished the courses and achieved a result.
My partner turned my summerhouse into a grooming salon and the next step was scary to say the least. I was out there, on my own, I did not have the support of the tutors – only by message – but its not the same as having someone physically there. I advertised on Facebook, posted some cards and when taking my own dog walking got talking to people and handed them my cards. Slowly, but surely, I started to get customers. It takes time, but before I knew it, a year later I was closing my books and my customers are now not only regulars who have booked up to the end of December, but some have become friends. On average I do 3-4 dogs a day and I now never read anything about other groomers boasting about doing 10 dogs a day as this can knock your confidence.
Even though my business is going well, and my regulars are great, I did have a few new customers that knocked my confidence a bit. It was because of this that my partner persuaded me to do the Mutt Transfurmation competition. To be honest I never thought I would be good enough to win any competition, but because it was online, I thought 'why not'.
I chatted to some customers that were happy to let me use their dogs and another part of my journey began. I absolutely loved it and even though I never expected to win anything, and it was not in a hall, I treated it like a proper competition and put all my efforts and skill into what I hoped the judges would be looking for.
Oh my god, what a fabulous surprise it was when I was sitting down for tea, having streamed the results to the TV and Colin Taylor read out my name, not once but twice!! I nearly dropped my tea! Me, I had actually won something – 1st and 3rd. This was the best for me, and it helped me immensely with my confidence once more. Now I feel finally that I really am a dog groomer and in time I hope to do some more competitions.
Dilys winning groom, with Lottie who was transformed from a cockerpoo to a miniature schnauzer: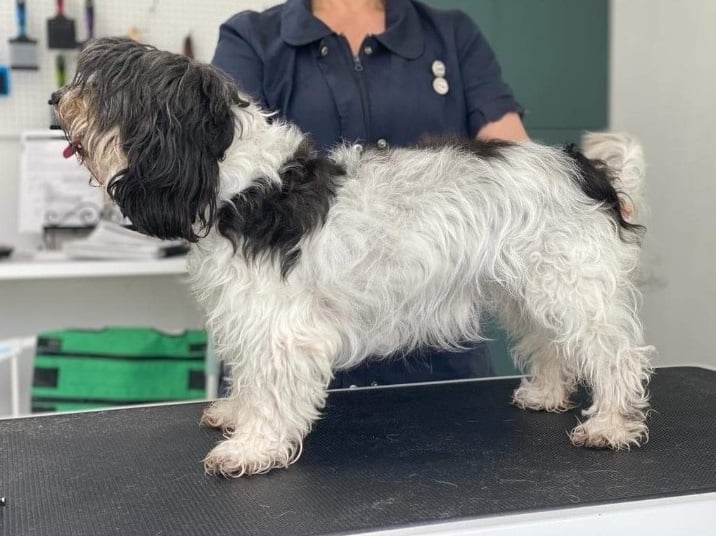 I cannot believe how much my life has changed in the last 4 years and I have so many more ideas for my business, and I have so much thanks for Fiona, Cheryl, Vicki, Lesley, and my great mate Tara, who supported me and helped me through this journey.