Nutrition Congress
Date TBC
What is Nutrition Congress?
Nutrition Congress is a one day virtual event that focuses on animal nutrition, taking a close look at different diets, strategies and nutritional requirements.
Veterinary nurses are regularly involved with animal nutrition in veterinary practice, from advising pet owners on what to feed their pets and delivering weight loss clinics, to providing nutritional support to hospitalised animals.
This congress offers 7 hours of evidenced CPD and aims to increase your knowledge and confidence in a variety of nutritional topics.
Who should attend?
Veterinary nurses looking to develop their knowledge of animal nutrition. This congress will be particularly useful if you're:
Looking to improve the nutritional advice you give to clients
Aiming to specialise in animal nutrition
Aiming to progress within your role
Interested in keeping up-to-date with everything happening in the industry
Why attend?
Listen to lectures from a range of speakers who will be sharing their experiences and knowledge
Q&A sessions mean your questions will be answered by the speakers themselves
Gain practical takeaways that you can implement in your practice
Gain information, product knowledge and offers from our virtual exhibitors
Earn 7 hours of evidenced CPD
Gain online access to recordings of all the lectures and lectures from previous congresses up until the next event
Agenda information for our 2023 event will be available soon.
Agenda - Nutrition Congress 2022
Online registration
Chairman's Welcome
Lauren Norton BSc (Hons) RVN PGDipCAB CertVNECC
Nutrition for Super Senior Felines
Alexandra Taylor RVN CertSAN ISFM Dip&AdvCertFB, The Cat Nurse
In this webinar we will be looking at the physical and mental changes that occur in older cats, and how these can affect their appetite, digestion, and body condition. We will cover how the nutritional requirements of an older cat differ from their younger counterparts, with many super senior cats suffering from a co-morbities, affecting their overall health and longevity.
Key learning objectives include:
To know the physical and behavioural changes occurring in the aging cat, and how they can affect both its nutritional needs and feeding habits
To learn the nutritional requirements of a geriatric cat and how they differ from younger cats
To understand the veterinary nurse's role in educating owners about geriatric cat nutrition
The Overweight Pet and His Owner
Dr Marge Chandler DVM, MS, MANZCVS, DACVIM (Small Animal Medicine and Nutrition), MRCVS, Vets Now
The key learning points this presentation will cover are:
Gain a better understanding of the aetiology of obesity in dogs and cats
Understand the consequences of canine and feline obesity
Be able to perform a quick nutritional assessment
Improve skills in engaging the owner in the discussion on obesity
Recognize the difficulties in weight loss and weight maintenance
Be able to set realistic goals and provide support to the owner for obesity management
Live Q&A Panel
Present questions (anonymously if desired) to the speakers.
Online Exhibition and Lounges
The Raw Truth
Katie McCaul BSc VN ANutR DipNat, The Pet Diet and Raw Feeding Veterinary Society
The raw pet food industry has grown tenfold in the last decade. Emerging ahead of legislation and education leaving veterinary professionals unarmed to support their clients. During this presentation we will look at nutritional adequacy of raw foods as well as safety concerns surrounding bacteria and parasites. We will be providing you with resources and busting common myths to help you support your clients and be able to answer common questions. All information is unbiased and evidence based. By the end of the talk you will be able to gain information and put together a handout for your clients on how to minimise risks of raw feeding to their pets.
Live Q&A Panel
Present questions (anonymously if desired) to the speakers.
Online Exhibition and Lounges
Advances in Cardiac Nutrition
Nicola Lakeman MSc BSc(Hons) RVN CertSAN CertVNECC VTS(Nutrition), Plymouth Veterinary Group
The interaction of dietary nutrients and cardiac health has really come to the forefront recently for both positive and negative reasons. Grain-free diets have been linked with dilated cardio-myopathies in dogs and this has lead to interesting finding regarding the involvement of non-grain carbohydrate and protein sources and cardiac health.
Other nutrients have shown to have a massive positive effect on cardiac health, so much that the correct diet can help to slow (or even stop) the progression of cardiac issues. We will discuss these new findings and what that means to the veterinary nurse in practice.
Exotics - Nutritional advice for common exotics seen within practice
Matthew Rendle RVN, The Association of Zoo and Exotic Veterinary Nurses (AZEVN)
Nutrition is sadly often not prioritised in the assessment of exotic pets despite it being the underlaying issue resulting in many of the conditions exotic pets present with in veterinary practice.
In this lecture we will look at the commonly kept species, how we can prevent nutrition problems occurring as well as discussing how we nurse these patients once these problems are present, including the need for welfare assessments as well as QOL reviews.
Live Q&A Panel
Present questions (anonymously if desired) to the speakers.
Chairman's Close
Virtual Exhibition and Lounges
Please note this programme is subject to change.
Speaker information for our 2023 event will be available soon. In the meantime, see who presented at our 2022 event: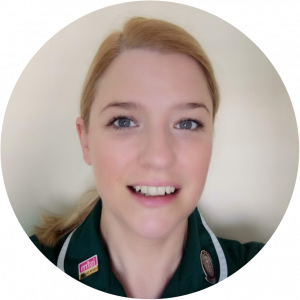 Alexandra Taylor RVN CertSAN ISFM Dip&AdvCertFB
The Cat Nurse

Alex qualified as a veterinary nurse in 1997 and has completed the ISFM feline nursing certificate, diploma, and advanced certificate in feline behaviour. She has a particular interest in feline nutrition, behaviour, and stress related diseases in feline patients.
Alex is currently studying towards gaining her advanced diploma in applied animal behaviour (feline) and is hoping to achieve the Animal Behaviour Technician qualification in the next few years.
She currently works part-time in first opinion practice and also runs her own company 'The Cat Nurse' where she offers CPD about feline nursing and behaviour. Alex is a volunteer for her local Cats Protection branch and has been a BVNA Council Member since October 2018, as well as being a member of the International Cat Care Feline Wellbeing Panel.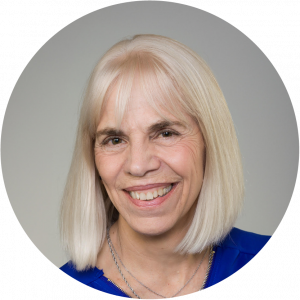 Dr Marge Chandler DVM, MS, MANZCVS, DACVIM (Small Animal Medicine and Nutrition), MRCVS
Vets Now
Dr Marge Chandler is an independent consultant in small animal nutrition and internal medicine, ClinicaI Nutritionist for Vets-Now Referrals in Glasgow, and lnternal Medicine Specialist for Moorview Referrals in Newcastle.
She has a BS from California State University, an MS (Animal Nutrition) and DVM from Colorado State University (CSU).
After several years in mixed practice, Marge did residencies in small animal medicine and nutrition at CSU and Massey University, NZ.
She is a diplomate of ACVIM (Small Animal Medicine and Nutrition), a member of ANZCVS (SAM), Chair of the FEDTAF Scientific Advisory Committee, founding member of the European Veterinary Nutrition Educators Group, and Co-Chair of the WSAVA Global Nutrition Committee.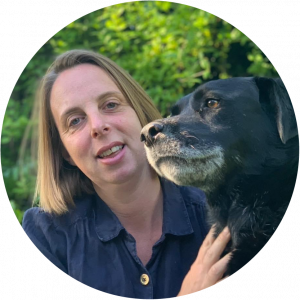 Katie McCaul BSc VN ANutR DipNat
The Pet Diet and Raw Feeding Veterinary Society
Katie qualified in 1998 and became Head nurse in a 3 branch mixed practice. Katie's time in practice taught her many skills including running clinics, dealing with company representatives, tricky clients and a team of nurses and vets. She very much enjoyed her role as an NVQ assessor teaching the trainee Vet nurses.
After leaving practice Katie was lucky enough to complete a BSc in Animal Behaviour and Physiology. This taught her about the evolutionary path our domesticated pets had been on and how innate behaviour and physiology are the key to happiness and health. Since university she has taught on the VN degree program, worked with Wiltshire Wildlife trust, and returned to practice part time.
Katie's recent role as research and development manager at a Pet Food Company, has been an education into the pet food industry. Leading her to achieve a diploma in Naturopathy, use diet formulation software and run a research project. She is now a self employed consultant in pet nutrition with world wide commercial and owner clients. Katie is passionate about supporting Veterinary nurses in practice and providing unbiased balance education to enable informed choices for clients.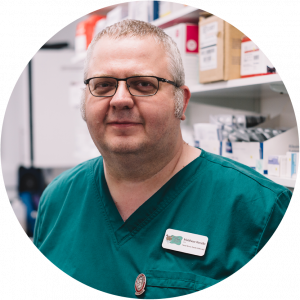 Matthew Rendle RVN
The Association of Zoo and Exotic Veterinary Nurses (AZEVN)
In 1994 he was made Senior Theatre Nurse. He left in 2003 to pursue his interest in zoo and wildlife nursing at the Zoological Society of London. Matthew left the Zoo in April 2017 to look for new challenges within exotic and wildlife nursing.
Matt has experience in the nursing care for many species from ants to elephants (and most things in-between) and has been fortunate to travel as part of his roles.
Matt has been recognised for his managerial skills and in 2020 was awarded The Bruce Vivash Jones Veterinary Nursing award by the BSAVA, as recognition for outstanding contribution to advancement of small animal veterinary nursing.
He lectures throughout Europe and America to veterinary nursing and veterinary surgeon undergraduates as part of their core modules on topics such as the husbandry and welfare of exotic species and some areas of zoo and wildlife diagnostic imaging and anaesthesia.
Matt has completed a three-year term on the British Veterinary Nursing Association Council, which allowed him to help promote and raise the profile of veterinary nursing in the UK and is currently an elected member of the RCVS Veterinary Nursing council, working on many aspects of progressing and elevating the veterinary nursing profession.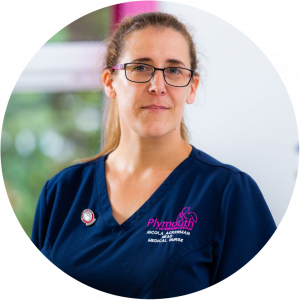 Nicola Lakeman MSc BSc(Hons) RVN CertSAN CertVNECC VTS(Nutrition)
Plymouth Veterinary Group
Nicola works as the Head Medical Nurse at Plymouth Veterinary Group. Nicola graduated from Hartpury College with an honours degree in Equine Science, and subsequently qualified as a veterinary nurse in 2002. Nicola has written for many veterinary publications and textbooks and is the editor of Aspinall's Complete Textbook of Veterinary Nursing. Nicola is one of the Consultant Editors for The Veterinary Nurse. Nicola has recently gained her Master's degree in Advanced Veterinary Nursing with Glasgow University.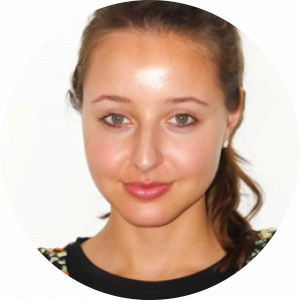 Lauren Norton BSc (Hons) RVN PGDipCAB CertVNECC
The College of Animal Welfare
Lauren graduated from the BSc Veterinary Nursing programme in 2010, and has since worked in small animal general practice and referral. Having completed a Post Graduate Certificate and Diploma, she is currently studying for an MSc in Clinical Animal Behaviour, and is an online tutor and module leader on the BSc Veterinary Nursing programme.
Lauren is particularly interested in the relationship between pet nutrition and behaviour.
Exhibitors will be announced shortly.
Register your details now to receive information about this event and other CPD courses
Interested in exhibiting at Nutrition Congress?
Nutrition Congress is a one day virtual event that focuses on animal nutrition.
Why exhibit with us?
Limited exhibitor numbers - Unlike larger congresses where hundreds of exhibitors often mean that visitors will not remember everyone, exhibition space for these events is strictly limited. As such you will get the opportunity to engage with the delegates attending our congresses personally.
Make meaningful business connections – Network with those that influence decision making in veterinary practice and make relevant industry contacts virtually.
Cost effective – with exhibitor packages starting from just £50+VAT, our prices offer value for money and fall considerably below that of larger events within the industry.
To find out more contact Claire Gregory on 01480 422060.