Our Placement Liaison Team are here to support you at each step of the way. With over 10 years of combined experience in sourcing placements for students, they can help find out the right student for your practice.
The team get to know all the students very well; being involved in the rigorous interviewing process before course places are offered, and staying in regular contact throughout their programme. This contact ensures they can provide a dedicated and informed point of contact for both students and practices alike.
To speak to Nadine or Karen please call 01480 422060.
Nadine Thomson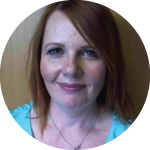 My name is Nadine Thomson and I am the Placement Liaison Manager at The College of Animal Welfare (CAW). Completing the National Certificate in Animal Care 25 years ago was just the start of my career with animals. Since then I have continued working in the animal care industry for many years including roles in veterinary practice, boarding kennels and being the supervisor at The National Animal Welfare Trust in Watford.
My main role at CAW is to source placements for both Level 3 Diploma student veterinary nurses and Middlesex BSc Veterinary Nursing students. Striving to find the perfect match for both practice and student for around 300 placements each academic year certainly keeps me busy!
Outside of work I love spending time with my family and our beautiful American Bulldog cross Daisy who is our fifth rescue dog. I'm an avid rugby fan and enjoy supporting my team, Saracens. I also enjoy walking and I can frequently be found getting my steps up to hit my 'Fitbit' goal!
Karen Brightman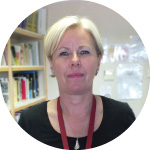 My name is Karen Brightman and I've been part of the placement team here at The College of Animal Welfare since 2009.
Sourcing placements for approximately 250 FdSc and Level 3 Diploma students certainly proves challenging! Watching a student grow into a confident qualified veterinary nurse is extremely rewarding – I can only wish that one day more training practices and clinical coaches will be able to support them on their journey too.
I live in a small village not far from Huntingdon along with my gorgeous staffie cross, Ruby, who is five years old and my close companion. I have three grown up daughters and have just recently become a proud grandparent to little Holly.
In the spare time I have, I thoroughly enjoy walking Ruby and socialising with my friends and family. Recently I joined a local petanque league with my work colleague.
Meet our QAS Team
When you take a placement student from The College of Animal Welfare you will be allocated a Quality Assurance Supervisor (QAS) who will visit your practice and be your point of contact at the College.
Our QAS team are all passionate about helping to support you and your student throughout their placement experience, ensuring that both parties get the best out of their time together. Meet some of the team below:
Helen Bramma – Lead Internal Verifier/QAS, Leeds
I qualified from Edinburgh Vet School in 2009. After a period in mixed practice in North Yorkshire, I moved to small animal practice near Wakefield. During this time I was a clinical coach and VCA mentor, which influenced my decision to move into vet nursing education. Before joining CAW, I was a Vet Nursing Lecturer and Practice Visitor. I joined The College of Animal Welfare in 2015 as Lead Internal Verifier/QAS as I enjoy spending time visiting students in practices and giving student support. Outside of work I enjoy spending time with my family and friends. I also enjoy the British countryside on walks, seeing my favourite animal – cows!
Victoria (Tori) Page – QAS, Huntingdon
I am a qualified RVN with a BSc Hons Degree which I obtained at Napier University, Edinburgh in 2005. I have previously worked in small animal practice and for an animal charity, which I thoroughly enjoyed. I have been with the College since December 2010, starting out at the Potters Bar centre, before transferring up to Huntingdon in 2011. I love the variety the role has to offer and visiting students/clinical coaches out in practice. I have a black Labrador called Scout, who has no digits on his right hind limb as his mum chewed them off when he was five days old. He is a typical Labrador as he thinks with his tummy and he loves everyone! My favourite colour is yellow and I love Elephants and Owls, but much to my husband's relief, I do not own any! I will be going on Maternity leave in December 2016 to have my second child which I am very excited about. My husband and I already have a two year old boy who is full of mischief and seems to be taking after his mummy as he loves animals too!
 Louise Ellerton – Clinical Tutor, Potters Bar
I qualified as a veterinary nurse in 2007. During this time I have had the chance to work in a variety of private and charitable practices, gradually working my way up to head nurse. My main area of interest in practice is medical nursing; in particular cat friendly nursing and I have recently received an ISFM award for attaining the highest mark on the cat friendly certificate. I also have a passion for travel and have been very fortunate to combine this with my qualification and participate in voluntary neutering projects all over the world. During my nine years in practice I enjoyed the clinical coach and supportive role and am looking forward to doing this in the college environment as a clinical tutor.