Course overview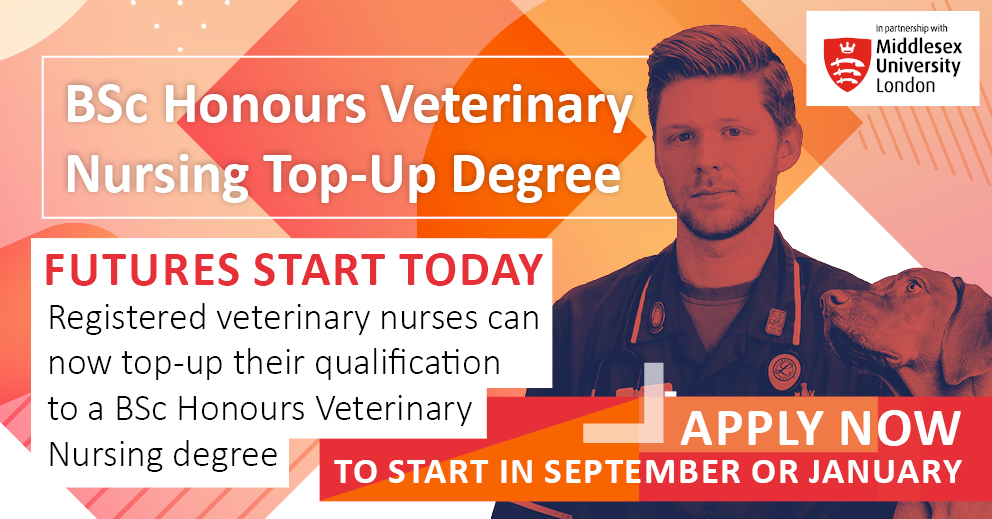 This degree programme is awarded by Middlesex University and delivered in conjunction with The College of Animal Welfare. It provides diploma and foundation degree level registered veterinary nurses the opportunity to top-up their qualifications to a BSc Honours Veterinary Nursing degree.
In addition, completion of the pharmacology module culminates in eligibility for Companion Animal Suitable Qualified Person status (C-SQP).
Key Facts
Attendance: This programme is delivered predominately by distance learning with minimal classroom attendance required for one module.
Duration: Full time study – 2 years; Part time study – 3-4 years
Start Date: September 2021
Location: Hendon, Huntingdon or Leeds
Course content
Throughout this qualification a variety of modules will be studied each year.
Year One
Work based project
Evidence Based Veterinary Nursing
Legal, Professional & Ethical Aspects of Veterinary Nursing
Pharmacology for Veterinary Nursing Practice
Year Two
This consists of a dissertation and three elective modules chosen from the following:
Management & Business
Nursing Exotics & Wildlife
Companion Animal Behaviour & Training
Equine Nursing
Veterinary Education and Professional Development
Applied Emergency and Critical Care Veterinary Nursing
International Veterinary Nursing
Assessment
Assessment consists of a variety of methods including practical exams and assignments.
Entry requirements
Applicants must be registered veterinary nurses with the Royal College of Veterinary Surgeons (RCVS).
What next?
Topping up your veterinary nurse qualification to degree level opens up many new opportunities. For instance, you could consider pursuing post graduate training in a specialist area such as physiotherapy or behaviour – or study veterinary nursing at a post graduate level. Alternatively, you could consider finding employment in teaching, research or practice management.
CAW Connect
After you complete your studies with The College of Animal Welfare, you will be invited to join our alumni association, CAW Connect. CAW Connect is a social networking website and education hub which gives you the opportunity to connect with other alumni, enjoy industry discounts, make use of exclusive careers advice and resources, find new job opportunities and keep up-to-date with the latest industry news. Find out more about CAW Connect
Testimonials
This is a new course  – check back for testimonials soon.