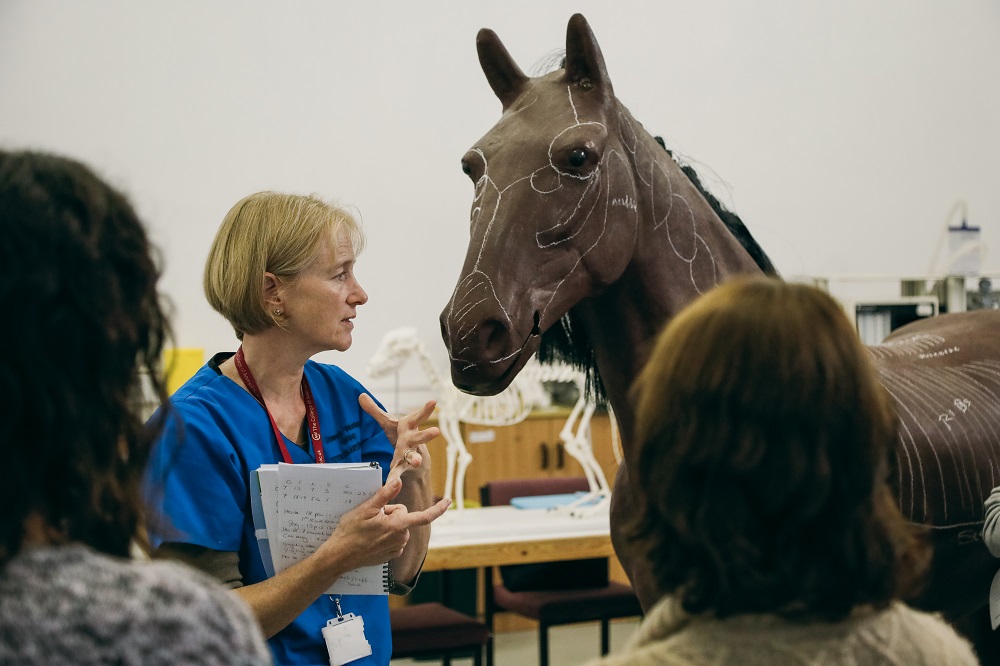 Interested in becoming a lecturer?
If you are interested in becoming a lecturer but are unsure about what it involves or how to become one, we can help! In this section we have tried to cover any questions that you may have about the role, explain what would be expected of you and give you a true insight with our real life lecturer interviews!
We are lucky enough to have a pool of staff at The College of Animal Welfare that come from all walks of life, meaning that we are able share a wide variation of teaching specialities with our students. We have veterinary surgeons and veterinary nurses, accountants, IT specialists, animal behaviourists and dog groomers just to mention a few! So if you have trained up in a specialist subject, why not consider sharing your knowledge and passion by becoming a lecturer?
"It is great seeing the 'lightbulb' moment when someone understands why they are performing a task a certain way in practice"
Gemma MacAlister RVN
Level 3 Diploma in Veterinary Nursing Lecturer
But I don't have a teaching qualification?
The most common misconception about becoming a lecturer is that you must already have a teaching qualification to work for us. Although this would be an advantage, it is not an essential. If you do not, we have our very own internal training programme that is second to none, which will provide you with the skills necessary to become a lecturer, delivering quality tuition and learner support.
Within your first year you will be encouraged to undertake a nationally recognised and professional lecturing/teaching qualification. This will be fully funded by us and will confirm your entry into the academic profession. We will aim to have you confidently trained as quickly as possible to start your journey in teaching and like all our staff, we will support you in every aspect of your role.
With regular appraisals and team meetings you can develop within the role, bond with team members and you can always be assured that you will be supported if any issues arise.
What is it like to be a lecturer at CAW?
To be a great lecturer you must have a genuine enthusiasm and passion for your subject. We ask you to commit to not only developing your own skills and knowledge base, but also to teach our students in a current, enjoyable and inspiring way. This ensures we are able to maintain our excellent reputation within the educational sector and continue our high level of success rates.
The lecturing profession is often misconceived to be a typical nine-to-five job but you need to be aware that this certainly isn't the case. Being a successful lecturer requires time and dedication, so if you are not able to give that, perhaps it won't be the career for you. However if you are willing to put in the hard work, you could be in for an extremely fulfilling and interesting role.
"As corny as it sounds, there is no typical day. Just the same as no two students are the same then equally no class is the same, no lesson the same and no challenge the same. This job definitely brings variety"
Nina DeFranco MRCVS, Level 3 Diploma in Veterinary Nursing Lecturer
Want to read more about what our Lecturers say? Then click on the lecturer below to read their interview!
Want to experience lecturing first hand?
If you are interested in becoming a lecturer and would like to experience first-hand 'a day in the life of' we can help you by arranging a 'lecturing shadow day'! That way, you can see how the day develops from start to finish, see what the role involves and get more an idea of if it is for you. Please contact our HR Manager on 01480 422060.
Frequently Asked Questions
What requirements do I have to meet to become a lecturer?
If you would like to become a veterinary nursing lecturer you will need to be either a veterinary surgeon or a registered veterinary nurse, preferably holding a degree. In addition, whilst it is not essential, relevant student and teaching/training experience gained as a clinical coach, in voluntary or work shadowing capacity is useful. Classroom experience would also be a help as it helps with understanding learner needs in a diverse and equal opportunities setting.
To become a lecturer in another field, such as animal care or dog grooming, you will need to have a minimum of a level 3 qualification in the field in which you wish to teach. As above, any previous teaching or coaching/mentoring experience or work shadowing you can gain is desirable.
What is the time frame for completing my professional teaching qualification with CAW?
You must complete a Level 3 Education and Training, or equivalent, qualification within the first year, but you will have up to five years in which to gain a full qualification.
When will I start teaching?
We will aim to get you 'up and running' as soon as we feel you have reached our high standard and, of course, you feel comfortable and confident within the role.
What hours will I have to work?
Standard hours for teaching staff are 8:30 – 4:30pm with an half an hour lunch break; however, these hours only act as a guide due to the demanding nature of the role.
Are CAW's term times the same as Government run schools?
Term times and dates are very much dependant on each individual course and do not necessarily run according to school term times.
How often do you recruit?
As a large organisation with four centres around the UK, and continual expansion and diversification, recruitment opportunities for lecturers do come up on a relatively frequent basis. However if we are not recruiting at the current time, please do express your interest with our HR team, by emailing jobs@caw.ac.uk or by signing up to our email job alert list.
How do I apply?
If you enquiring in response to a job advertisement please follow the contact instructions noted against each individual vacancy. View our current job vacancies here.
Are there any other opportunities with the College after I am a lecturer?
We are passionate about providing staff who wish to progress in their role, the opportunity to do so where possible. We encourage staff to study new academic qualifications as well as take regular CPD.
In addition, we have our own internal programme for nurturing and encouraging talent for future roles in areas such as management and course development.
"It's a constant challenge to keep up with current veterinary nursing knowledge, teaching curriculum changes and teaching practice. I enjoy this aspect as I don't ever feel as though I am stuck in a rut!"
Gemma MacAlister RVN, Level 3 Diploma in Veterinary Nursing Lecturer