Course Overview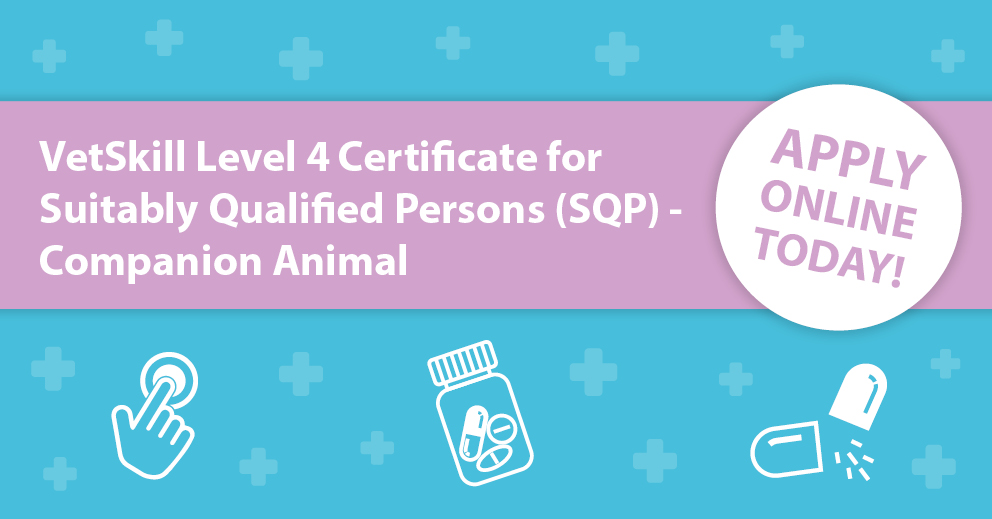 Quick Facts
9 – 12 months to complete
Online learning*
Monthly payment options
You can start this programme at any time of the year
* Although you will be required to attend a CAW centre for the each of the four unit exams and the final summative OSCE examination.
This qualification entitles you to prescribe and/or supply certain medicines under the Veterinary Medicines Regulations. It is essential that those working in an environment prescribing and dispensing POM-VPS and NFA-VPS fully understand the relevant legislation and potential implications of their role.
Aimed at Registered Veterinary Nurses and those working in a position prescribing medication to companion animals; this qualification is ideal if you are looking to move forward and become knowledgeable in this area.
Course Content
On completion of this qualification you will have achieved the following units:
Legislation and Professional Requirements
An Introduction to Companion Animal Anatomy, Physiology and Nutrition
Companion Animal Health, Disease and Parasite Management
Prescribing and Supplying Veterinary Medicines to Owners/Keepers of Companion Animals
Assessment:
Assessment for this qualification is by a number of ways:
Written Assignments – There are four written assignments required
Multiple choice online exam (MCQ) – There are 4 MCQs which are set and marked by VetSkill
Practical Assessment: Summative Licence to Practice Objective Structured Clinical Examinations (OSCEs) – This is undertaken once the above elements are completed. This includes two, 8 minute scenario based tasks.
Entry Requirements
There are no formal academic entry requirements; however you should have a sound level of numeracy, literacy and ICT skills equivalent to GCSE Level 2 or above in English and maths.
Employment or work experience within a Veterinary Medicines Directorate (VMD) registered premises, a veterinary practice registered with the Royal College of Veterinary Surgeons (RCVS), or a retail pharmacy registered with the General Pharmaceutical Council (GPhC), will be beneficial in assisting preparation towards the final assessment.
Ideally you will have a suitable mentor within your workplace but this is not compulsory.
Course Fees
Course fees can either be paid in full before the beginning of the course, or via our 'Pay As You Learn' monthly payment scheme
If you have not achieved your qualification by the planned end date detailed in your individual learning plan, you will be able to continue to receive support and access to your course by paying monthly direct debit payments until certification of your award.
Course Fees
| | | |
| --- | --- | --- |
| Country | Full Fee | Pay As You Learn |
| UK | £969 | £110 per month |
Awarding Body Fees*
VetSkill Certification Fee: £115
VetSkill Exam Fee: £110 for final practical exam
VetSkill Exam Fee: £33 per MCQ exam (one for each unit, 4 in total)
* Awarding Body Fees are payable by all students or employers and recharged at cost and may be subject to change.
Sources of financial help can be found on our student finance page. Before making any financial decision it is recommended that you seek advice from an independent source, for example the Money Advice Service.
These are current figures and may be subject to change. The differences in course fees reflect the level of funding that is available as a result of government policies and priorities. These may be as a result of age, employment status, previous education achievements, or location for example, and are outside the control of The College of Animal Welfare.
There is also the option to join the VetSkill SQP register at a reduced rate of £75 if you register with 3 months of starting your course. Thereafter the fee to join will be £150.
What Next?
Completion of this this qualification will mean you have gained a formal qualification allowing you to be able to prescribe veterinary medicines to companion animals.
You will be able to gain entry on to the VetSkill SQP register. In order to maintain your place on the register you will need to undertake regular CPD.
CAW Connect
After you complete your studies with The College of Animal Welfare, you will be invited to join our alumni association, CAW Connect. CAW Connect is a social networking website and education hub which gives you the opportunity to connect with other alumni, enjoy industry discounts, make use of exclusive careers advice and resources, find new job opportunities and keep up-to-date with the latest industry news. Find out more about CAW Connect
Testimonials
This is a new course; we hope to have some testimonials soon! In the meantime you may want to check out some of our other student case studies.