City & Guilds Award Aspiring Veterinary Nurse £4,400!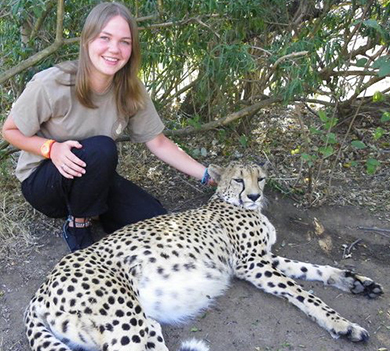 "I actually applied 15 minutes before the closing deadline, and I'm so glad I did"
Deciding your career path and choosing your studies should be an exciting prospect but unfortunately that is not the case for everyone; like in the case of Crissy Lister who despite wanting to study to be a veterinary nurse faced the reality of having to choose to take out loans and borrow money to fund her course fees. Luckily Crissy did not have to make that decision as she submitted an application to the bursary board at City & Guilds and subsequently was awarded a NPTC bursary of £4,400 to put towards a 'Land based Services' qualification.
City & Guilds who selected Crissy from numerous deserving applicants said "Your award really is an achievement of you demonstrating in both your application and interview, your motivation and commitment to undertaking and completing the 'noted' course, as part of a longer term progression plan for yourself."
Although Crissy is still working full time around her studies the bursary has enabled her to keep in check with her finances and ultimately has given her the freedom to study without getting into financial complications.
The College of Animal Welfare recognise that not everyone will be aware they may be eligible to apply for a bursary, or in some cases may not even know they exist so we wanted to share Crissy's story with you. Crissy has kindly volunteered to help us spread the word about the bursary system by sharing her positive experience and by hopefully encouraging people to apply.
1. How did you find out about the Bursary?
I found out about the bursary through a Google Search. I'd looked into all other opportunities for funding and wasn't eligible, so before applying for a loan, decided to search for: education bursaries City and Guilds; and stumbled upon their bursary page.
2. What was the bursary application experience like?
The application process was relatively straight forward. They have two application periods at which time you can apply, I applied in the beginning of the year for funding for the September start. I had to fill in an online application form, for which they suggested taking note of the questions, writing down an answer, and filling the boxes in with a pre-prepared answer all in one go. Once this was submitted, and the deadline reached, everyone who had applied had their answers reviewed, and then a selection was called for a further interview stage to assess eligibility.
The interview was a bit nerve wracking! I'm not overly confident in interview situations, but they made you feel welcome and at ease, prompting you with questions regarding your application, which are just to be answered as honestly as possible, expressing why you feel you deserve to be rewarded funding. Once the interview had taken place it was simply a case of waiting and hoping to hear back with good news. None of the waiting was excessive, a couple of weeks in between processes.
3. What course did you decide to study and why?
I chose to study veterinary nursing, as animals have always been a passion of mine. It's been a long term goal for me to get into the veterinary nursing profession and hopefully with this course, I should be qualified in my chosen profession in two years.
4. What would of your options been without the bursary?
Without the bursary I would have had no choice but to take out loans, and borrow money to afford the course fees. Although I work full-time around my course, the number of hours I've had to lose to take part wouldn't have stretched to cover my living costs and learning costs as well.
5. What are you plans after you finish the course?
Once I finish the course I hope to settle into a practice for a couple of years, build up some experience, and then I hope to travel to South Africa where I've spent some time volunteering, and offer them a better helping hand than I previously could for a few months. Then hopefully find a practice back in England to work in long-term.
6. Any advice for someone who may be in financial hardship and considering applying for a bursary?
If anyone was thinking of applying for a bursary, I'd just say go for it, what have you got to lose? They can only say yes or no. I was considering not applying, I left it a good few weeks from finding out it existed because I felt it wouldn't be achievable, plenty of people would be more eligible than I would be, but my mum kept on at me asking 'have you applied yet?', 'why haven't you applied yet?', 'you can't win if you don't take part'. So in the end I actually applied 15 minutes before the closing deadline, and I'm so glad I did.
To find out more information on City & Guilds Bursaries, visit their website.
For information on other possible Grants and Bursaries, check out our fees and finance page.