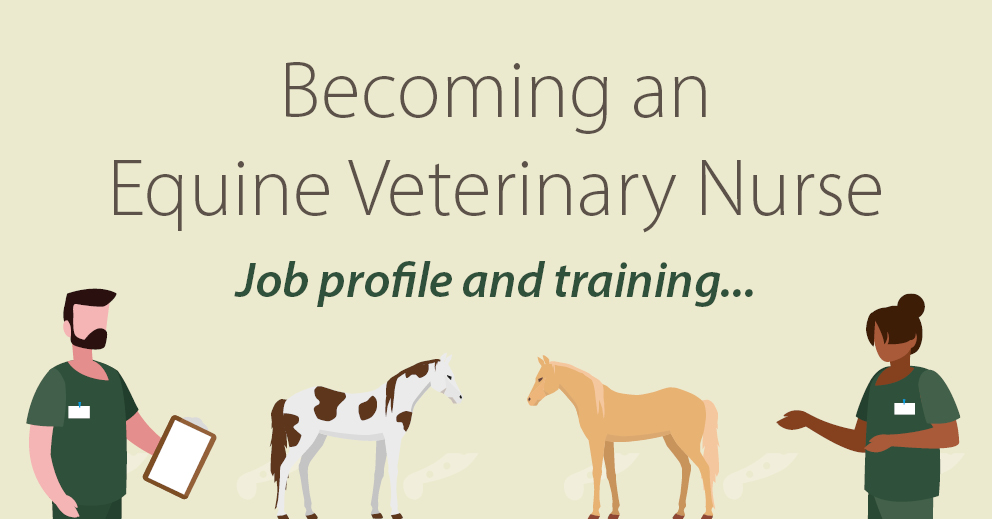 What the job involves
Equine Veterinary nurses are key members of the equine veterinary practice. They work alongside vets to provide care and treatment to horses.
Each day you are likely to be involved in a variety of different aspects of horse care, from helping a veterinary surgeon in theatre to mucking out and feeding horses. Other tasks you may be involved in include:
Preparing horses for surgery
Cleaning and preparing the theatre and surgical instruments
Nursing sick horses and administering medication under veterinary supervision
Dressing wounds
Carrying out diagnostic tests
Completing necessary paperwork
Inevitably, there will always be stables and yards to clean. So you need to be prepared for hard and dirty work!
Personal qualities
Good equine veterinary nurses are hard-working, passionate about horses and dedicated to their work. You must enjoy working as part of a close knit team but also have the confidence to work with little supervision and be able to cope with the emotional and physical demands of the job.
Working conditions
There is no doubt that being an equine veterinary nurse is a physically and mentally demanding job. The role often involves long and unsociable hours, including weekend and on call work.
However the rewards that come from nursing an ill horse back to health and working as part of a close knit team make the job very worthwhile.
Qualifications and training
There are two main types of veterinary nurse training:
Further Education
Level 3 Diploma in Equine Veterinary Nursing
This qualification can either be studied outright or as a top-up programme for those who are already qualified small animal veterinary nurses.
You will need to be employed, or have secured a work placement in an equine veterinary practice that is approved to train equine veterinary nurses (a Training Practice – TP).
There are various colleges around the UK that offer this programme, a list can found on the RCVS website.
Higher Education
FdSc Equine Veterinary Nursing Science
If you would prefer to study to the highest academic standard and experience University life, then undertaking a degree level training course could be what you are looking for. Foundation Degree programmes are generally 3 years in length.
Having a degree in equine veterinary nursing science will also open up additional opportunities for you in the future, such as post-graduate training in areas such as physiotherapy or perhaps even a career in teaching.
There are a few colleges/universities around the UK that offer these programmes.
What qualifications do I need to start training as an equine veterinary nurse?
The minimum academic requirements to train as an equine veterinary nurse are:
You must have a minimum of 5 GCSEs at grades A*-C (or 9-4), including English Language, Mathematics and a Science subject. Students with Scottish qualifications are required to have 5 subjects at a National 5 or Higher/Advance Higher at level A, B or C; to include Mathematics, English and a Science.
Other entry requirements relating to work experience, employment status or additional qualifications may be required depending on the course, particularly with Higher Education programmes. It is advisable to check with the individual college/university you are looking to apply to as to what is required for each course.
Getting into the profession
You must be a minimum of 16 years of age to train as an equine veterinary nurse.
Finding a student equine veterinary nursing position can be very hard. There are several places to look for job vacancies in practice, including:
Salary and benefits
Salary prospects have improved significantly in recent years, meaning that veterinary nurses now earn an average of £24,227 per year (SPVS Salaries Survey 2021).
Other benefits may include on site accommodation and subsidised veterinary care.
Progression
Many equine veterinary nurses choose to remain in veterinary practice. Other opportunities include:
Head nurse (team leader)
Practice manager
Research
Teaching
Sales representative
Rehabilitation (i.e. physiotherapy or hydrotherapy)
Further information