Course Overview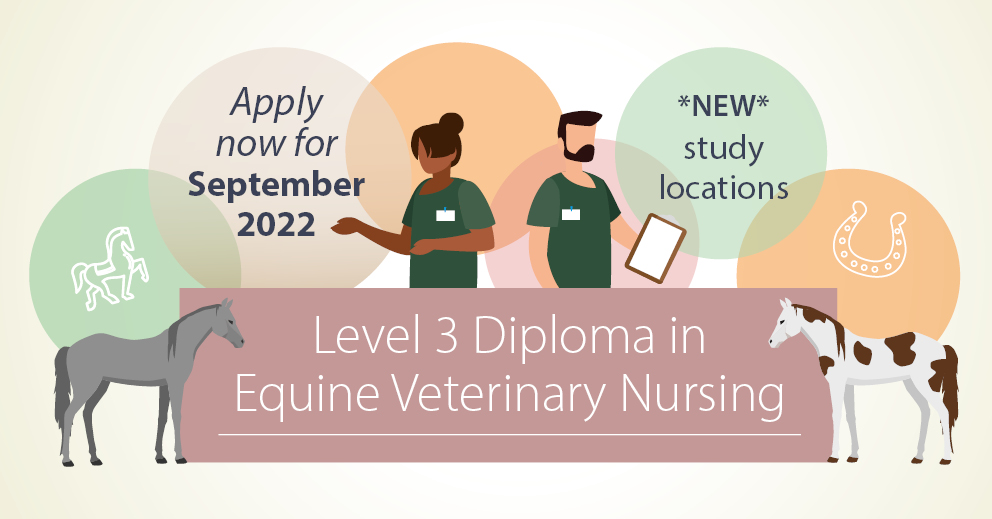 Completion of the VTEC Level 3 Diploma in Equine Veterinary Nursing qualification will allow you to apply for professional registration as a Registered Veterinary Nurse (RVN) with the Royal College of Veterinary Surgeons (RCVS).
As the largest provider of veterinary nurse training in the UK, we have a commitment to promoting animal welfare and raising the standards of veterinary nurse care. We can offer you the opportunity to train as a veterinary nurse by joining a community of like-minded students who all share a passion for animals and a desire to join an exciting and rewarding profession.
Our veterinary nursing lecturers are registered veterinary nurses or veterinary surgeons with strong industry experience, and they all share a common trait; their enthusiasm for helping the next generation of students to achieve their formal veterinary nursing qualifications and be the best vet nurses that they can be.
College sessions offer diverse teaching, learning and assessment approaches catered for the individual needs of learners, enabling them to develop the required knowledge and skills needed to join a rewarding profession as qualified veterinary nurses. What's more – the easy, remote access to learning resources provided to learners via our Virtual Learning Environment (VLE) means that learners get the best out of their studies with us, both in and outside of College.
In addition to the academic theory, you will also gain significant industry experience and valuable clinical skills during your employment in an equine (horse) or mixed (equine and small animal) veterinary practice will prepare you for the responsibilities that come with qualifying as a Registered Veterinary Nurse (RVN).
This qualification is also available as part of an apprenticeship.
Key Facts
Attendance and Start Dates
Huntingdon – Monday 5 June 2023 (Mondays), September 2023 (date TBC)
Horsham – Monday 5 June 2023 (Mondays), September 2023 (date TBC)
Lichfield – Monday 5 June 2023 (Mondays), September 2023 (date TBC)
Closing dates
June 2023 intake – Saturday 29 April 2023
September 2023 intake – Saturday 29 July 2023
Course delivery:
Virtual college sessions
Practical skills training in blocks of two/three days (eight practical skills days per year)
Duration
24 months.
If you are attending our Huntingdon centre on a block release basis we can help source local accommodation if required – please contact us for details and costs.
Course Content
The qualification consists of a number of core units which cover the following subjects:
Professional Equine Veterinary Nursing Responsibilities
Diagnostic Principles
Equine Veterinary Nursing Care Principles
Supply of Veterinary Medicines
Practical Equine Veterinary Nursing Skills
Equine Anaesthesia
Equine Theatre Nursing Skills
Life Stage and Medical Nursing Care and Support
Surgical Nursing and Patient Care
Assessment
Assessments will include examinations, assignments/case studies, online evidence of practical competence, and formative practical assessments. On successful completion of all other assessments you will take the final practical examination (Equine OSCEs).
Blended Virtual Learning
For the blended learning programmes, you will receive a combination of lectures, independent online learning activities and practical skills sessions. We use a virtual platform called BigBlueButton and this method of delivery allows you to engage with tutors and peers in real time either from home or from work. Practical sessions are in the college environment and most exams are also completed in the college centres. All virtual classroom sessions are recorded and are available to view after the event for consolidation of learning and revision purposes.
What does virtual learning look like?
The majority of the theory element of the programme is delivered in lecture format; this is currently virtual via Big Blue Button. During virtual lectures you will be expected to participate in a diverse range of learning and assessment activities including live chat, group chat, breakout room activities, independent activities e.g. research, polls and Q&A sessions. Many theory sessions build on the independent online learning element of the programme therefore it is critical that you prepare for your lectures by having completed the necessary online activities ahead of your live session.
Entry Requirements
You must have a minimum of 5 GCSEs at grades A*-C (or 9-4), including English Language, Mathematics and a Science subject. Students with Scottish qualifications are required to have 5 subjects at a National 5 or Higher/Advance Higher at level A, B or C; to include Maths, English and a Science. If you do not meet these requirements, there are alternative qualifications that may be acceptable. One of these combinations is the Level 2 Diploma for Veterinary Care Assistants, along with GCSEs grade C or above (or Level 2 Functional Skills) in English Language and Maths.
Students must be at least 16 years of age and employed in an equine or mixed (small animal and equine) veterinary practice that is approved by the RCVS as a Training Practice (TP) or Auxiliary Training Practice (aTP).
Before applying, please ensure you read the Royal College of Veterinary Surgeons (RCVS) Disability Guidance on the Recruitment of VN Students.
International students
If you have alternative or international qualifications, and would like to know if these will allow you to undertake the diploma, please contact our administration team for advice.
If you are coming to the UK to study you should have proof of competence in the English Language by holding either the ESOL qualification at levels C1 or C2 or IELTS at a minimum score of 7.0 where your international qualifications were not taught and assessed in English. You will also be required to have your foreign qualifications officially translated into English with a notarised stamp.
If you are from outside the EU or European Economic Area and wish to study in the UK, you must obtain a Tier 4 Student Visa – visit our International Students page for further information.
Course Fees
Course fees can either be paid in full before the beginning of the course, on an annual basis, or via our 'Pay As You Learn' monthly payment scheme
If you have not achieved your qualification by the planned end date detailed in your individual learning plan, you will be able to continue to receive support and access to your course by paying monthly direct debit payments until certification of your award.
Course Fees
| | | | |
| --- | --- | --- | --- |
| Country | Full Fee | Annual | Pay As You Learn |
| England | £11,356 | £5,678 per year | £473 per month |
| Scotland | £4,190 | £2,095 per year | £175 per month |
| Overseas | £13,125 | £6,563 per year | £547 per month |
Awarding Body Fees*
RCVS Registration: £202
Awarding Body Registration: £225
Practical Examination Fee: £385
Online Examination Fee: £33
Remote Invigilation Fee: £27.50
Please note first attempts for the six online exams within the course are invoiced at enrolment. Examinations fees are payable per exam attempt, meaning fees are payable for each exam resit if required. All practical examination fees must be settled in advance of any entry to the examination being processed.
* Awarding Body Fees are payable by all students or employers and recharged at cost and may be subject to change.
Sources of financial help can be found on our student finance page. Before making any financial decision it is recommended that you seek advice from an independent source, for example the Money Advice Service.
These are current figures and may be subject to change. The differences in course fees reflect the level of funding that is available as a result of government policies and priorities. These may be as a result of age, employment status, previous education achievements, or location for example, and are outside the control of The College of Animal Welfare.
What Next?
On completion of the Level 3 Diploma in Equine Veterinary Nursing and the required number of hours of veterinary nursing training, you will be eligible to apply to join the Royal College of Veterinary Surgeons' (RCVS) Register of Veterinary Nurses and use the post nominal term, RVN. Entry on the register allows you to legally practise as a veterinary nurse under the direction of a veterinary surgeon.
Remember that once you are qualified, it is your professional responsibility to continue your veterinary nurse training by ensuring that your professional knowledge and skills remain up-to-date. You can do this by undertaking short courses or further veterinary nursing qualifications.
CAW Connect
After you complete your studies with The College of Animal Welfare, you will be invited to join our alumni association, CAW Connect. CAW Connect is a social networking website and education hub which gives you the opportunity to connect with other alumni, enjoy industry discounts, make use of exclusive careers advice and resources, find new job opportunities and keep up-to-date with the latest industry news. Find out more about CAW Connect