Course Overview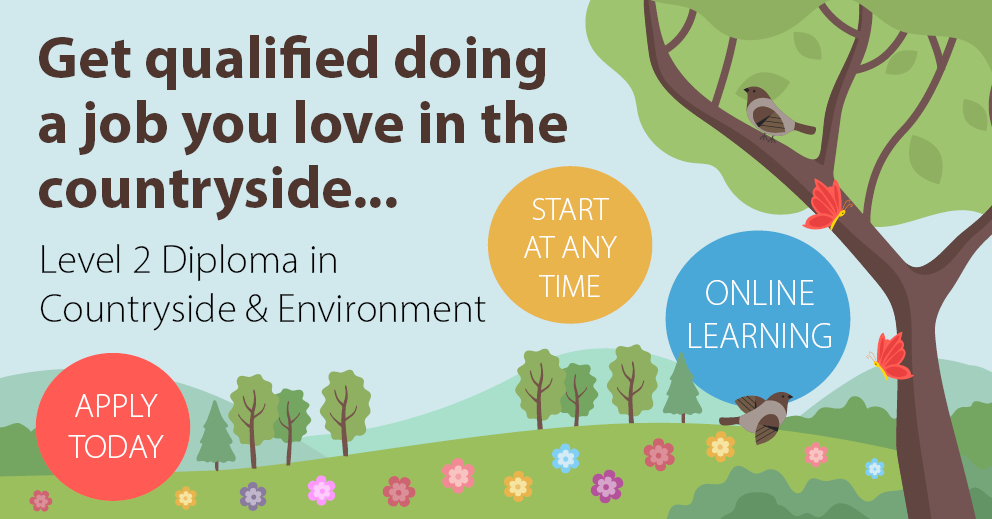 Ideal for those looking to begin a career in the countryside and environment industry, this online course will give learners an introduction to the principles behind environmental management and conservation. This programme is also suitable for those already working in the industry who would like to expand on existing skills by gaining a formal qualification. If you have a passion for the outdoors and are interested in learning about how to improve the habitats of British wildlife, this course is a great opportunity to gain valuable industry experience, whilst working towards a recognised qualification that complements your practical skills.
This programme is run as a distance learning course, meaning that all course materials will be provided via our online Virtual Learning Environment (VLE), which you can access in your own time.
Completion of this qualification should give you the background knowledge and skills needed to boost your career prospects, as well as solid practical experience accumulated through employment or work experience, which you can use to do your job more effectively.
Key Facts
Attendance: All course materials will be supplied via our online Virtual Learning Environment (VLE); therefore you will not be required to attend college. You will be allocated a distance learning tutor who will support you through the course.
Duration: 12 months
Start Date: You can start this programme at any time.
Location: This online course can be studied anywhere in the UK or overseas. However, it should be noted that the course material focuses on UK legislation and UK habitat types.
Course Content
The course blends practical experience with theoretical knowledge in order to meet the demands of a fast-paced industry. Over the course of the qualification, you will cover the following units:
Introduction to Countryside Access and Recreation
Undertaking Ecological Surveys
Conservation and Improvement of British Habitats
Introduction to Urban Habitat Ecology
Undertake Work Related Experience in the Land-based Industries
Environmental and Land-based Business
The units can be completed in your own time, at your own pace (within 12 months), meaning that the online course provides a flexible programme of study for those needing to balance learning with work and other commitments.
In order to gain the necessary practical experience in countryside and environmental techniques, the programme also requires you to complete a minimum of 150 hours of work experience over the duration of the course.
You will need to arrange your own work experience placement; however our administration team will be happy to advise you if there are any issues with this.
If you are already working in the environmental industry, your current workplace may be able to meet the work experience requirements. If your current job does not meet all of the work experience requirements, you may need to arrange for additional work experience at a relevant organisation.
The College of Animal Welfare manages a local woodland site on behalf of The Woodland Trust in Cambridgeshire and there may be the opportunity to attend ad hoc work days and events at this site.
Assessment
You will undertake written and practical assessments.
Entry Requirements
There are no formal academic entry requirements. However you should have a sound level of numeracy, literacy and ICT skills, have a passion for the countryside and environment, and be prepared to work outside in all weather conditions throughout the year.
You should be either employed or volunteering in a countryside based environment for a minimum of four hours a week, for at least three months prior to applying for the course. You will need to complete 150 hours in order to achieve your qualification. You must have a suitable witness agreed in principle (min. 2 years in industry) who will be assessing your practical assignments.
Experience of work within a relevant industry prior to the start of the course will be useful but not essential. However your tetanus vaccination must be up-to-date.
As this is a physically demanding course, it is important that any concerns regarding your ability to complete the required practical work are discussed with your medical advisor prior to enrolling on the programme.
If you are studying this programme overseas, please be aware that the programme is delivered in English and therefore you must be competent in reading and writing English language.
Course Fees
Course fees can either be paid in full before the beginning of the course, or via our 'Pay As You Learn' monthly payment scheme. A CAW Loans2Learn scheme is also available, details can be found below.
If you have not achieved your qualification by the planned end date detailed in your individual learning plan, you will be able to continue to receive support and access to your course by paying monthly direct debit payments until certification of your award.
Course Fees
| | |
| --- | --- |
| Full Fee | Pay As You Learn |
| £1,004 | £84 per month |
Awarding Body Fees*
City & Guilds registration and certification fees: £132.60
* Awarding Body Fees are payable by all students or employers and recharged at cost and may be subject to change.

The CAW Loans2Learn scheme is a personal loan that can help you to spread the cost of your course into manageable payments. The loan can be used to fully or partially cover your course fees (but does not cover any awarding body fees, such as enrolment and examination fees). More information can be found here.
Other sources of financial help can be found on our student finance page. Before making any financial decision it is recommended that you seek advice from an independent source, for example the Money Advice Service.
These are current figures and may be subject to change.
What Next?
Successful achievement of this course should give you the underpinning knowledge needed to succeed in environmental management, as well as concrete practical experience in the industry –which will allow you to put your newfound knowledge into practice. Professionally this puts you in an excellent position, as it means you are better prepared for a variety of roles within the sector, such as a countryside ranger, conservation officer or park ranger. As such you may wish to pursue employment in organisations, for instance wildlife parks, country parks, nature reserves or local authorities. If you're looking for your next opportunity, but are unsure of where to start, environmental jobs can be found on www.countryside-jobs.com and can sometimes be found advertised on our job board.
Alternatively, you could look to expand your skills through further work experience in organisations such as The Wildlife Trust, Royal Society for the Protection of Birds (RSPB), the National Trust, The Woodland Trust, Amphibian and Reptile Conservation Group, Froglife and Tiggywinkles. You could also consider pursing further training, perhaps by undertaking a Level 3 qualification and later progressing to degree level study, meaning that more opportunities in teaching, consulting or even academic research may become available to you.
CAW Connect
After you complete your studies with The College of Animal Welfare, you will be invited to join our alumni association, CAW Connect. CAW Connect is a social networking website and education hub which gives you the opportunity to connect with other alumni, enjoy industry discounts, make use of exclusive careers advice and resources, find new job opportunities and keep up-to-date with the latest industry news. Find out more about CAW Connect