Clinical Coach Congress
Thursday 7 July 2022
Early Bird pricing is available until 13 May 2022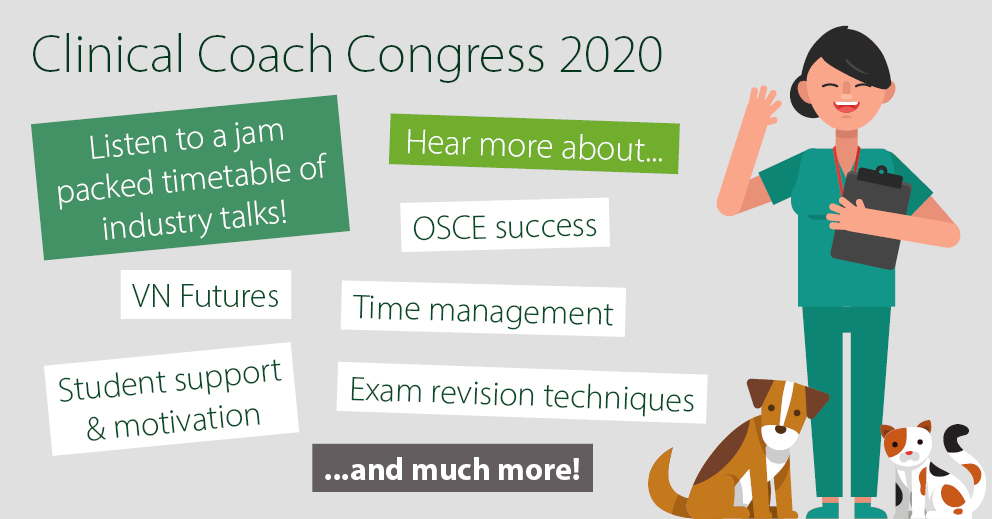 What is Clinical Coach Congress?
Clinical Coach Congress is a unique conference dedicated purely to supporting clinical coaches and those involved in veterinary nurse training.
Clinical Coach Congress is recognised by the Royal College of Veterinary Surgeons (RCVS) as clinical coach standardisation, meaning it is, not only, the ideal opportunity to learn from fellow clinical coaches and expert industry speakers, but it will also provide up to 8 hours of CPD.
Formerly known as the "Training Practice (TP) Congress".
Who should attend?
Clinical coaches and those involved in veterinary nurse training. Whether you are a new or aspiring clinical coach, or have been one for many years, this congress is for you! The congress will be particularly useful if you are:
New to your role and looking for some guidance
Interested in learning more about coaching and mentoring
Aiming to progress within your role
Interested in keeping up-to-date with everything happening in the industry
Why attend?
Listen to lectures from a range of speakers who will be sharing their experiences and knowledge
Q&A sessions mean your questions will be answered by the speakers themselves
Gain practical takeaways on a variety of topics that you can implement in your practice
Earn 8 hours of evidenced CPD
Gain online access to recordings of all the lectures and lectures from previous congresses up until the next event
Online Registration, Exhibition and Lounges
Chairman's Welcome
A Muggles Guide to Unlocking the Magic of BSc Placements✨
Dr Catherine Hemingway BVetMed CertAVP MRCVS, The College of Animal Welfare
Claire Defries PG Dip, DipAVN (Medical) RVN, The College of Animal Welfare

This session will unlock the secrets of how to maximise placement time with your Middlesex BSc(Hons) Veterinary Nursing student. On our journey we will explore how Middlesex and CAW can help you to support your placement student and dispel the myths surrounding the clinical tool and placement aims. We will equip you with essential knowledge and skills about the programme structure, assessment and student support.
Preparing your SVN for the OSCEs, the EPA and professional discussion
Sam Double BSc(Hons), VTS(Anesthesia & Analgesia), DipAVN(Med), RVN, VetSkill
This presentation will cover the following:
Preparing your apprentice for the professional discussion – knowledge, application and nerves
Preparing for the OSCE - the Clinical Coach Role
Common errors, pitfalls and themes - helping you to help your student
Live Q&A Panel
Present questions (anonymously if desired) to the speakers.
Morning Break, Online Exhibition and Lounges
ePortfolio Masterclass
Jennifer Scrimshaw RVN, The College of Animal Welfare
This session will allow Clinical Supervisors and prospective Clinical Supervisors to learn what the ePortfolio is, what is expected as a Clinical Supervisor and give you the opportunity to speak with an IQA at the College of Animal Welfare during a 'Live' Question and Answer session. We will also have a live demonstration of the ePortfolio from assigning Assessment Templates to confirming competency for your student.
ePortfolio Masterclass - Live Session and Q&A
Jennifer Scrimshaw RVN, The College of Animal Welfare
This live Q&A will be incorparated into our ePortfolio masterclass, as you can ask questions throughout the live presentation.
Lunch Break, Online Exhibition and Lounges
Time Management vs Energy Management
Anne-Marie Svendsen Aylott MRCVS, PurpleCat Coaching Ltd.
Maintaining Motivation as a Clinical Coach
Meg Richards FdSc RVN
Being a clinical coach alongside your responsibilities as an RVN can be time-consuming and stressful, so this webinar will look at how best to maintain your own motivation as a Clinical Coach, as well as focusing on boosting confidence in your student and how best to support them. We will also look at well-being tips for both yourself and your student, and how to best manage your time to be the best coach you can be.
Live Q&A Panel
Present questions (anonymously if desired) to the speakers.
Chairman's Close
Online Exhibition and Lounges
Please note this programme is subject to change.
Anne-Marie Svendsen Aylott MRCVS
PurpleCat Coaching Ltd.

Anne-Marie is an Inspirational Leadership coach and trainer. Her focus is on helping organisations and individuals create a culture of positive change both within themselves and in the organisation where employee motivation and happiness is in focus. Her training focuses on the skills of strong and inspirational leadership. All her training is grounded in research and psychology and provides in-depth skills in superb communication, emotional intelligence skills and driving high end resilience in leaders and their teams. Anne-Marie has a background as a veterinary surgeon and has worked for many years with sales, marketing and training.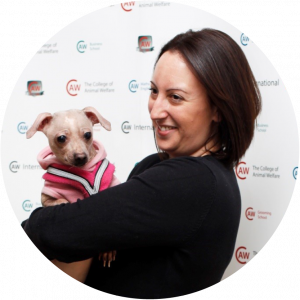 Claire Defries PG Dip, DipAVN (Medical) RVN
The College of Animal Welfare
Claire qualified as a veterinary nurse in small animal practice in North London in 2001 and went on to work as a senior nurse at The Queen Mother Hospital for Animals. Later Claire was a head nurse at Wood Street Veterinary Hospital in north London and developed an interest in laparoscopic surgery as well as flexible endoscopy. She still works for the practice in a part time capacity as a locum RVN.
Claire always had an interest in VN training and education and having been a head nurse for a number of years moved into full time lecturing at a college in Staffordshire before joining The College of Animal Welfare in 2013 where she is now Programme Leader for the BSc (Hons) in Veterinary Nursing.
Claire has achieved a Post Graduate Diploma in Veterinary Education, is a peer reviewer for a veterinary nursing journal and sat on the RCVS RVN Disciplinary Committee for a number of years.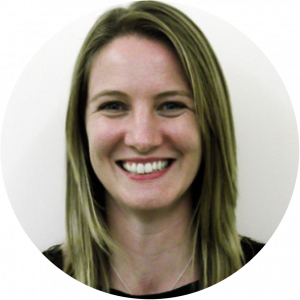 Dr Catherine Hemingway BVetMed CertAVP MRCVS
The College of Animal Welfare
Catherine qualified as a Veterinary Surgeon from the Royal Veterinary College in 2006. She initially worked in small animal clinical practices in the UK, including an RCVS accredited hospital practice. During her time in practice she qualified as an A1 assessor and subsequently a clinical coach.
Catherine holds the Certificate in Advanced Veterinary Practice (CertAVP) and is currently undertaking further postgraduate study in digital education, in which she has a keen interest. As a clinical coach, Catherine successfully supported many student veterinary nurses, some of whom now work in leading referral centres in the UK and overseas.
Catherine moved into education in 2014, initially as Programme Leader for the BSc(Hons) Veterinary Nursing degree before moving to programme lead the Top-up Veterinary Nursing degree.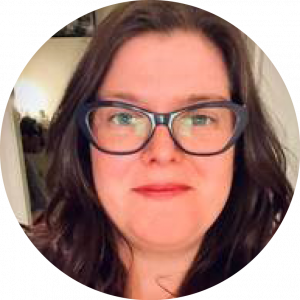 Jennifer Scrimshaw RVN
The College of Animal Welfare
Jennifer qualified as an RVN in 2011 and after working in a Small Animal Practice for 12 years, joined the College of Animal Welfare in 2017.
Jennifer is a qualified IQA and responsible for moderating both the NPL and ePortfolio, as well as running ePortfolio support sessions and carrying out Training Practice Audits. She enjoys the variety of the role, in particular seeing students and clinical coaches/supervisors during practice visits.
Jennifer has a six-year-old boy, who keeps her very busy in her spare time and they love the outdoors.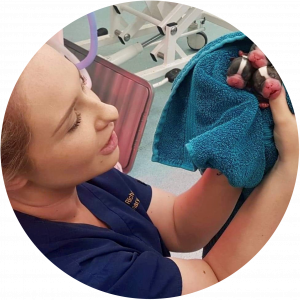 Meg Richards FdSc RVN
My name is Meg and I am an RVN working in a busy referral practice in Cornwall. I am passionate about inpatient care, specifically rehabilitation and am near to completing my certificate in canine hydrotherapy. I also love imparting knowledge and have found a real love for lecturing and creating revision content on my Instagram platform. When I am not working, you will find me exploring the Cornish coastline with my spaniel, Maisie.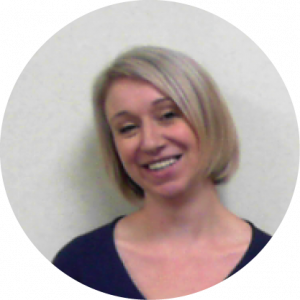 Sam Double BSc(Hons), VTS(Anesthesia & Analgesia), DipAVN(Med), RVN
VetSkill
Sam is the Programme Manager and Deputy CEO for VetSkill; who are an Awarding Organisation, End Point Assessment Organisation and professional regulatory body.
Prior to joining VetSkill, Sam was a Programme Manager for Veterinary Nursing and Higher Education at a large Further Education College.  She is an experienced educator and has previously worked in several Further and Higher Education institutions across a number of subject areas, including Veterinary Nursing.
Sam also has extensive clinical experience in Veterinary Nursing, after spending 12 years in several university and private referral hospitals. Sam is passionate about advancing education and assessment, and ensuring that VetSkill provide an inspirational range of qualifications and end point assessments.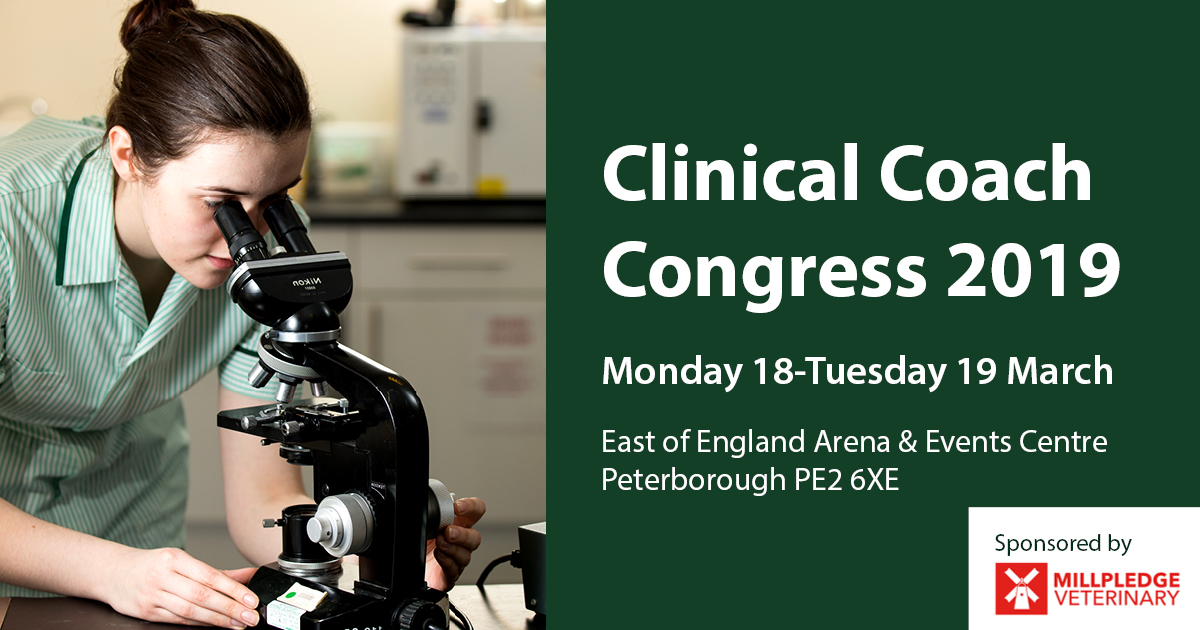 Details about Clinical Coach Congress 2022 will be available soon. In the meantime, have a look at who exhibited at our previous event:
The Burtons family have manufactured, distributed, and serviced equipment for the veterinary community for 40 years. Our range, covering everything from anaesthesia to x-ray, is largely made in-house, in the UK. Established for three generations, the Burtons ethos is to give honest expert advice and excellent customer service.
Our nationwide fleet of service engineers are available for emergency callouts, as well as undertaking routine equipment maintenance. At our renowned Burtons Repair Centre, technicians receive items for inspection, calibration, or repair. Our team of local product specialists will give you expert advice and guidance, full product demonstrations and technical training.
Invicta Animal Health is an innovative, fast growing pharmaceutical company, offering tailored 1:1 and group CPD sessions on Surgical Preparation of the Patient. Alongside a portfolio of products such as Ethycalm Plus, a topical spray for needle/catheter access. Blod-Stopp a stain & sting free way of stopping nails from bleeding to fast acting tests for ringworm.
On the equine side as well as the skin prep, we have a great Hyaluronic Acid product in Syn-Vet50 with its high molecular weight so that it stays in the horses joint for longer amongst other benefits. Please get in touch to find out more.
Leucillin Animal Skincare is a Hypochlorous acid (HOCl) based high efficacy antimicrobial solution. Leucillin is a broad spectrum antiseptic with unbeatable 99.99999% results, it has minimal contact time and is suitable for use on all mammals, birds and reptiles. Leucillin dramatically reduces bacterial load with no hypersensitivity reactions or usage constraints and is approved by the Organic Soil Association.
Leucillin has an extensive range of applications including first aid, post-surgical sites, stubborn infectants, effective topical allergy care and ear and eye care. Leucillin can be used to cleanse and flush any topical condition from minor cuts and abrasions, Mud Fever, Ringworm to Thrush. Leucillin now has approval for use on humans.
Linnaeus is a forward-thinking partnership of highly-respected primary care and referral veterinary practices across the UK, comprising some of the best clinicians in the profession.  Two important things bring us together; a commitment to excellence in everything we do and our passion to achieve our purpose: A BETTER WORLD FOR PETS. Linnaeus is owned by Mars, that makes us part of their 85,000 Petcare Associates who spend their days thinking about the 400 million pets of the world and how to improve their lives. Being part of this amazing global group gives us the benefit of a huge network of experts and specialists, a future we can invest in and the security that allows us to concentrate on what we do best - caring for pets.
At Linnaeus we carefully select the practices we partner with to ensure the highest levels of patient care across our group. Together we provide a growing community of like-minded veterinary professionals who are passionate about what they do. We work with different types of practices, in every field of veterinary medicine, including small animal, farm and equine. We have around 4,000 Associates within our family across over 160 sites which is made up of 16 referral and 50 primary care practices.
Millpledge Veterinary has been supplying the UK Veterinary Profession for over 35 years. Our aims are to offer the Veterinary Professional an ever-expanding choice of quality Millpledge branded products and services with innovative designs specifically for the veterinary professional. Ranging from pharmaceuticals to Nutraceuticals, bandaging, dressings, and fluid therapy, encompassing products for companion and large animal use. Providing complete peace of mind for the veterinary profession.
The College of Animal Welfare
The College of Animal Welfare is one of the largest providers of veterinary nurse training in the UK, with centres in Cambridgeshire, North London, Yorkshire, Greater Manchester and Scotland. We strongly believe that education and training is the key to raising standards of animal welfare. To this end, we strive to create new and accessible opportunities for learning, and encourage employers and those working with animals to undertake appropriate levels of training and continue with lifelong learning and education.
We put pets first: Beyond all else, we're committed to animal health and welfare, and we absolutely put pets first. The most powerful partnerships we have are with pets and their owners. This is at the heart of what we do and always will be.
Vets4Pets is proud to be one of the largest veterinary groups in the UK with a national network of practices run by partners who enjoy clinical freedom and autonomy to do things their way. Our practices are supported by dedicated business professionals based in our Support Office who have the expertise to help them thrive.
VisioCare Services provide an array of digital solutions for your practice; helping to enhance your reputation with clients, improve effectiveness of consultations, providing the next level in two-way communication, whilst saving time and phone calls for all the practice team. Including: VisioCare TV | VisioCare Consult | VisioCare myBuddy pet app
Vita Animal Health's range of veterinary exclusive supplements has been developed over many years, in conjunction with leading scientists and researchers, and have been rigorously tested. Vita Animal Health has a passion for researching, developing and bringing to market innovative products for companion animals.
Early Bird pricing is available until 13 May 2022. All prices are listed without VAT and savings including VAT.
Book now
Why exhibit with us?
Limited exhibitor numbers - Unlike larger congresses where hundreds of exhibitors often mean that visitors will not remember everyone, exhibition space for Clinical Coach Congress is strictly limited. As such you will get the opportunity to engage with all of the delegates attending our congresses personally.
Make meaningful business connections – Network with those that influence decision making in veterinary practice face-to-face and make relevant industry contacts.
Cost effective – with exhibitor packages starting from just £250+VAT, our prices offer value for money and fall considerably below that of larger events within the industry.
Interested in exhibiting at Clinical Coach Congress 2021?
Download a booking form or call Claire Gregory, Short Course and Events Administrator, on 01480 422060.
Attendees will receive access to videos of this years lectures as well as previous years lecture for approximately one year.
You will be able to share these videos with other members in your practice boosting their CPD hours.
Soon after the event you will receive an email with your access details. These details will expire on the date of the next event.
/event-videos/