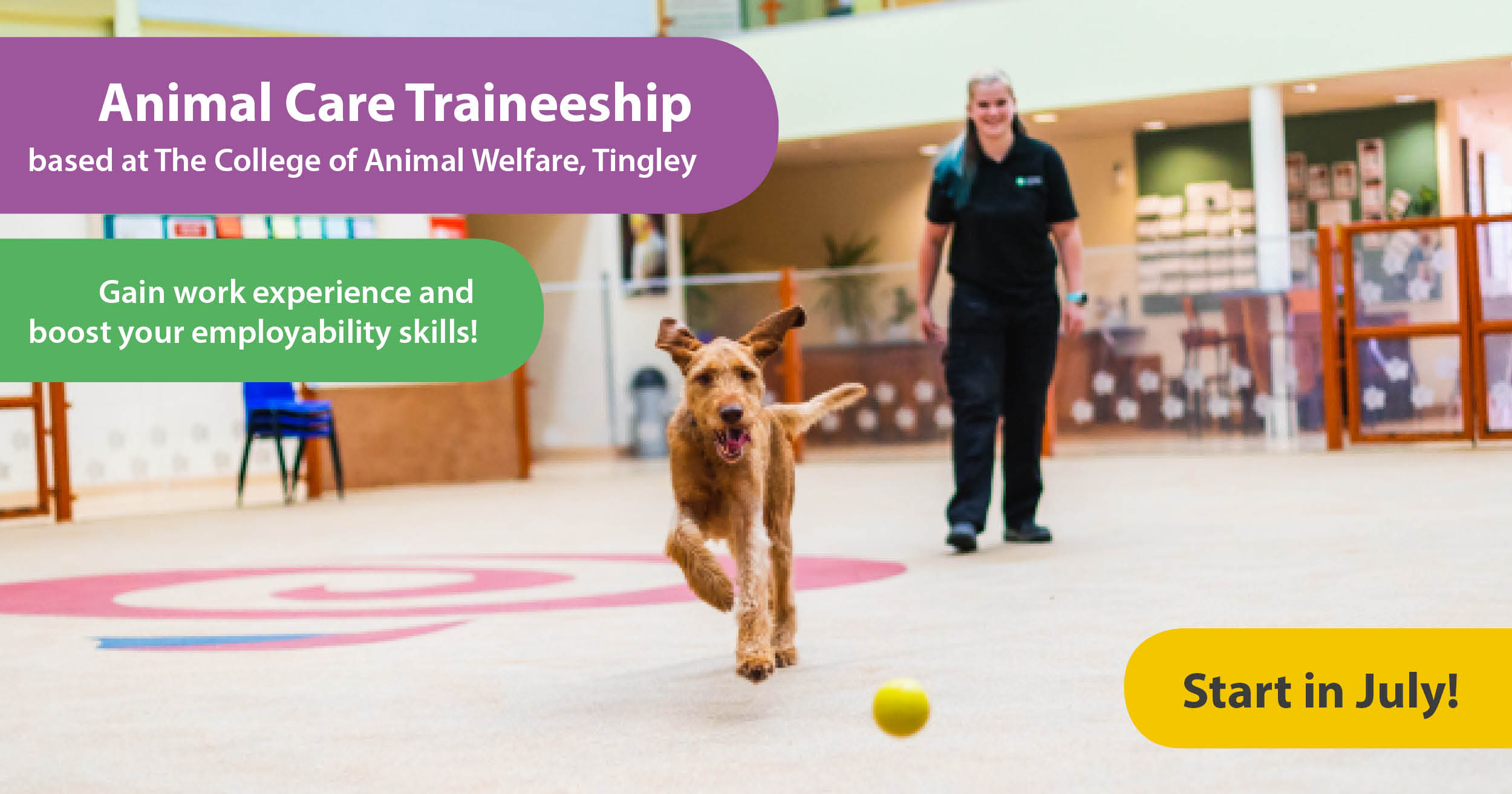 Traineeships
What is a traineeship?
A Traineeship is designed for a young person to gain the experience they need to get started in their career.
This includes undertaking work experience along with support to learn how to search for and apply for jobs.  At the end of the Traineeship, the individual could potentially achieve an Animal Care and English and Maths qualifications as well as the opportunity to gain feedback and a reference from their work placement.
What does it consist of?
The Traineeship lasts 12 weeks and is available at our Leeds Centre. The next start date for this is to be confirmed.
It will consist of the following elements:
Work experience – the opportunity to work in the kennels and cattery, dog grooming parlour and undertake reception duties in a busy animal care environment
Work preparation training – employability skills will be included, this covers skills such as CV writing, interview techniques and support with applying for jobs
Maths & English – supporting individuals working towards qualifications in English and maths
Animal Care Qualification – some taught sessions will be delivered to provide you with the opportunity to work towards a Level 1 Award in Work-based Animal Care
 Can you apply?
To apply for a place on the CAW Traineeship Programme, you must be unemployed with little or no work experience and meet the following criteria:
Aged 16-24 on 31 August 2018
All applicants must have lived in the UK for the last 3 years and be ordinarily resident in the UK
Please note that you cannot start a traineeship until 1 August after you have left school in the academic year in which you have your 16th birthday.
This Traineeship is an opportunity not to be missed! As attendance levels must be over 90%, you need be reliable and enthusiastic in order to successfully complete this programme.
Don't worry if you haven't got experience or the know-how, that's what the programme is for! All you need to bring is the right attitude and willingness to learn.
 Interested?
Register your interest in our traineeship programme using the form below, and we will be in touch to discuss inviting you to an interview day, when the next programme start dates are confirmed.