Veterinary Nursing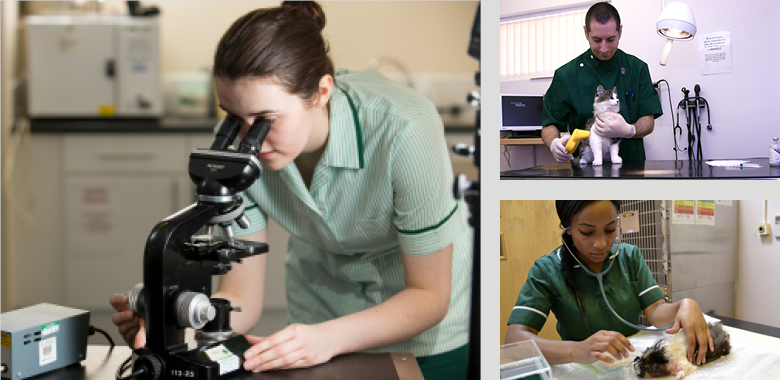 Open All | Close All
Do you dream of becoming a veterinary nurse?
If you have your mind set on working with animals you have probably, at some point, considered becoming a veterinary nurse. You may have come across veterinary nurses if you have pets of your own, but do you know what exactly they do and if this is the career for you?
Veterinary nurses are key members of the veterinary team. They work alongside vets to provide care and treatment to a variety of animals.
Small animal veterinary nurses work with a range of small animals, including dogs, cats and rabbits. Our Level 3 Diploma / Advanced Apprenticeship in Veterinary Nursing programme is based on the small animal pathway.
Equine veterinary nurses work in veterinary practices that treat horses. You can train directly as an equine veterinary nurse or choose to become a small animal veterinary nurse and then take a top up equine programme to gain the RVN (Equine) qualification. If you wish to become an equine nurse, you may wish to take a look at The Open College of Equine Studies website.
Being a veterinary nurse can be challenging and can involve long and unsociable hours, however the rewards that come from nursing an ill animal back to health and working as part of a close knit team make the job very worthwhile.
Will I make a good veterinary nurse?
You must be hard-working, passionate about animals and dedicated to your work, as many veterinary nurses end up taking their work home with them – often quite literally in the form of kittens that need hand rearing or abandoned or stray animals! You must enjoy working as part of a close knit team but also have the confidence to work with little supervision and be able to cope with the emotional and physical demands of the job.
If you love animals and want a professional career where no two days are the same and you can really make a difference, then veterinary nursing could be the one for you!
What do veterinary nurses do?
Each day you are likely to be involved in a variety of different tasks, from helping a veterinary surgeon in theatre to advising an owner on the most appropriate method of flea control for their pet. Other tasks you may be involved in include:
Preparing animals for surgery and performing minor surgical procedures
Monitoring anaesthetised animals
Nursing sick animals and administering medication
Taking x-rays and carrying out diagnostic tests
Advising owners on the health and welfare of their pets
Taking bookings, payments and completing necessary paperwork
Running nurse clinics, such as diet, worming and grooming consultations
Inevitably, there will always be kennels and cages to clean, and floors to mop. So you need to be prepared for hard and dirty work sometimes!
How to become a veterinary nurse
There are two main types of veterinary nurse training:
Diploma level training
Level 3 Diploma / Advanced Apprenticeship in Veterinary Nursing
The Level 3 Diploma / Advanced Apprenticeship in Veterinary Nursing programme at The College of Animal Welfare is studied on a day release basis, either alongside employment or work placement in a veterinary practice. The veterinary practice where you are either employed, or on placement in, must have been approved to train veterinary nurses by the Royal College of Veterinary Surgeons (RCVS).
If you want to train as a veterinary nurse but perhaps don't have the qualifications or finances to study at University, or you want to find employment in a practice and therefore earn a living whilst studying at the same time, then this could be the course for you!
Trainee veterinary nurse jobs are sometimes available on our online jobs board.
Higher Education
Foundation Degree in Veterinary Nursing
If you would prefer to study to the highest academic standard and experience University life, then undertaking a degree level training course could be what you are looking for.
You will have the opportunity to undertake work placements in a variety of veterinary practices, including veterinary hospitals that are world renowned.
Having a degree in veterinary nursing will also open up additional opportunities for you in the future, such as post-graduate training in areas such as physiotherapy or perhaps even a career in teaching.
What qualifications do I need to train as a veterinary nurse?
The minimum academic requirements to train as a veterinary nurse are:
5 GCSEs at grades A* to C, including English Language, Mathematics and a Science Subject
If you do not have the required GCSEs, you may wish to consider the Level 2 Diploma for Veterinary Care Assistants course. This qualification, along with English and Maths GCSEs (A*to C) or Functional Skills Level 2 in English and Maths will be an acceptable alternative.
Other entry requirements relating to work experience, employment status or additional qualifications may be required depending on the course, these details can be found on each individual course page.
What opportunities are there for qualified veterinary nurses?
Once qualified you will be able to apply to join the Royal College of Veterinary Surgeons' Register of Veterinary Nurses and use the post nominal term, RVN. Entry in the register will allow you, by law, to practise as a veterinary nurse under veterinary direction.
Veterinary nurse jobs – for newly qualified nurses, the good news is that there is a national shortage of veterinary nurses meaning that your job prospects once qualified are excellent. Salary prospects have also improved significantly in recent years, meaning that veterinary nurses now earn an average of £20,229 per year (SPVS Salaries Survey 2014).
Many veterinary nurses choose to remain in first opinion veterinary practice. Others choose to move into referral practice or into a large veterinary hospital and specialise in a particular area, such as surgical nursing.
Other opportunities include:
Head veterinary nurse (team leader)
Practice manager
Research
Teaching
Sales representative
Rehabilitation (i.e. physiotherapy or hydrotherapy)
Registered veterinary nurses must undertake 45 hours of Continuing Professional Development (CPD) over a three year period. That's an average of 15 hours per year. We run a wide range of CPD courses to consider after you have qualified.
Veterinary nursing courses