Room hire at our Huntingdon centre
The College of Animal Welfare has been established for over 25 years and is an independently managed, not for profit, organisation located within Chord Business Park in Godmanchester, Cambridgeshire.
Being a training provider, we understand the importance of layout, technology, atmosphere and service in achieving your meeting and learning objectives.
Rooms are available for all types of meeting, training courses and conferences and are competitively priced; providing excellent value for money.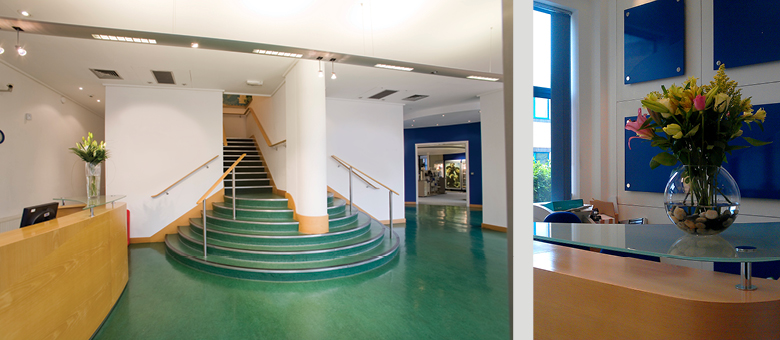 Venue information
We recognise that every meeting or conference is unique. Whether you are looking to book a compact room for a one-to-one meeting or a larger spacious room for up to 120 people, a formal business meeting or a relaxed open group, we strive to create the right environment to meet your needs.
You may be intending to hold a breakfast meeting, an evening seminar or a full weekend conference; whatever your plan we will work with you to meet your requirements.
Facilities
Meeting rooms
We have a large selection of meeting rooms available, all with video conferencing facilities providing a professional and comfortable environment at all times.
Lecture rooms
Various size lecture rooms are available with overhead projection including audio facilities. Each room can be arranged in a variety of layouts to suit your requirements.
Computer suites
We have three dedicated computer suites that accommodate various group sizes, suitable for either one to one training or larger groups of up to twenty six.

Technology and communication
We provide the very best in technology including:
Video conferencing
Voice conferencing
Projection units with sound
A large screen multi-functional display system
A PA system is available for larger rooms
Wireless and high speed Internet throughout the building
Three dedicated computer suites housing up to 26 PCs are also available for hire.
Catering
We can offer you catering to suit all budgets and, to help your planning, we have a number of set menus available. Special dietary requirements of individual delegates can be catered for upon request.
Location and parking
Headland House is conveniently situated less than a mile away from junction 24 of the A14 on the outskirts of Huntingdon.
The local main line railway station is Huntingdon which is on a direct line from London Kings Cross. Huntingdon Bus Station has regular buses running to and from the bus stop on London Road in Godmanchester; this is a two minute walk from Headland House. Stansted Airport is just a 45 minute drive away and is easily accessed via the A14 and M11.
Please note that parking may be limited Monday-Friday. Directions can be found here.
Accessibility
Training and meeting rooms are wheelchair accessible and available on both the ground floor and first floor. Lifts are available for those who have difficulty negotiating stairs. Disabled toilets are available on the ground floor. If you require a disabled parking space please let us know at least 24 hours in advance; we will discuss your requirements and ensure a suitable space is reserved for you.
Local accommodation
We are a few minutes' drive away from Huntingdon town centre. There are several options for local accommodation, including:
Old Bridge Hotel (1.5 miles)
01480 424 300 www.huntsbridge.com
Huntingdon Marriott Hotel (3.9 miles)
01480 446000 www.marriott.co.uk
Holiday Inn (5.4 miles)
0871 423 4942 www.ihg.com
Premier Inn (6.2 miles)
0871 527 8540 www.premierinn.com
Contact information
Booking form | Terms and conditions
Room hire prices can be provided on request – please contact us.
If you would like to come and view our facilities, please contact us on 01480 422060 or email us at conference@caw.ac.uk to arrange a mutually convenient time.
Our College opening times are Monday-Friday 08:30 – 16:30, however if you need room hire availability out side of these times, we will do our best to accommodate your request.